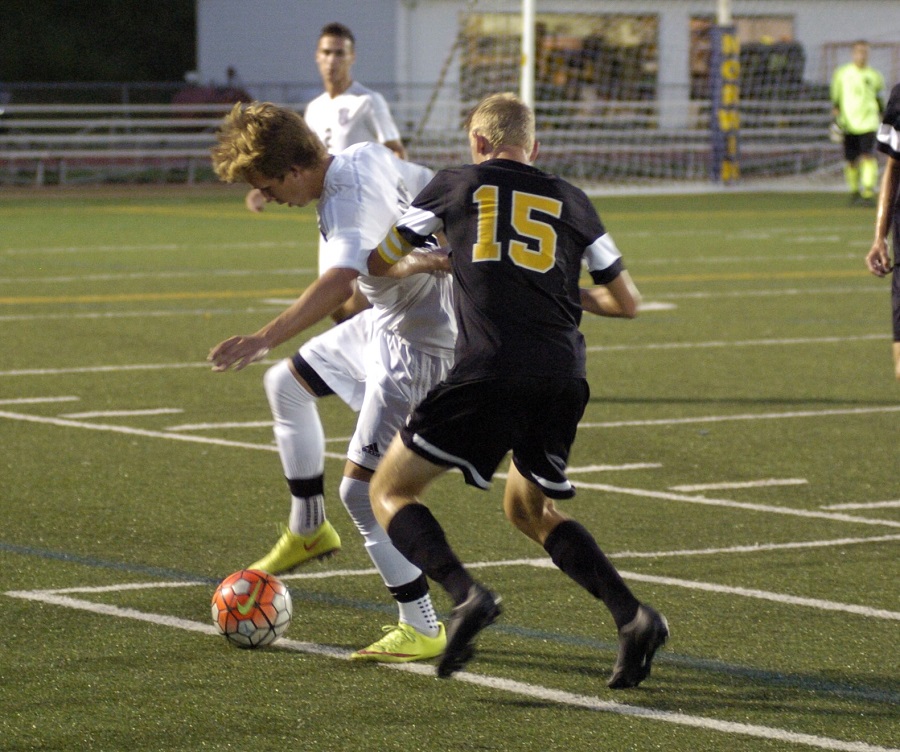 NA TURNS OUT THE KNIGHTS
By boys soccer contributor
The boy's soccer team started slowly in the early minutes of the contest as Norwin generated two corner kicks and a shot just wide of the net within the first five minutes of the game.  After weathering the initial storm, James Nolan found Josh Luchini with a nice header pass down the middle of the field at 28:16 who beat the Knights goalie to give NA a 1-0 advantage.  Then at 18:44 off of a short corner Sean Atwater found Owen Leonard in the box who buried the shot into the net giving the Tigers a 2-0 lead for the second game in a row.  Less than a minute later a Norwin forward from 20 yards out found the corner of the NA net to make it 2-1. At 10:23 Norwin continued to put offensive pressure on the Tigers with continuous free kicks, corners and a shot on goal that Grant Glorioso saved. Ben Cinker at 6:05 made a very unselfish pass and dished up the ball to Luchini where from 15 yards out he netted his second goal of the evening and the Tigers closed out the half with a 3-1 lead.  Norwin actually outshot the Tigers 4-3 and had the corner advantage 3-2 as well but it was the Tigers who capitalized.
The Knights started the second half strong with a shot at 35:33 that was again saved by Glorioso.  At 30:19 Luchini beat the defense and was pulled down in the box and awarded a penalty kick, but his shot hit the crossbar keeping it a two goal deficit.  Shortly afterwards off of a Norwin corner that was cleared, the Knights put the ball back into the box and scored making it 3-2 and anyone's game.  The next fifteen minutes saw North Allegheny with Zach Marzula and Cam Yurick helping to earn corners and make passes to Nolan and Luchini that lead to good goal scoring opportunities that the Knight keeper saved.  At 9:08 Marzula found Luchini down the left side who crossed it into the box and found Nolan who directed the ball into the net giving the Tigers a 4-2 lead.  Senior Will Brunner had a breakaway opportunity at 4:07, but the ball glanced off of the left post and rolled past the right post just missing.
The 2-0 Tigers play this Thursday vs Bethel Park at home kick off is set for 7pm before facing Peters Township this Saturday night at SoccerFest.  The boys appreciate your attendance and look forward to seeing you there!