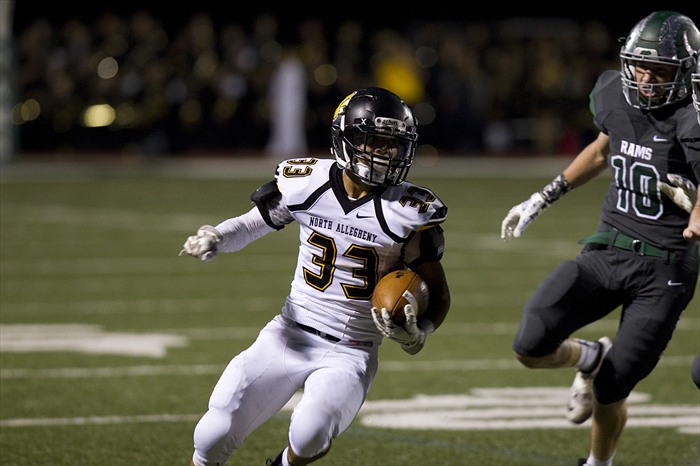 NA Visits Pine-Richland Tonight For Second Place In Conference
It's a battle for second place in the Northern Seven Conference tonight as the North Allegheny Tigers (7-2) will visit the Pine-Richland Rams (6-3). The game holds major seeding implications for the postseason as the winner is the likely favorite for the No. 2 seed in the upcoming Class 6-A playoffs.
North Allegheny enters tonight's game on a six-game winning streak and is coming off a 42-7 drubbing of Hempfield in a non-conference game last week. The Tigers out-possessed and heavily outgained Hempfield with a ball-control offense and stingy defense that didn't allow a point until the game was well at hand. North Allegheny looks to continue that philosophy tonight against a Pine-Richland defense that has allowed 24 points per game. Senior quarterback Ethan Maenza is NA's leading rusher with 915 yards and 15 touchdowns, while throwing for 797 yards and nine touchdowns. Senior running back Mike Pope averages 5.6 yards per carry and has totaled 533 yards and six scores on the season. Junior tailback Turner White has complemented Pope with 276 yards and four touchdowns. The leading receiver in the NA offense is senior Niko Mermigas who has hauled in 30 passes for 534 yards and five touchdowns. For highlights of last week's blowout win over Hempfield, see video below.
The Pine-Richland defense hopes to limit the Tigers with a unit that boasts several top-notch linebackers, including sophomore Tyler King who has collected a team-high 83 tackles. Senior linebacker Jesse Meckler has 77 stops and two sacks on the season. Ryan Duran, an Army recruit, is the best pass rusher for the Rams with a team-leading 5.5 sacks and has collected 38 tackles. Pine-Richland owns a ball-hawking secondary that has reeled in 16 interceptions, led by Tanner Douglas with four picks on the year.
Rebounding from a two-game losing streak at midseason, Pine-Richland has won back-to-back games and defeated the Butler Golden Tornado on the road last week, 28-13, in a hard-fought contest. Tonight will be PR's fourth game without star quarterback Phil Jurkovec. The Notre Dame recruit was lost to a season-ending thumb injury in a week five loss to Pittsburgh Central Catholic, 48-35. Senior quarterback Max Divinney has taken over as the PR signal caller and has thrown for 852 yards and five touchdowns since the injury to Jurkovec. Playing behind Jurkovec and Ben DiNucci during his high school career, Divinney finally has his time to shine and passed for 364 yards in the win over Butler last week. The injury to Jurkovec has changed the dynamic of the Rams' offense, but PR will continue to utilize a short-passing game that boasts three players with 30 receptions or more. Junior receiver Raymond Falcone has 953 yards receiving and nine touchdowns on 40 receptions. Fellow junior Jason DeFrancisis has hauled in 30 passes for 425 yards, and running back Jordan Crawford is a threat in the passing game with 32 catches for 425 yards and three scores. Similar in stature to last week's opposing running back for the Tigers, Hempfield's Jordan Kempka, the diminutive Crawford has carried the ball for 670 yards and 13 touchdowns. Even without Jurkovec, the Rams have plenty of playmakers in an offense that averages 37 points per game.
The North Allegheny defense has permitted 18 points per game this season and has gotten increasingly more stingy in recent weeks. The Tigers are paced in tackles and interceptions by Mermigas who has collected 50 tackles and two picks. Linebacker Ryan Langdon has racked up 45 tackles and four sacks this season. Brennan McCauley and Matt Binz have assisted in pillaging opposing pass pockets with four sacks each. Carlos Blanco is NA's team leader in sacks with six.
The last meeting between North Allegheny and Pine-Richland was a week two contest last year that resulted in a 28-14 victory for the Rams. The PR defense forced two key turnovers in the red zone and Jurkovec totaled 328 yards of offense in the game. The Tigers fell behind 21-0, but rallied to make it a close game thanks to receiver Matt Sell who caught seven passes for 186 yards. Including last year's win, Pine-Richland has won two straight games against the Tigers.
Tonight's game between North Allegheny and Pine-Richland will kickoff at 7:00 and will be broadcast live via the internet on the North Allegheny Sports Network. The pregame show is set for 6:40 p.m., including a pregame chat with Tigers head coach Art Walker. To listen to tonight's game, click here.