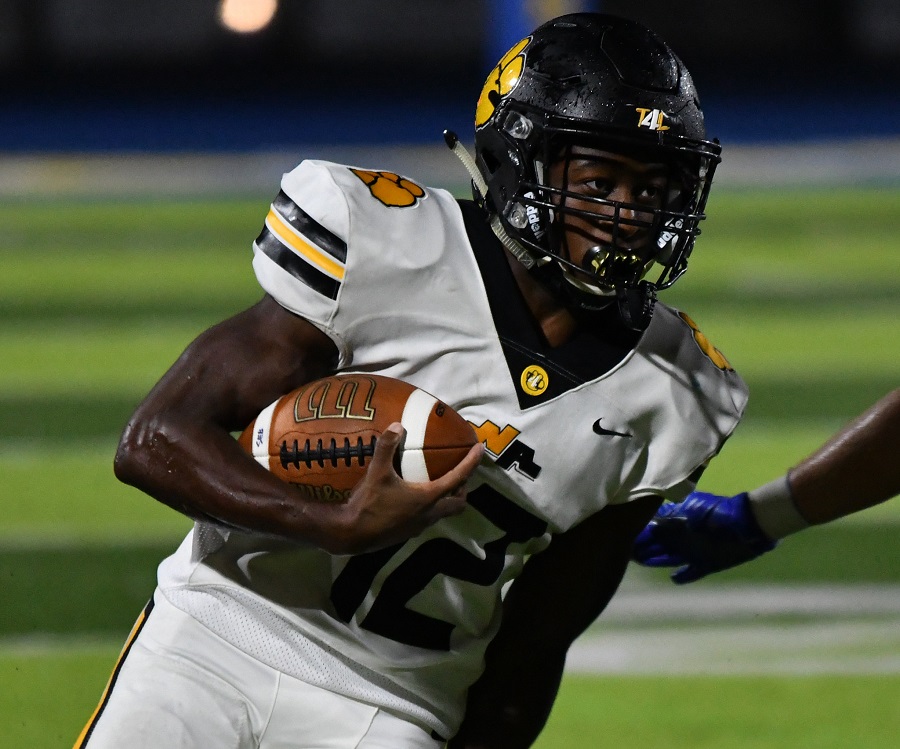 NA Visits Seneca Valley With Playoff Bye At Stake
The No. 3 seed and a bye into the WPIAL Class 6A semifinals are at stake tonight as the North Allegheny Tigers (6-3, 4-2) visit the Seneca Valley Raiders (6-3, 4-2) at NexTier Stadium. Always an important contest when these teams meet up, tonight's regular season finale will be no different. The winner will finish in third place and has next week off, while the loser of tonight's game will finish in fourth place and hosts a playoff game next Friday night.
North Allegheny enters tonight's contest on a three-game winning streak, having recently defeated Hempfield last week, 65-13. The 65 points were the most scored in a single-game during Art Walker's tenure as head coach. Against the Spartans, sophomore quarterback Logan Kushner passed for 125 yards and two touchdowns, and added 81 yards and a score on four carries. Sophomore wideout Khiryn Boyd score three touchdowns in three different ways, with a rushing, receiving and kick return touchdown. The NA defense created five sacks and four turnovers, including an interception by junior cornerback Campbell Melzer.
Seneca Valley, meanwhile, is coming off a 38-7 loss to Mt. Lebanon last week. To this point, the Tigers and Raiders have defeated and lost to the same teams in conference play this season. Tonight's game will be the contest that sets them apart.
The Raiders have been bit by the injury bug this season, including the quarterback position. Junior starting quarterback Graham Hancox has passed for over 1,000 yards but has missed the last two games due to injury. Sophomore Sean O'Shea has stepped in over the last two weeks and passed for 227 yards and three touchdowns two weeks ago in a 49-12 win at Baldwin. It is uncertain as to who will get the starting nod tonight.
Regardless of which quarterback plays, Seneca Valley will rely on senior running back Nolan Dworek. A second-team all-conference running back from a season ago, Dworek is the team's primary ball carrier and leading rusher for the second consecutive year. Dworek earned significant playing time in 2020 because of injuries to Ethan West and is a well-seasoned runner in the Raiders zone blocking scheme. At receiver, junior Luke Lawson was an all-conference honorable mention pick last season and senior Brandon Ross is another playmaker, who caught the game-winning touchdown pass in a 24-20 win over Pine-Richland in week one.
On defense, junior linebacker Chris D'Appolonia is a top tackler and junior defensive end Aiden Lyczek is a force up front. Lawson is also a standout at cornerback.
The last time North Allegheny and Seneca Valley met, it was another important game in the 2020 WPIAL Class 6A semifinals. The Tigers won by a 21-7 decision thanks to a dominating performance by the defense. NA limited Seneca Valley to 81 total yards and a 1-for-10 conversion rate on third downs. Nate Hoke rushed for two touchdowns on offense, and added a sack and game-clinching interception in the fourth quarter on defense. Seneca Valley's lone touchdown came on a fumble return for a score by Deontae Webb in fourth quarter.
The last time North Allegheny played at NexTier Stadium, the Tigers rolled the Raiders by a 40-7 final. Quarterback Ben Petschke led the way with 147 yards passing and two touchdowns, and rushed for another 71 yards and a score.
Kickoff for tonight's game between North Allegheny and Seneca Valley is slated for 7:00 p.m. The game will be broadcast live by the North Allegheny Sports Network, with the pregame show getting underway at 6:40 p.m. To listen to tonight's broadcast, click here.