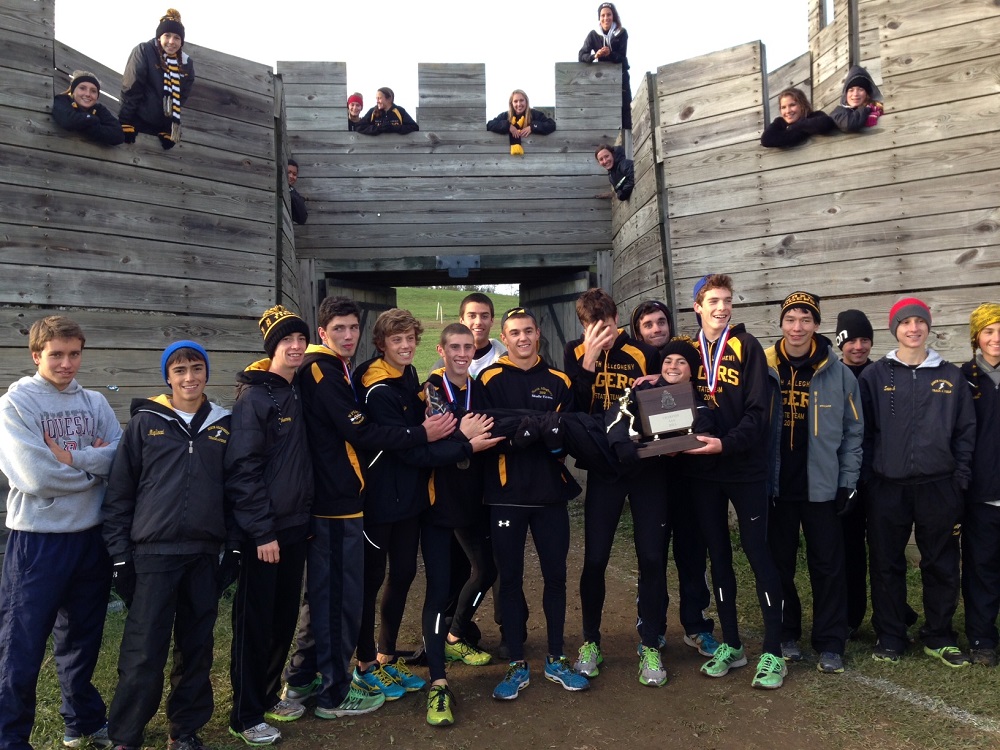 Nine Straight WPIAL Titles For the NA Boys, Lady Tigers Take Third Place
The North Allegheny Boys Cross Country Team earned an astonishing ninth straight WPIAL Championships on Thursday afternoon at Cooper's Lake. Not to be outdone, the Lady Tigers took bronze with a third place finish at the WPIAL Championships. 
With three finishers in the top five and four in the top 10, the North Allegheny Boys ran away from the competition with a team score of 38.  Second place Fox Chapel finished a distant 76 points behind the Tigers.  Claiming individual bronze was junior Matt McGoey with a time of 16:25.  Seamus Love and Cordon Louco took fourth and fifth place with each finishing with a time 16:29. Junior Scott Seel grabbed seventh place with a time of 16:33.
The Lady Tigers were paced by sophomore Madeleine Davison's fifth place showing, crossing the finish line in 19:06.  Seniors Katie Guarnaccia and Caroline Cwalina took 22nd and 24th place with times of 20:06 and 20:11, respectively.
Both of NA's Cross Country Teams qualify for the PIAA Championships on Saturday, November 2.  Additional times from NA's runners are listed below.
| MEET SUMMARY - BOYS | | |
| --- | --- | --- |
| PLACE | TEAM | SCORE |
| 1 | NORTH ALLEGHENY | 38 |
| 2 | Fox Chapel | 114 |
| 3 | Mt. Lebanon | 132 |
| 4 | Canon-McMillan | 204 |
| 5 | Seneca Valley | 215 |
| MEET SUMMARY - GIRLS | | |
| --- | --- | --- |
| PLACE | TEAM | SCORE |
| 1 | Mt. Lebanon | 80 |
| 2 | Seneca Valley | 84 |
| 3 | NORTH ALLEGHENY | 124 |
| 4 | Kiski Area | 170 |
| 5 | North Hills | 207 |
| INDIVIDUAL RESULTS | | |
| --- | --- | --- |
| NA BOYS | | |
| 3 | Matt McGoey | 16:25 |
| 4 | Seamus Love | 16:29 |
| 5 | Cordon Louco | 16:29 |
| 7 | Scott Seel | 16:33 |
| 19 | Hunter Wharrey | 16:50 |
| 21 | Michael Becich | 16:54 |
| 24 | Nicholas McClure | 16:58 |
| | | |
| NA GIRLS | | |
| 5 | Madeleine Davison | 19:06 |
| 22 | Katie Guarnaccia | 20:06 |
| 24 | Caroline Cwalina | 20:11 |
| 32 | Caroline Bojarski | 20:25 |
| 41 | Erin Keelan | 20:46 |
| 43 | Madissen Steiner | 20:49 |
| 61 | Veronica Bella | 21:25 |