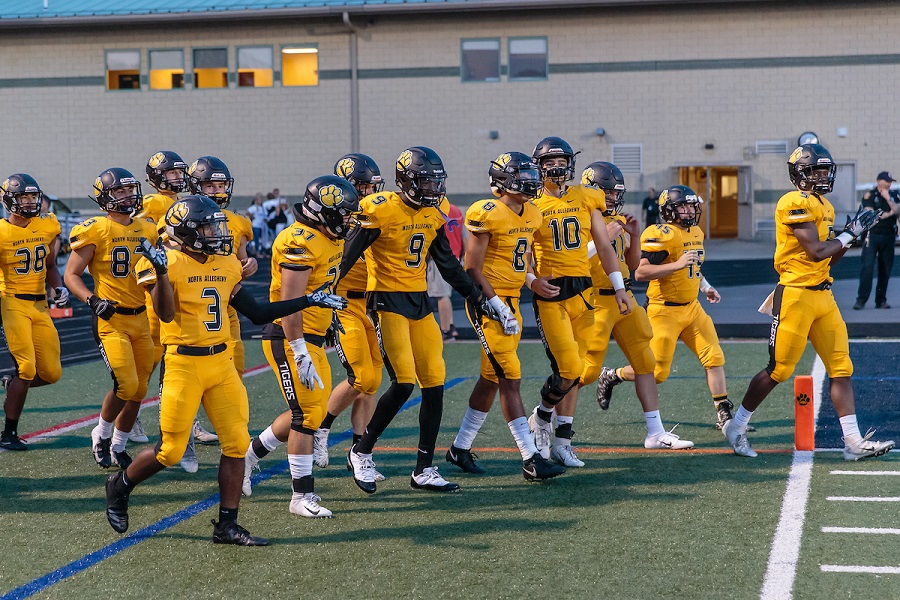 No. 2 North Allegheny Hosts No.1 Pine-Richland Tonight
Class 6A's fiercest rivalry takes center stage tonight as the undefeated North Allegheny Tigers (9-0) take on the reigning state champion and top-ranked Pine-Richland Rams (8-1). Tonight's game will decide the regular season champion and top seed in the upcoming Class 6A playoffs. Regardless of the outcome, both teams have secured a quarterfinal round bye and a home game in the WPIAL semifinals.
Following a perfect 16-0 season and PIAA championship last year, the Rams have rolled through the 2018 schedule with their only blemish to national powerhouse IMG Academy in Week Zero. Otherwise, Pine-Richland has not lost to a WPIAL opponent in 20 consecutive games.
With the graduation of Phil Jurkovec, who is now at Notre Dame, the keys to the Pine-Richland offense have been turned over to sophomore Cole Spencer. A PIAA qualifier at 152 pounds in wrestling a year ago, Spencer is a hard-nosed signal caller that has passed for over 1,000 yards and rushed for nearly 500 more. While the young QB has performed admirably, the heart of the Rams offense beats with an offensive line that boasts three future Division I linemen in the form of Mike Dorundo (Ivy League offers), Michael Katic (Indiana) and Andrew Kristofic (Notre Dame). Along with fellow linemen Brian Bails and Tyler Rudduck, the PR lineman have opened holes for junior tailback Luke Meckler, who has rushed for 897 yards and 13 touchdowns. The Pine-Richland offense averages 38 points per game.
On defense, the Rams are sparked by linebacker and Naval Academy recruit, Tyler King. King is the team leader with 52 tackles after pacing the squad with 152 stops a season ago. He was a first-team all-conference pick last season, and senior linebacker Anthony Cerminara was a second-team all-conference selection last season. Pine-Richland's defense allows 14 points per game.
Winners of nine consecutive games, tied for the second-longest winning streak in the WPIAL, are the Tigers. Like Pine-Richland, North Allegheny is also keyed by its success in the running game and the offensive line. Players like Division I recruit Jacob Lugg, Jack Graham, Ben Grafton, Parker Titsworth, Quinn Rodak and Elijah Boyd have cleared rushing lanes for senior tailback Ben Maenza, the second-leading rusher in Class 6A. Maenza has rushed for 894 yards, just three yards behind Meckler, and 16 touchdowns. Change-of-pace back Percise Colon is a lightning bolt with the football, having rushed for 323 yards and eight scores. A trio of quarterbacks have seen significant time at the position, including Ben Petschke, Gunnar Fischer and Joey Colella. The North Allegheny offense averages 39 points per game.
The North Allegheny defense is a hard-hitting and stingy unit that allows 13 points per game. The Tigers top tackler is senior Cade Hoke with 60 stops on the season. Junior Amosis Porter has pillaged pass pockets to the tune of a team-leading seven sacks, followed by senior lineman Tyler Mangone with 4.5 sacks. In the secondary, senior Corey Melzer boasts a team-high four interceptions. Even though opponents have been scared to throw in his direction in 2018, Penn State commit Joey Porter Jr. has still managed three interceptions on the campaign.
The last time these teams faced off was in the 2017 WPIAL semifinals in which Pine-Richland claimed a 49-25 win. The Rams have won four of the last five meetings.
Kickoff for tonight's game between North Allegheny and Pine-Richland is slated for 7:00 p.m. at Newman Stadium. The game will be broadcast live via the internet on the North Allegheny Sports Network with the pregame show beginning at 6:40 p.m. The pregame show includes an interview with Tigers head coach Art Walker. To listen to tonight's game, click here.