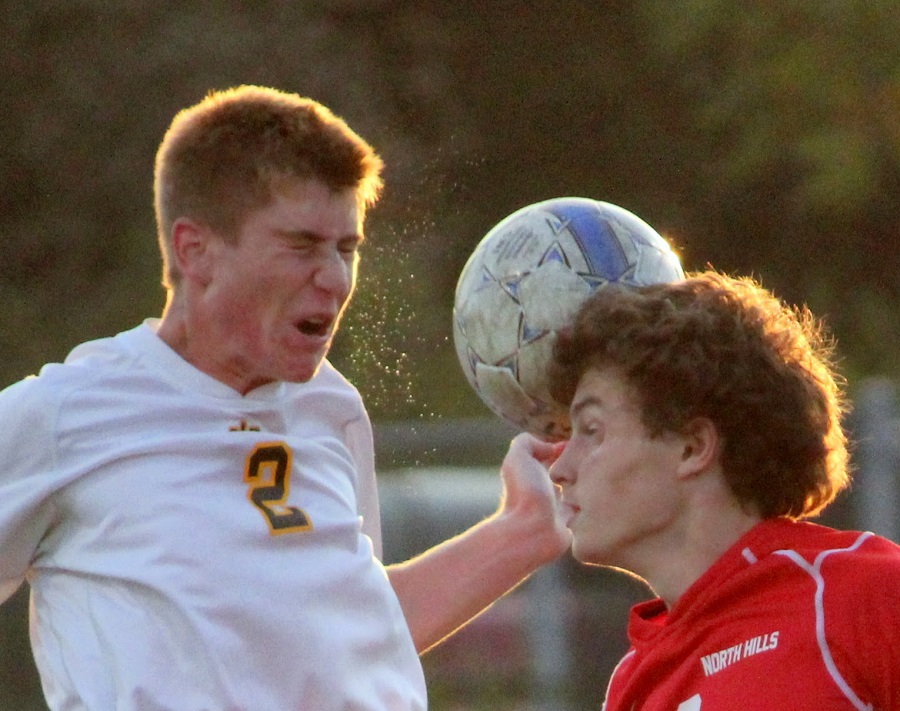 North Hills Edges Tigers, 1-0
With playoff implications abound, North Allegheny paid a visit to neighborhood rival North Hills with the host Indians edging the Tigers by a 1-0 decision in Section 2-AAA play on Thursday night.
The Tigers began the game strong as Steve Binnig, on a free kick, found Josh Luchini at 38:22 in front of the North Hills net, but his header attempt went high.  At 36:40, Binnig found Bobby Upton whose shot went wide of the net. A 34:55, Nate Hall juked the Indian defense with some crafty moves and put a shot on goal that was saved. Luke Nolan at 33:40 made a save off a long North Hills throw-in, one of approximately 12 throws that led to potential scoring attempts all night.  At 24:50, North Hills gained momentum and had three shots towards the Tiger net with two being on goal and saved by Nolan from close range.
The balance of the half saw limited possession from both teams on the narrow and short North Hills turf with each team having quite a few fouls and free kicks awarded along with North Hills receiving a yellow card.  The half ended with shots even at four for each squad and North Allegheny awarded two corners over zero for the Indians.
The second half started again with the Tigers having an early chance with Jason Earle crossing to Luchini at 38:30, but again his header went high.  Nolan made a another close range save at 37:40 to keep the game scoreless and North Hills ensued with four straight long throw-ins that seemed to cause problems for the Tigers. At 33:54, North Hills was awarded a controversial penalty kick and converted for a 1-0 lead.
With plenty of time left on the clock North Allegheny brought the line up some and Michael Peters and Kevin Dougherty gave the Tigers some momentum with Peters having three quality shots towards the Indian net, and at 19:23, the North Hills goalie made a game tying save from 15 yards out.
The balance of the game was played with high drama as there was much on the line, but North Hills prevailed with the 1-0 victory.  The Tigers finish their Section 2 season with a 7-4-1 record, currently sitting alone in second place.  With the win, North Hills locks up a playoff berth with a 6-4-1 section record and sits in third place. The Indians play first place Seneca Valley on Monday, determining the Tigers position in the section and playoff seeding.
The last home and regular season game will be held this Monday, October 13 in the Tigers Den at 7:30pm versus a very talented Norwin Knight team that presently has a 12-3 overall record.  The Tigers will use this game against good competition to work on getting back on track and moving forward towards the playoffs.  The boys would welcome the fan base to attend and root them on in this last home game of the season.