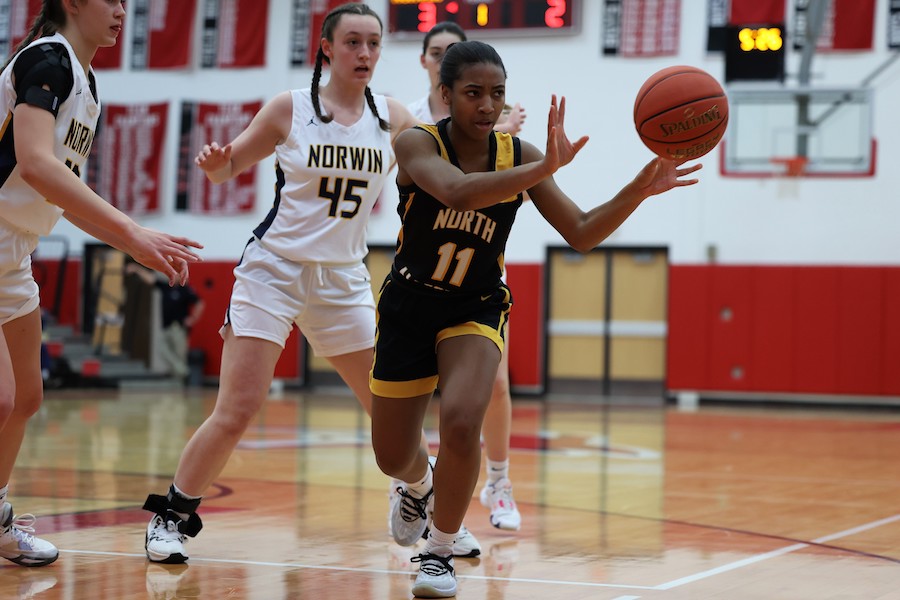 Norwin Upends NA In PIAA Quarterfinals
The North Allegheny girls' basketball team and the Norwin Knights dueled for the fourth time this season in a battle of Class 6A heavyweights on Friday night. After a regular season split and a North Allegheny victory in the WPIAL semifinals, Norwin evened the season series at 2-2 with a 50-30 win in the PIAA quarterfinals at Fox Chapel High School. The Knights advance to the state semifinals for the second time in program history and first time since 2015. In the state final four, Norwin will take on undefeated District 3 champion Cedar Cliff on Monday night.
The night began with a back-and-forth first quarter that featured one tie and four lead changes. After a Jasmine Timmerson 3-pointer gave NA an 8-7 lead, Norwin ended the period on a 5-0 run, including 3-pointer by sophomore Avery Brozeski, for a 12-8 advantage.
The Knights stretched the lead to 19-10 in second quarter, before another Timmerson connection from beyond the arc cut the score to 21-13 by halftime.
North Allegheny got off to a quick start in the third quarter and opened with back-to-back 3-pointers by Caroline Henderson and Lydia Betz to trim the deficit to 22-19. In a tightly officiated game, Betz was hit with three fouls in the first half which limited her to two points in the half. However, in the second half Betz netted eight of her 10 points and helped trim the deficit to 24-21 midway through the third period. Along with Betz, Timmerson also finished with 10 points for the Tigers.
Norwin answered back and took a 33-22 lead before the end of the third. A half-court buzzer-beater by Henderson to end the third quarter cut the score to 33-25, Knights, heading into the fourth quarter but any momentum gained from the half-court shot was short-lived as Norwin pulled away in the final stanza.
Sophomore Kendall Burger led the Knights with 18 points, junior Ava Kobus added 12 points and junior Lauren Polangio chipped in with 10 points and numerous rebounds to help Norwin prevail, 50-30.
The North Allegheny seniors of Timmerson, Cam Phillips and Eva Prenatt were selected as the Wright Automotive Players of the Game. The NA triumvirate finish with a four-year record of 94-14, including three WPIAL titles and one PIAA crown.
The 2022-2023 campaign concludes for the Tigers with a 22-6 overall record and the program's fifth WPIAL championship. Congratulations to head coach Spencer Stefko and the entire North Allegheny girls' basketball team for another outstanding and memorable season.
Girls Basketball vs. Norwin, 3-17-23
| GAME SUMMARY | | | | | |
| --- | --- | --- | --- | --- | --- |
| SCORE BY QUARTERS | 1 | 2 | 3 | 4 | FINAL |
| North Allegheny | 8 | 5 | 12 | 5 | 30 |
| Norwin | 12 | 9 | 12 | 17 | 50 |