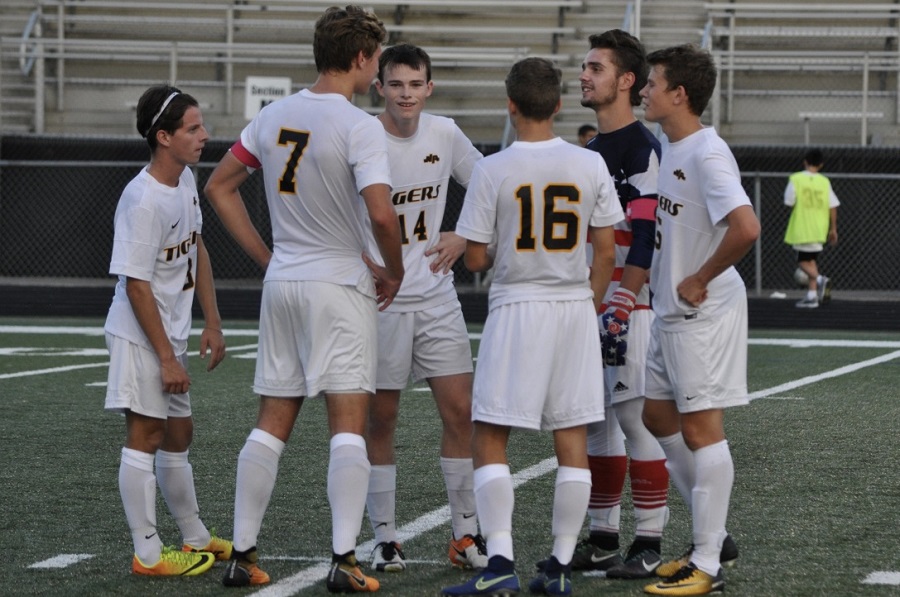 Reigning WPIAL Champs Blank Hampton In Opener
The North Allegheny boys' soccer team started the defense of its two consecutive WPIAL titles on Saturday with a solid 2-0 victory over the visiting Hampton Talbots.  From the moment of the starting kick-off it was apparent these Tigers were determined to start the year strong to begin their own legacy ….to "Rise Up"!
NA controlled the action early, with Hampton struggling to gain any offensive momentum.  Senior forward Sam Wilson registered the first shot on goal inside the box at 26:05 of the first half, followed by a flurry of offensive pressure from senior midfielder Nick Bridges, junior forward Jonathan Ross and junior midfielder Will Cinker.  Hampton appeared to have generated a scoring opportunity in the 21st minute, but the potential breakaway was cleanly stopped with a slide tackle by senior defender Brennan Donovan.  In the 30th minute, offensive substitutions junior forwards JD Runatz and Sam Passodelis both entered the game and the switch paid immediate dividends.  In the 32nd minute Cinker worked himself free from the Hampton defender deep into the left corner and lofted an arching cross into the box where Passodelis knocked a well-placed header into the bottom right corner of the net for the first goal of the Tigers season.  Ten minutes afterwards, a beautiful through ball by junior midfielder Matt VanKirk found Runatz open in a seam, beating the Hampton defense and forcing them to foul at the center of the field 30' out.  Bridges took the direct free kick, angling perfectly toward the top right corner, hitting "bar-down" rolling into the net, putting the Tigers up 2-0 with three minutes remaining.
The starters began the second half, however Coach Vosmaer used his strong team depth on a hot afternoon, to control the balance of the game.  In the 49th minute, junior defenders Jason Roman and Ryan Schwartz were brought in to support the defense resting junior Samuel Gianetti and senior Nikolas Hindsbo.   Shortly after junior midfielders Sam Maldia and Bryce Burroughs were substituted in for Bridges and Cinker.  The tactic work as NA generated seven corner kicks, most coming in the second half, to none for Hampton.  Senior midfielder Kyle Kaczmarek, who commanded the center of the field, controlling important possession time while the team protected the lead was replaced by junior midfielder Luke Anderson in the 65th minute.  Senior defender Austin Smith never left the field stunting many of Hamptons attacks and contributing significantly to senior goalie Devon Angermeier's first clean sheet of the season.
The 1-0 Tigers play host to Allderdice, a new section opponent in 2018, on Tuesday at 7:00 p.m. The game will be broadcast live via the internet on the North Allegheny Sports Network.