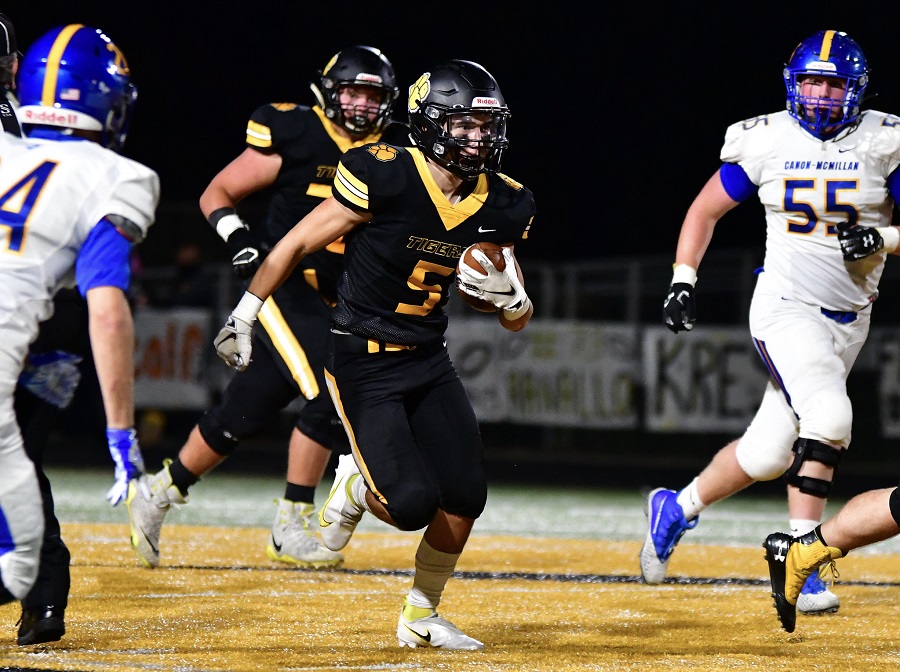 Senior Player Profile: Mason Kress
Like most high school athletes across country, North Allegheny senior Mason Kress has ridden the rollercoaster of emotions that's been rendered by the COVID-19 pandemic. A dual sport athlete, Kress was hoping to log some minutes last spring for a North Allegheny boys' lacrosse team that was projected to compete for a WPIAL championship. However, the entire season was cancelled due to COVID-19.
Undaunted, Kress didn't let the disappointment of a lost spring ruin his outlook. Instead, he used the extra time on his hands as a springboard for a career season on the gridiron.
"I think COVID kind of helped with my preparation for football. Once lacrosse got canceled, I started working out for football earlier," said Kress. "Once football practice started, I was able to hit the ground full speed."
Kress' hard work during a longer than normal offseason paid immediate dividends. On opening night against Penn Hills, Kress raced 41 yards for a touchdown on a jet sweep for North Allegheny's first touchdown of the 2020 season. The Tigers won the contest, 27-6.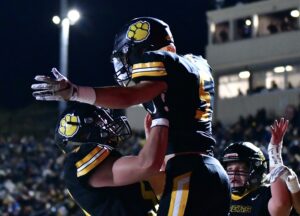 As his senior season progressed, and the North Allegheny passing game evolved, Kress became a reliable source of offense and led the team in receiving yards (296) and receptions (23). The talented wideout could always be counted on when the team needed a crucial third down catch.
"I love to be a guy that a team can rely on and have trust to throw the ball to on a big third down or fourth down when we needed a big play."
Kress' splash play ability was on full display on Nov. 6 in the WPIAL Class 6A championship game against Central Catholic. On just the second play from scrimmage, Kress took a short pass from quarterback Greg Phillips and weaved through the Vikings defense for a 65-yard touchdown. (Audio highlight of TD below.)
"Hearing the crowd erupt when I broke it free and all my teammates celebrating with me, that was something I'll remember forever."
In the championship game, Kress led the team with six catches and 103 yards receiving. Unfortunately, it wasn't enough as NA fell to Central Catholic, 38-24. Despite the loss, it didn't spoil what was a spectacular season for both Kress and the Tigers. A season that had the threat of COVID looming over it the entire way.
"(COVID) was always a concern every day because your season could be taken away at any moment.
"I think we grew as a team, and going through all that adversity, I'd say it made us better. We wanted to be there more each day. We wanted to work harder each day because we knew it could be taken from us."
Overall, North Allegheny finished with a 6-1 record in 2020 and reached the WPIAL championship game for the first time since 2012. Individually, Kress was rewarded for his outstanding play as he was named first-team all-conference by the Big 56 Conference.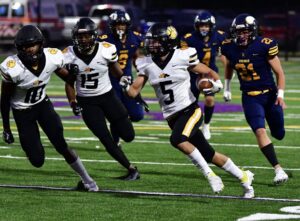 "That meant everything to be me to be on the list with some of those guys. I honestly didn't expect it but being (named all-conference) was something great."
Not only the team leader in receiving, Kress added 133 yards rushing and scored five total touchdowns. Also, a starting safety on defense, Kress posted 21.5 tackles and hauled in a big fourth quarter interception in a regular season victory over Central Catholic in week three.
Now that football season has come to a close, Kress will turn his attention toward preparing for the spring and lacrosse. Growing up playing football most of his life, Kress didn't start playing lacrosse until eighth grade, until his older brother, Brian, turned him on to the sport.
"My brother played lacrosse and told me 'you've got to try this out. It's a real fun contact sport that I think you'll love.' So, I picked it up and I liked it and stuck with it."
Coming from an athletic family, Kress is the youngest of four siblings. His oldest brother, Patrick (Class of 2015), dabbled in cross country. Older brother, Brian (Class of 2017), was a member of North Allegheny's WPIAL lacrosse championship team in 2016.  Older sister, Shannon (Class of 2019), participated in both swimming and water polo at NA. His father, Raymond Kress III, played football at Seneca Valley.
Mason Kress hasn't decided on where he'd like to attend college but he plans to play football wherever he ultimately chooses. He has a list of Division II and III programs he is considering. Kress plans to major in Business.