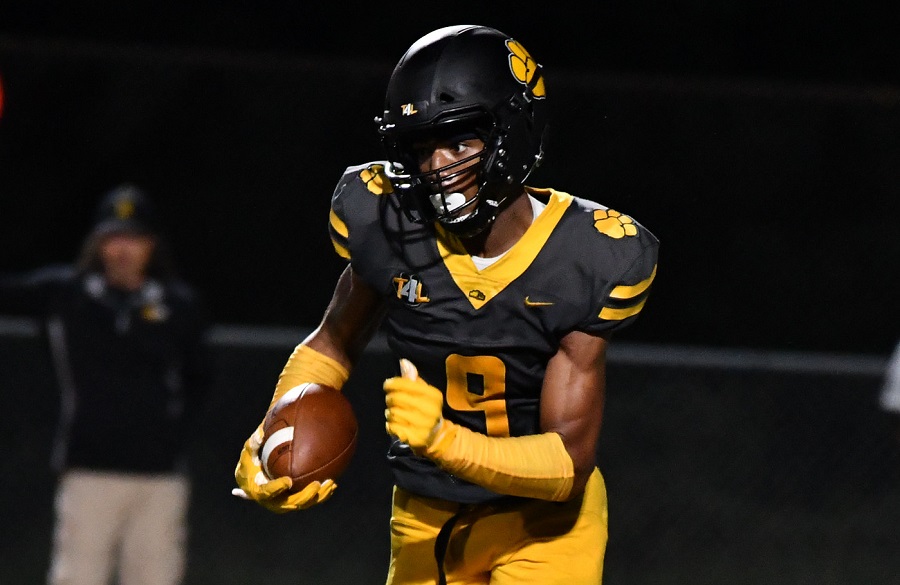 Seven Tigers Earn First-Team Selections, 16 Total Honored By Big 56
The Big 56 Conference announced on Tuesday that 16 North Allegheny Tigers were named to the 2021 Class 6A all-conference teams. Of the NA all-conference honorees, seven of which were tabbed first-teamers, with one second-teamer and eight honorable mentions.
Earning first-team all-conference laurels were senior receiver Dwayne Taylor, sophomore receiver Khiryn Boyd, senior guard Nick Frisco, senior defensive end Will Sheridan, senior defensive end Jacob Porter, sophomore linebacker Tyree Alualu and senior defensive back Kolin Dinkins. NA's lone representative on the second-team all-conference list was senior defensive back Kyrell Hutcherson.
On offense, the receiving duo of Taylor and Boyd lit up opposing defenses as the pair combined for over 800 yards and 10 touchdowns. Individually, Boyd led the Tigers with 26 receptions for 454 yards and six touchdowns, while adding 170 yards on the ground and four rushing scores. Taylor, a WPIAL champion in the Triple Jump, corralled 25 passes for 366 yards and four touchdowns. Taylor also paced the Tigers on defense with a team-leading 73 tackles and three interceptions, including a pick-six against Mentor in week two. Like Taylor, Frisco was a two-way player that helped anchor the offensive and defensive lines. Frisco was part of an offense that averaged 31 points per game, third best in Class 6A. On defense, Frisco made 11 tackles, one sack and had two crucial fumble recoveries against Seneca Valley in week 10.
During most of the 2021 season, the North Allegheny defense was often relied upon and always up to the challenge. The edge pass rush from Sheridan and Porter was arguably the best in all of Class 6A. Sheridan tallied 38 tackles and three sacks this season, while Porter made 52 stops and 13.5 sacks. Porter's 13.5 sacks were the most by a North Allegheny player since Jeremy Gonzales posted 12 sacks in 2012.
In his first-year as a starter at North Allegheny, Alualu made an instant impact with a fumble recovery and interception in a week zero win against Allderdice. On the season, Alualu finished with 55 tackles and 4.5 sacks. In the secondary, Dinkins and Hutcherson were a pair of ball hawks, who often came up with big play interceptions. Dinkins totaled 63 tackles, second best on the squad, with one sack and one interception. His lone interception was significant as Dinkins hauled in a 95-yard pick six against Canon-McMillan to solidify a 49-26 blowout win in the WPIAL Class 6A quarterfinals. Hutcherson, who missed two games due to injury, made 23 tackles on the season and thieved two enemy passes. One of his interceptions was a tide-turning pick against Mentor in week two that helped NA rally from a 10-3 deficit for a 20-16 win.
Additional to first and second team members, the Big 56 selected senior linebacker Dominic O'Barto, senior center Josh Ruppert, junior tackle Abdullah Daud, senior tight end Connor Casten, sophomore quarterback Logan Kushner, senior running back J.R. Burton, senior receiver Cole Dorn and junior kicker Harron Lee as honorable mention picks. For an entire listing of the Class 6A All-Conference team from the Big 56 Conference, click here.
All 16 players made a significant impact on the 2021 North Allegheny team that finished 7-5 overall and reached the WPIAL semifinals for a sixth consecutive season.