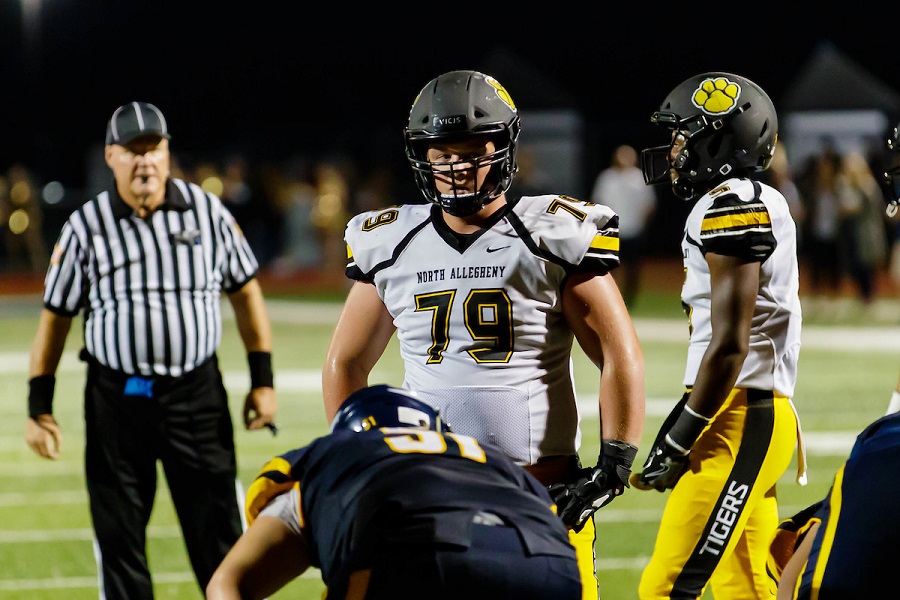 Student-Athlete Profile: Football, Wrestling Standout Ben Grafton
There is a common link between wrestling and football and the success that translates when an athlete blends the two sports together. A shining example of that is North Allegheny senior Ben Grafton.
Grafton spent time at center and was the starting nose tackle on defense for the NA football team this past fall. On the mat, Grafton was the 2020 Section 3-AAA individual champion at 285 pounds, won WPIAL bronze and qualified for the state tournament in Hershey.
Coming from a family of football players, Grafton took up wrestling for more than just to polish his football techniques.
"I had a Pee-Wee football coach tell me that wrestling would really help with my football," said Grafton. "I ended up becoming more of wrestler too not just someone who was a football player that wrestled."
Another dual-sport athlete at North Allegheny had a profound effect on Grafton and his success in both sports. Derek Devine, who is now an offensive lineman and redshirt freshman at the University of Virginia, won two Section 3-AAA individual titles at 285 pounds and took Grafton under his wing.
"Dylan Wall and Derek Devine really helped me and showed me what NA football was all about. In wrestling, Devine and Jon Hoover had a big impact on me and showed me the ropes."
Approaching the wrestling season with as much dedication and enthusiasm as football, Grafton put together a fantastic wrestling career that saw him win 80 matches in just three years on the varsity roster. After a third and second-place finish at the Section 3-AAA individual wrestling tournament the past two seasons, respectively, Grafton finally captured section gold in 2020 with a convincing 11-1 major decision over Eli Reese of Knoch.
"It felt amazing (to win the section championship). It was just a feeling of knowing all the hard work paid off these past few years and that the constant grind is worth it. It was a great feeling."
Overall, it's been a memorable 2019-2020 season for Grafton. Along with his wrestling accomplishments, Grafton had an equally impressive football campaign. A cornerstone on the defensive line, Grafton totaled 21 tackles, seven for a loss, and a pair of sacks this season. The stat line helped Grafton earn first-team All-Big 56 Conference laurels. He was also tabbed to play in the PSFCA East/West All-Star Game on May 24. (At the time of this article, the East/West Game is still scheduled.)
With so much success on the gridiron, Grafton also credits football with aiding his wrestling skill set.
"In both sports you have to be tough and need to have a really tough mindset. I've played a lot of downs (consecutively) and that taught me physical endurance. That helped me with my wrestling to know that I could go farther and I could go faster."
Grafton will continue his football career next season at Division III John Carroll University where he'll pursue a degree in Business. John Carroll went 9-1 last season in the Ohio Athletic Conference with its only loss coming to national power, Mount Union.
"John Carroll seemed like the best fit for me. They have a terrific business school and I fell in love with the campus and the coaching right away. They're very passionate about football and that's something I really want to be a part of."