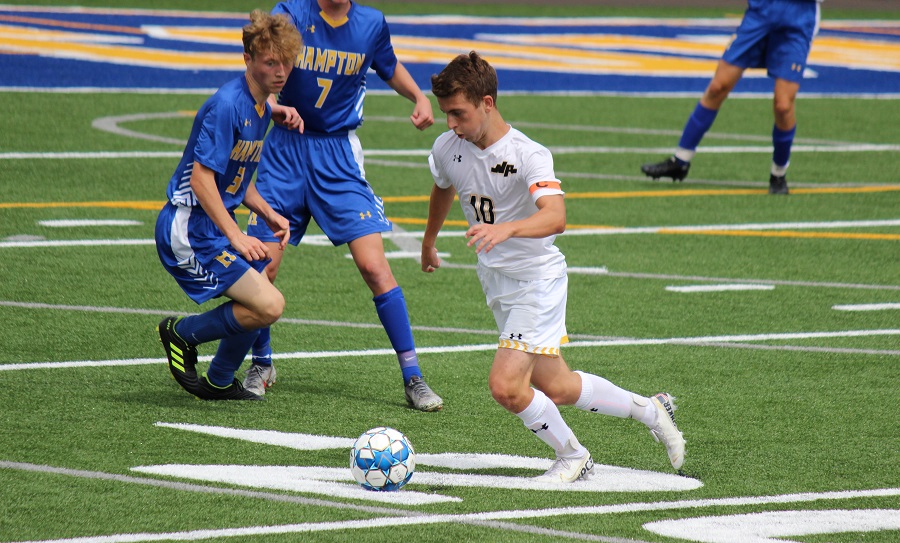 Student-Athlete Profile: Senior Forward Will Cinker
In the fall of 2019, the North Allegheny boys' soccer program extended its streak of consecutive playoff appearances to 10 in a row, including two WPIAL titles in that span. Playing a part in that streak of success over the past six seasons have been the Cinker brothers.
Ben Cinker was a senior and the leading scorer on the North Allegheny's WPIAL championship team in 2016 with 12 goals. He currently plays club soccer at Penn State University as a junior.
"Ben was definitely a huge influence," said senior forward Will Cinker. "He started playing competitive (soccer) and I would travel to all of his tournaments. I admired watching him and his teams play. That's what kind of inspired me to play."
With his older brother setting the example, Will Cinker continued on his own path to success at North Allegheny in the years to come. In 2017, he was called up to the varsity playoff roster as a sophomore on a senior-laden team that again won a WPIAL crown with a 2-1 triumph over Peters Township.
Despite playing sparingly as a sophomore, Cinker was ready for his big leap during his junior campaign.
"Once I was starting and getting a lot of playing time as a junior, I wanted to prove I was capable of playing at the varsity level. I think that's what fueled my fire that year."
Cinker took full advantage of his opportunity and became North Allegheny's go-to scorer, especially in the clutch. Thanks in part to an early season surge, he led the team in scoring with seven goals. Cinker's most heroic goal came in the third game of the season, a game-winning marker that propelled the Tigers to a 2-1 win in double overtime at archrival Seneca Valley.
"It was a pretty hard shot off my weak foot that went toward the top of the net. Their goalie got a hand on it but it trickled into the net. The parents and the crowd were going crazy and I just had so much adrenaline. All of my teammates ran over and tried to grab me. I just slid on the field and there was a huge dogpile."
Cinker's breakout year in 2018, and another seven-goal performance in 2019, led to back-to-back All-WPIAL accolades for the NA forward.
"It was an awesome feeling," said Cinker of being named All-WPIAL. "It was really cool getting that feeling that in other people's eyes you are one of the top players in the WPIAL. It's a great feeling to know your hard work is paying off."
A strong work ethic on and off the pitch, Cinker is heavily involved in many activities at North Allegheny High School. He is one of the three head event organizers of TigerThon, an annual dance marathon that raises money for pediatric cancer. Cinker is also the president of the National Honor Society and a leader for the NA student section.
Following in his older brother's footsteps, Cinker plans to attend Penn State University next year and hopes to make the roster for the PSU club soccer team. He will major in Actuarial Science.
However, before he steps foot onto the campus at State College, Cinker's reflections on his time at North Allegheny is something that he'll always cherish.
"It's been a blessing. It's something that I'll always look back on and remember the great memories…My high school soccer buddies are friends that I'll have for the rest of my life."