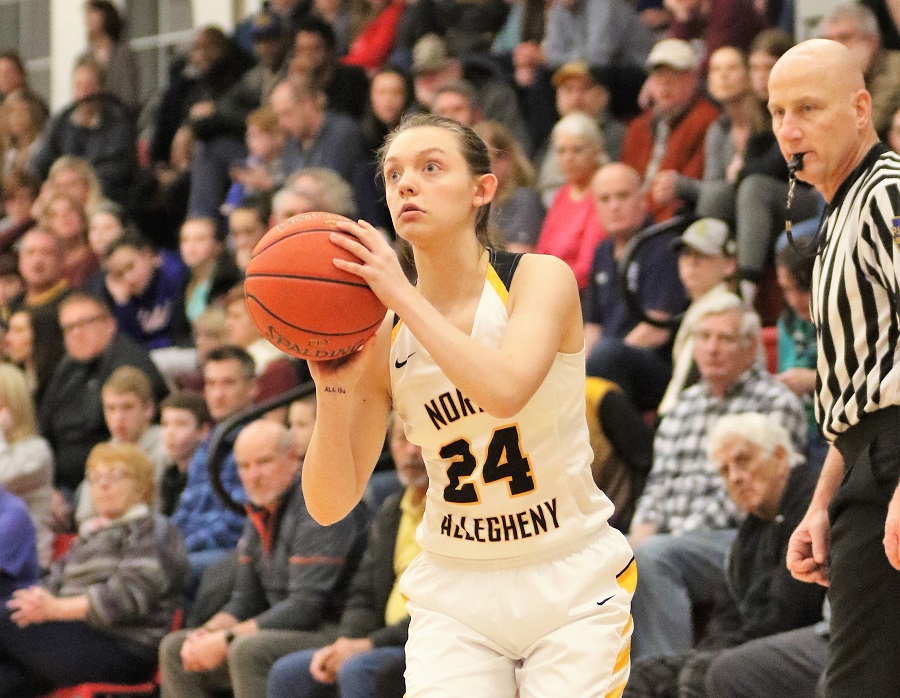 Student-Athlete Profile: Senior Guard Abby Glass
On opening night of the 2019-2020 basketball season, the North Allegheny Tigers played host to State College at the Wright Automotive Tip-Off Tournament. Facing off against one of the top teams in District 6, and the Mid-Penn Commonwealth Conference, the eventual WPIAL champion Tigers mauled the Little Lions, 70-20. Leading the charge in the victory was senior guard Abby Glass. The sharpshooter netted a career-high 17 points and poured in five 3-pointers.
"It was a lot of fun," said Glass of opening night. "To score that many points was great. My teammates were giving me great passes and the atmosphere was great for the first game."
The season debut for Glass and the Tigers set the tone for an extraordinary season, which included another memorable performance on senior night. In the section finale against Butler on Feb. 4, Glass led the senior triumvirate with nine points and three 3-pointers in a 62-39 late-season blowout.
The journey for Glass and her fellow seniors, Kat Balouris and Maddie Chevalier, is one that she won't soon forget.
"They're my best friends. We've been playing together since seventh grade on travel ball. To see us now, we've gone through everything basketball wise together and we've grown so much."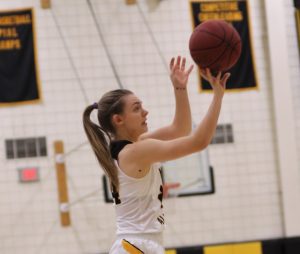 A role player off the bench with a sweet shooting stroke, Glass delivered whenever called upon by fifth-year head coach Spencer Stefko. For the season, Glass connected on 25-of-72 shots from beyond the arc, hitting at a 35-percent success rate.
Glass' remarkable accuracy at the perimeter can be attributed to an abundance of hard work during and after practice.
"Any chance I get, I'm in the driveway shooting and we shoot in practice. It becomes second nature. I don't think, I just shoot it."
It's probably no surprise that one of Glass' favorite players is guard Steph Curry of the Golden State Warriors, one of the best 3-point shooters in NBA history.
"Hitting three's is my favorite thing to do. Make or miss, I love to shoot them."
Following an early-January loss to Norwin, North Allegheny did not lose to another opponent in the state for the remainder of the year. The Tigers reached the WPIAL championship game for a fifth consecutive season and defeated Bethel Park, 54-50, in overtime for the third WPIAL crown in program history.
"It was nail-biter," said Glass about the WPIAL title tilt. "It was a great way to win. It was our most competitive game of the season. It was unbelievable."
Coming off the WPIAL championship win against Bethel Park, the Tigers extended their winning streak to 13 in a row in the state playoffs, including another win over State College in the PIAA second round. Boasting a 24-3 record, North Allegheny did not get the opportunity to complete its quest for a state title due to COVID-19, bringing the season to a sudden end.
"We obviously didn't get to finish it, but what we've left at NA will hopefully continue on. I have no doubt that the next class will continue on and get another (championship) banner up there."
After graduation, Glass will be going from one championship program to another. Beginning next season, she will continue her basketball career at Grove City College. The Wolverines went 25-3 this past season, setting a new program record for wins, and took home the Presidents' Athletic Conference championship.
Glass will major in Elementary Education at Grove City and hopes to be an elementary school teacher one day.