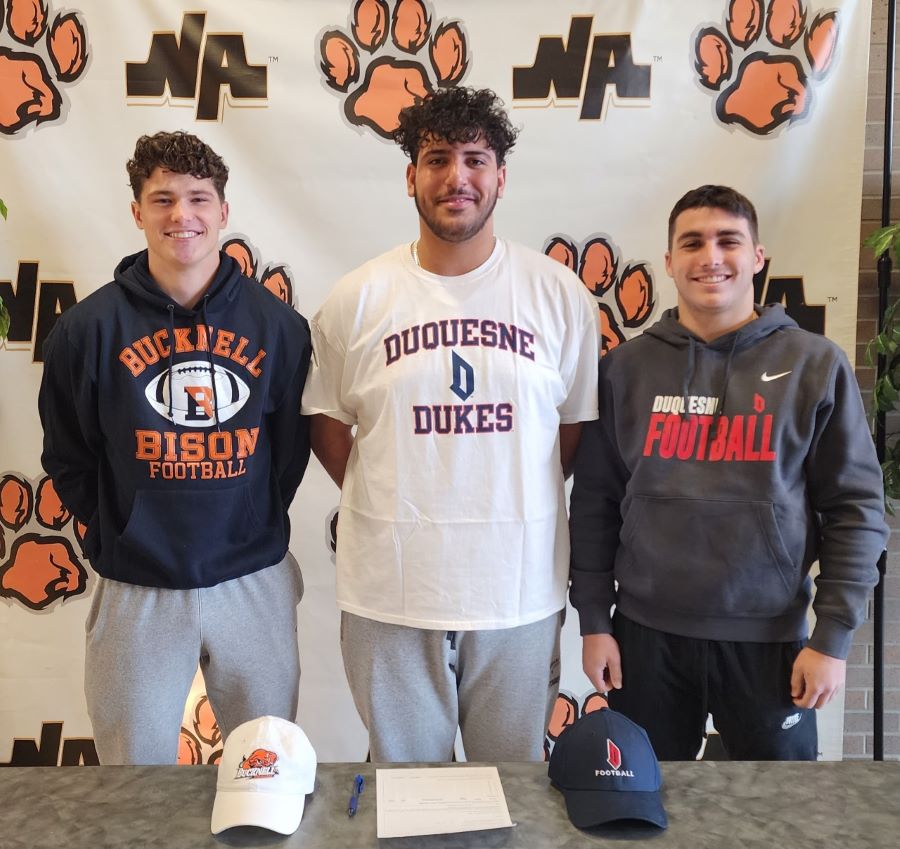 Three Tigers Ink LOI's on National Signing Day
Wednesday marked the early signing period for college football and three North Allegheny Tigers made their commitments official with NCAA Division I programs. Senior punter Rourke Kennedy (Bucknell), senior offensive lineman Abdallah Daud (Duquesne) and senior linebacker Kevin O'Donnell (Duquesne) inked their letters of intent with their respective college choices.
A special teams dynamo, Kennedy pinned opposing teams inside the 20-yard line 11 times this season and delivered two kicks of over 50 yards with a season-long 52-yard punt. Kennedy also used his booming leg on kickoffs for 11 touchbacks. Additionally, Kennedy was the third-leading receiver for the Tigers with 16 receptions for 171 yards and a touchdown. He was a first-team all-conference pick by the Big 56 conference this season.
Paving the way for one of the top offenses in Class 6A, Daud anchored the left tackle position and bulldozed holes for senior running back Andrew Gavlik, who rushed for nearly 1,000 yards this season. As the year wore on, Daud saw additional time on the defensive front and brought his hard-nosed, physical play to the front four on the defensive line. Daud was a first-team all-conference selection by the Big 56.
O'Donnell was North Allegheny's leading tackler with 98 stops and three sacks in the fall of 2022. He also delivered seven tackles for a loss and numerous bone-rattling hits. O'Donnell was a second-team all-conference pick by the Big 56 this season.
All three players played a significant role in North Allegheny's championship campaign. With the help of Kennedy, Daud and O'Donnell, the Tigers went 11-2 this past fall and won a WPIAL Class 6A title with a thrilling 35-21 win over Central Catholic. It's the fifth WPIAL title in program history.
Congratulations to all three players and best of luck in their future endeavors.