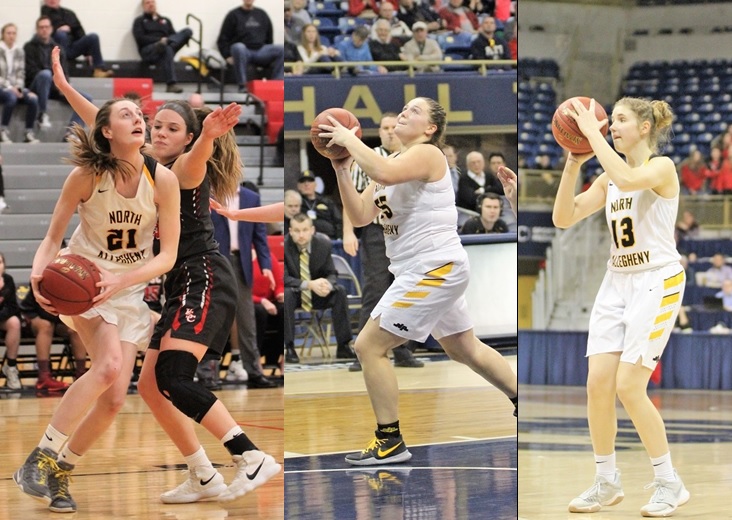 Three Tigers To Play In Annual Roundball Classic
Three North Allegheny girls basketball players have been selected to play in the annual Roundball Classic at Geneva College. Seniors Piper Morningstar, Madelyn Fischer and Courtney Roman will participate in this prestigious all-star event. The Class 6A girls' team will also be coached by North Allegheny's Spencer Stefko.
The top boys and girls players from each classification in the WPIAL and City League will play in a series of all-star games on Friday, April 20, and Saturday, April 21, at Geneva College in Beaver Falls. The weekend also includes a recognition dinner for players and their families on Thursday evening. The Class 6A girls will take on the Class 5A girls at 4 p.m. on Saturday, April 21.
Morningstar is a Radford University commit who led the Tigers in steals this season with 51 and was the team's second-leading scorer, averaging 10.9 points per game. Morningstar was also second on the squad in assists with 65 and poured in 45 3-pointers, third best on the team.
Fischer is a Seton Hill University commit and was North Allegheny's leading rebounder, hauling in 6.6 rebounds per game. An effective post player, Fischer netted 8.8 points per game and shot 71-percent from the free-throw line.
One of North Allegheny's top sharpshooters, Roman connected on 64 treys and boasted the best 3-point shooting percentage on team, hitting at a 36-percent clip. Roman averaged 7.9 points per game and delivered clutch shots down the stretch in the PIAA playoffs.
Congratulations to all three Lady Tigers and good luck in the Roundball Classic next month.