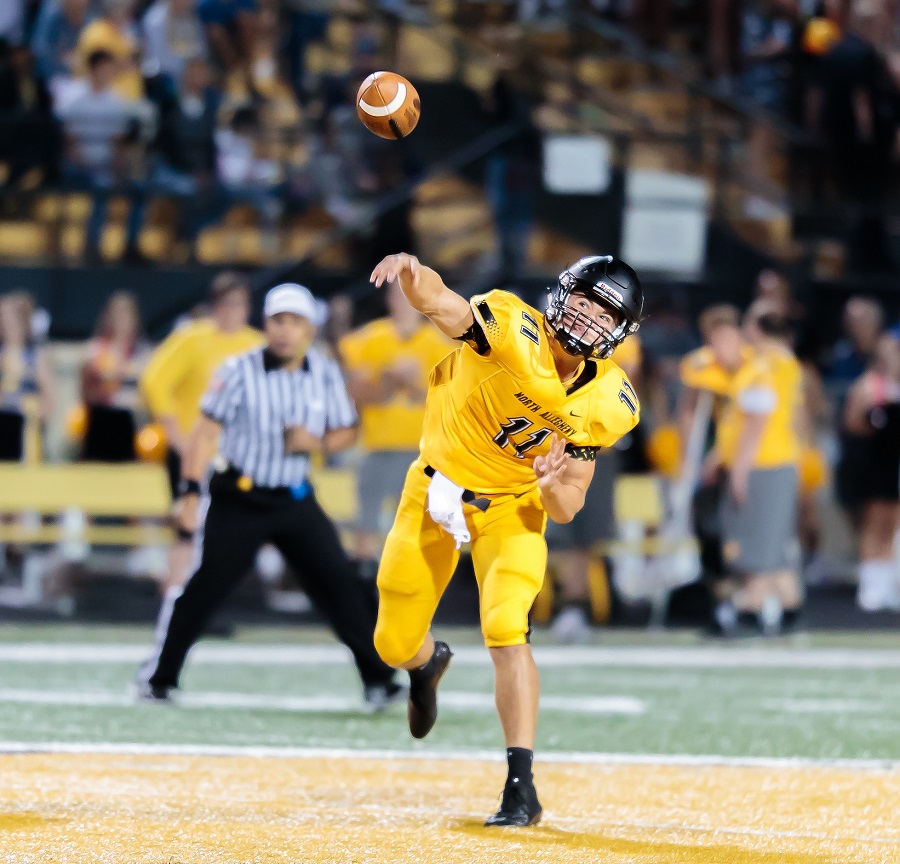 Tigers Best Indians For Non-Conference Win, 26-20
In a contest involving two storied high school football programs, North Allegheny won its interconference contest with West Allegheny on Friday night by a 26-20 decision. The Tigers special teams blocked three kicks in the game to help keep NA undefeated on the season.
After a three-and-out by both teams to start the game, West Allegheny put together an 11-play, 47-yard march that was spearhead by the "wildcat" formation and tailbacks Paul Newton and Danti Flati. While the running game got the Indians into the red zone, it was a one-handed catch by tight end Mateo Vandamia on a 6-yard touchdown pass by Kam Kruze that put WA in front, 7-0, with 3:43 to play in the first quarter.
North Allegheny marched the football deep into West Allegheny territory on the ensuing possession but the drive ended on an interception by Drevon Baldwin in the end zone. The Indians went three-and-out, however, and on fourth down Gavin Miller's punt was blocked by NA senior Dante Caputo at the WA 10-yard line. The Tigers scored two plays later on a 4-yard touchdown run by senior Ben Maenza to tie the game at 7-7 with 7:45 to play in the second quarter.
In a strong second quarter by the Tigers, junior Percise Colon scored on a 46-yard scamper to pay dirt and junior Reid Fischer reached the end zone on a 4-yard run to give North Allegheny a 20-7 lead by intermission. The extra point kick failed following the Fischer touchdown.
Another blocked punt by the NA special teams set up a Tigers touchdown late in the third quarter. NA needed only five plays to travel 28 yards, culminating the drive on a 2-yard touchdown run by Kenny Williams for a 26-7 lead. The extra point failed following the Williams score.
West Allegheny managed two touchdown passes by Miller in the fourth quarter to bring the final score to 26-20. Miller's two scoring tosses went to John Rink and Brandon Dale from 4-yards and 2-yards out, respectively. The final touchdown pass to Dale came with just 57 seconds left in the game.
The North Allegheny Sports Network selected Dante Caputo as the Wright Automotive Player of the Game for his tide-turning blocked punt in the second quarter. Caputo also made three tackles, including a sack and a forced fumble.
With the non-conference win, North Allegheny improves to 9-0 on the season. West Allegheny slips to 6-2 on the campaign. The Tigers will host Pine-Richland next week in a showdown for the No. 1-seed in the upcoming Class 6A playoffs. The game can be heard as always on the NA Sport Network and is scheduled to kickoff at 7 p.m.