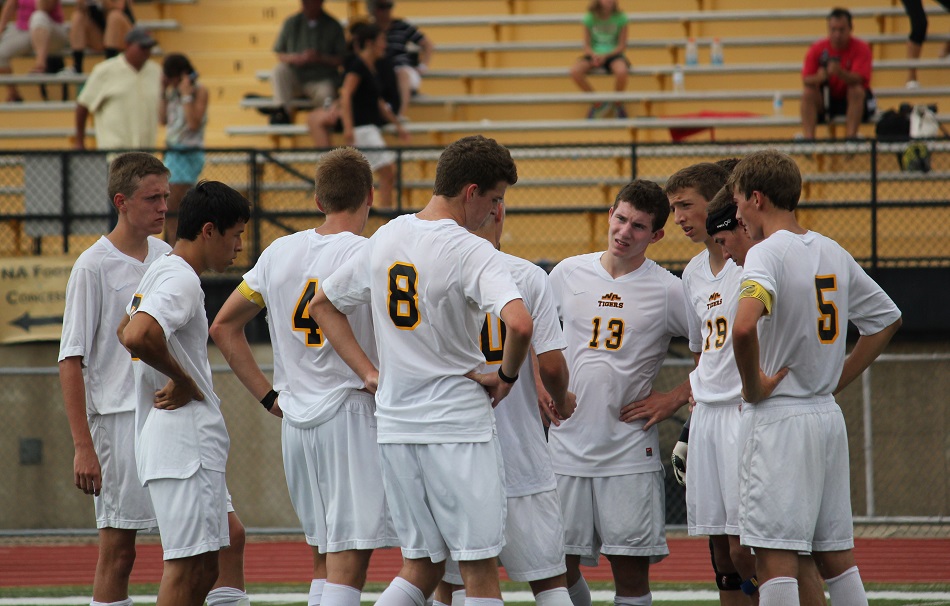 Tigers Blank Butler, Move To 3-0 In Section Play
by Dave Floyd
North Allegheny head boys soccer coach Bobby Vosmaer said his team has rarely had trouble possessing the ball in recent seasons—it's been finding the back of the net that has eluded them at times.
That hasn't been an issue yet in 2013.
The Tigers have outscored Section 2-AAA competition by a combined score of 13-0 in three games, including a 4-0 blanking of previously unbeaten Butler Tuesday evening at Newman Stadium. Before Tuesday's contest, the Golden Tornadoes had yet to yield a goal in their first five games.
North Allegheny controlled play against Butler for the vast majority of the opening moments but were unable to break through until more than 16 minutes into the contest. That's when junior midfielder Sam Conti put home a cross from classmate Steve Binnig to give the Tigers the game's opening goal.
The score remained that way until inside of eight minutes to play. Binnig picked his way down the left side through a couple of Butler defenders and sent another cross into the box. Senior midfielder Peter Tobias connected with Binnig's cross, beating the keeper and upping the Tigers lead to two.
They weren't done in the first half yet, though. With 1:33 to play, North Allegheny had a free kick deep in the Butler end of the field. Binnig tapped a short pass to senior midfielder Nick Jewell, who took a couple of touches to his right and fired a long-range shot that bent into the top right corner of the net.
Jewell's impressive blast made the score 3-0 at the half but didn't come without a price. The senior injured his left leg on the play and was forced to sit out for the remainder of the contest.
In the second half, the Tigers continued to hold the upper hand in terms of possession, shots and corners, and they tacked on one more scoring tally, as well. Conti scored his second goal of the night when he took a throw-in from Bennig and sent a long, lofting ball into the box that ended up sailing over the goalkeeper's head and into the net to close the scoring at 4-0.
Binnig had a hand in each of North Allegheny's four goals. He notched assists on the first three and found Conti with a throw-in on the fourth. For his efforts, he was named Wright Automotive Player of the Game.
With the victory, the Tigers improved their overall record to 5-0 and their section record to 3-0. They step outside of section play this Saturday for a 7:30 p.m. home game versus Plum. Then, it's back into section action with two key contests, one on the road at Hampton and the other at home against Seneca Valley.
Boys Soccer Summary vs. Butler 9-12-13
| GAME SUMMARY | | | |
| --- | --- | --- | --- |
| SCORE BY HALVES | 1 | 2 | FINAL |
| Butler | 0 | 0 | 0 |
| North Allegheny | 3 | 1 | 4 |