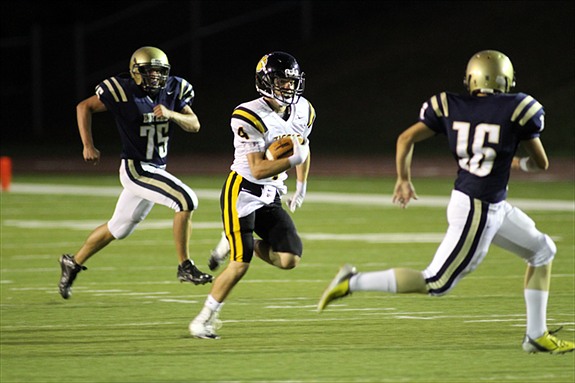 Tigers Breeze Past Golden Tornado, 58-3
Using a 37-point second quarter, the North Allegheny Tigers (4-1) punished the Butler Golden Tornado (1-4) on Friday night, 58-3, at Art Bernardi Stadium.  Senior Isaac Weaver rushed for 111 yards and two touchdowns in the first half and senior Andre Sumpter finished off Butler in the second half with 87 yards on the ground and another score.  North Allegheny quarterback Jeff Clemens completed 5 of 10 passes for 182 yards and two touchdowns.
After a three-and-out by Butler to start the ballgame, the Tigers promptly opened the scoring when junior Clay Byerly returned a punt 54-yards for a touchdown to give NA a 7-0 lead with 9:43 on the clock in the first quarter. On the ensuing drive, the Golden Tornado answered with an 11 play, 55-yard drive that was capped on a 41-yard field goal by Devin Fitz to cut the score to 7-3, Tigers.
North Allegheny marched 80 yards on 11 plays on their first offensive possession of the night, scoring just 12 seconds into the second quarter on a 32-yard touchdown run by Weaver. On a fake extra point attempt, holder Cage Galupi took the snap, rolled right and fired a pass to Byerly for a two-point conversion and a 15-3 North Allegheny lead.  Moving the ball again, Butler drove to the NA 30-yard line, but was turned away on a fourth down pass that was dropped by Josh Rader.  Three plays later, Clemens hit Byerly for a 69-yard touchdown strike to open up a 21-3 lead.  The Tigers tacked on another two-point conversion as Galupi hit Elijah Zeise with a pass to bring the score to 23-3, Tigers.
Following Byerly's touchdown catch, the rout was on for North Allegheny as the Tigers added three more touchdowns before the end of the first half.  Weaver trotted 39-yards for a rushing score, Jon Sumpter blocked a punt and recovered the ball in the end zone for a touchdown, and Zeise hauled in an 82-yd touchdown catch to give North Allegheny a 44-3 lead at halftime.
With the mercy rule invoked, Andre Sumpter sprinted 34-yards for a rushing touchdown and Nick Provenzano capped the scoring with a 1-yard touchdown run as NA cruised to a 58-3 victory.
On a night of several top individual performances by the Tigers, Clay Byerly was selected as the Wright Automotive Player of the Game. Byerly jump started the Tigers with his punt return touchdown, and his 69-yard touchdown catch effectively put to an end the competitive phase of the game in the second quarter. Defensively, Byerly was also one of the top tacklers with four stops in the game. For Butler, quarterback Thomas Jendesky was the lone bright spot, rushing for 133 yards on 22 carries.
North Allegheny improves to 4-1 overall and 3-1 in the Northern Eight Conference, while Butler falls to 1-4 overall and in conference play.  The Tigers will host Gateway next Friday for homecoming at Newman Stadium in a non-conference contest.
For final team and individual stats, click here.