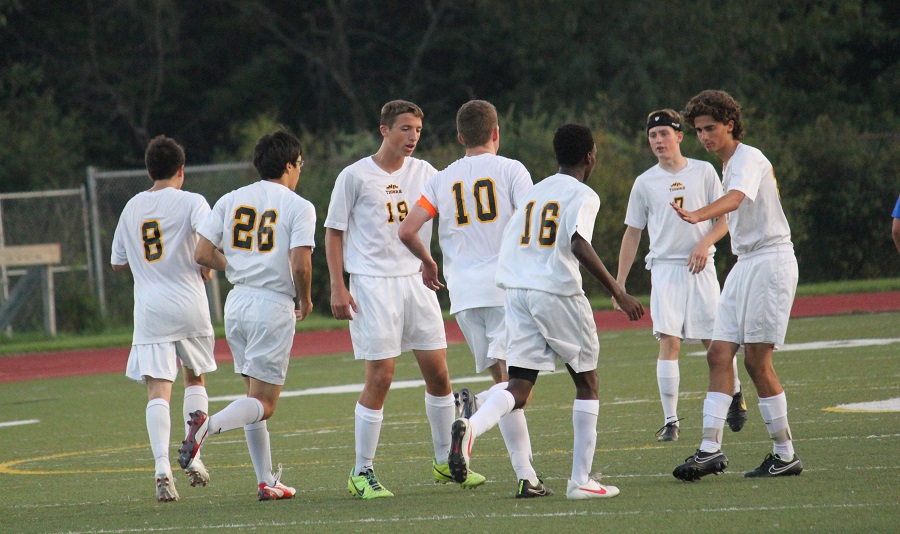 NA Ends Seneca's 19-Game Section Unbeaten Streak With 2-0 Win
North Allegheny head coach Bobby Vosmaer's team came to play on Tuesday night in front of another good crowd at the Tiger's Den and handed the Seneca Valley Raiders their first section loss in two years with a 2-0 victory on Tuesday night.  A spirited NA squad contested every touch by the Raiders and played the ball deep in limiting the Seneca Valley rushes.
Michael Peters put the first Tiger shot on net at the 37:17 mark, and Josh Luchini off a through ball from Kevin Dougherty at 27:56, had a point blank shot that was saved by the Raider goalie.  At the 21:48 mark, goalie Luke Nolan made a sure-handed save off a header from Seneca from about 10 yards out.  The game changed when, at 17:31, Jason Earle crossed to Steve Binnig who fed Luchini in on goal. Luchini's shot was initially saved by the Raider goalie, but the ball bounced to Bobby Upton from 5-yards out and the senior forward buried the shot for a 1-0 Tigers lead.
Seneca Valley continued to attempt to pressure the net, but the defense of Nick Thornton, Chip Dougherty, Spencer Heastings, Adam Maloney and Dillon Thoma blocked shot after shot, protecting the NA net and breaking up passes on Seneca runs.  With six minutes left in the half, Dougherty, Thornton and Thoma blocked four shots in a row with Thoma throwing himself all night in front of the Seneca forwards.  The half ended with North Allegheny having eight shots and Seneca four.  The Tigers also enjoyed a corner advantage of 4-2.
The talented Raiders would not go away quietly and came out in the second half trying to even the score, but the NA defense didn't back down and Nolan made important saves when it counted.  The play was exciting with every touch and at 8:37, off another Luchini shot, Upton picked up the rebound and again beat the Seneca defense for a 2-0 North Allegheny lead. The Tigers didn't go into a shell, and at 5:38, Binnig sent Luchini in alone on goal and chipped the goalie, but his shot went high over the net.  Seneca closed the game with two corners and a few long shots, but when the buzzer sounded North Allegheny broke Seneca Valley's 19-game unbeaten streak in section play with a total team effort and a 2-0 victory.
With the win the Tigers are 5-1-1 and in second place in the section along with a 6-3-1 overall record.  The boys' team travels to Hampton this Thursday at 7:30 pm in another pivotal section contest.