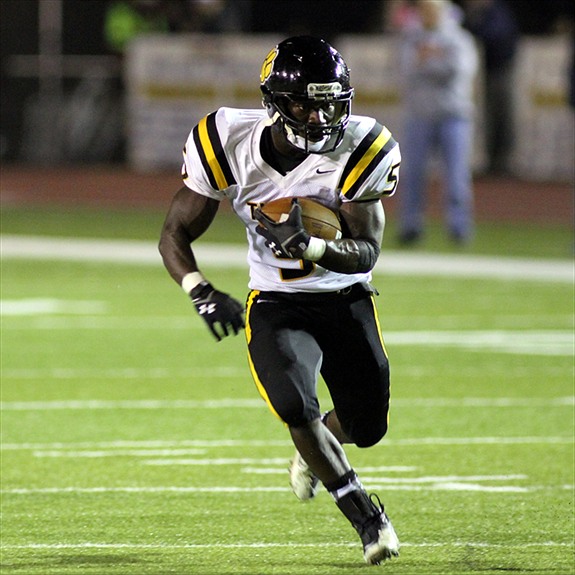 Tigers Entertain Gators On Homecoming Night
When the North Allegheny Tigers (4-1) and Gateway Gators (5-0) go head-to-head, it typically ends in hair raising fashion. Last season, the Tigers outlasted the Gators in Monroeville in a knock-down, drag-out defensive battle that saw NA earn a 14-3 victory that was much closer than the score would indicate. In the playoffs in 2011, North Allegheny claimed an exciting 21-17 win over Gateway in the WPIAL semifinals as defensive back James Kleinhample picked off a pass in the waning seconds of the contest to secure a trip to Heinz Field.  In 2007, it was Gateway who prevailed in the WPIAL semifinals with a 28-27 overtime win, denying NA's Geoff Greco on a two-point attempt at the goal-line to end the ballgame.  With so many memorable games between these two schools, tonight's Homecoming Game at Newman Stadium has the makings of adding to lore of this series as the third-ranked Gators visit the fifth-ranked Tigers.
It may be a non-conference game, but tonight's affair means a great deal to both teams involved, especially a Gateway team that believes it has unfinished business against the Tigers because of prior defeats. While the Gators are 5-0, they struggled on opening night againt a one-win Latrobe team and needed a last-minute touchdown to beat Hempfield last week, 22-16.  Regardless of the margin of victory, Gateway remains undefeated under first-year head coach Donnie Militzer.  Replacing long-time head coach Terry Smith who took an assistant job at Temple University, Militzer spent the last two seasons as an assistant coach at Carlynton High School. While the coaches have changed, the style of play remains the same as in years past with a hard-hitting defense and a spread offense.
The Gators boast six Division I recruits, including four in the receiving corps and secondary.  The headliner is senior Montae Nicholson who has hauled in 15 passes for 192 yards.  Nicholson, a PIAA Champion in the 110 meter hurdles, has scored five total touchdowns, including a fumble and interception return for a touchdown. Temple recruit Delvon Randall is the team's leading receiver with 23 catches for 288 yards and five total touchdowns. Joining Nicholson and Randall as receivers, and in the defensive secondary, are West Virginia recruit Ricky Rogers and D-I prospect Anthony Davis.  Thanks in large part to his talented receiving unit, senior Jimmy Moore has settle in nicely in his first year as the starting QB, completing 69 of 132 passes for 951 yards and 10 touchdowns with no interceptions.  When the Gators rush the football, sophomore tailback Adam White has toted the rock 34 times for 220 yards.
In last season's 14-3 win by NA over Gateway, the Tigers used six sacks to wrestle down the Gators offense.  North Allegheny's defense will again be faced with the challenge of trying to stifle the Gateway attack. Junior linebacker Layne Skundrich is NA's top tackler with 46 stops and one sack. Fellow linebacker Reilly Sullivan has 33 tackles and Isaac Weaver has chipped in with 31 tackles.  Senior defensive back Elijah Zeise has a team-high three interceptions and lineman Eric Sprys has notched a team-best two sacks.
Against Butler last week, the North Allegheny special teams scored two touchdowns, one on a 54-yard punt return for a touchdown by Clay Byerly, and another on a blocked punt and recovery by Jon Sumpter. The Tigers special teams will be crucial tonight in what could very well be a grudge match with the Gators. NA place kicker Seth Mancuso has converted 18 extra point tries this season and successfully booted an on-side kick two weeks ago against Pine-Richland. Punter Brandon Rossier averages 31.7 yards per punt.
Stepping in at tailback last week was senior Isaac Weaver who rushed for 111 yards and two touchdowns in a 58-3 rout of Butler.  Weaver got the start in place of the injure RB's Brandon Bergman and Sean Idowu and could very well see additional carries tonight, however the Tigers are hopeful of having Bergman and Idowu back in the fold this evening.
Kickoff for tonight's non-conference clash is set for 7:30 pm at Newman Stadium with homecoming festivities commencing prior to kickoff. The North Allegheny Sports Network will broadcast the game live via the internet with the pre-game show getting underway at 7:10 pm, including a pre-game interview with Tigers head coach Art Walker. To listen to tonight's game, click here.