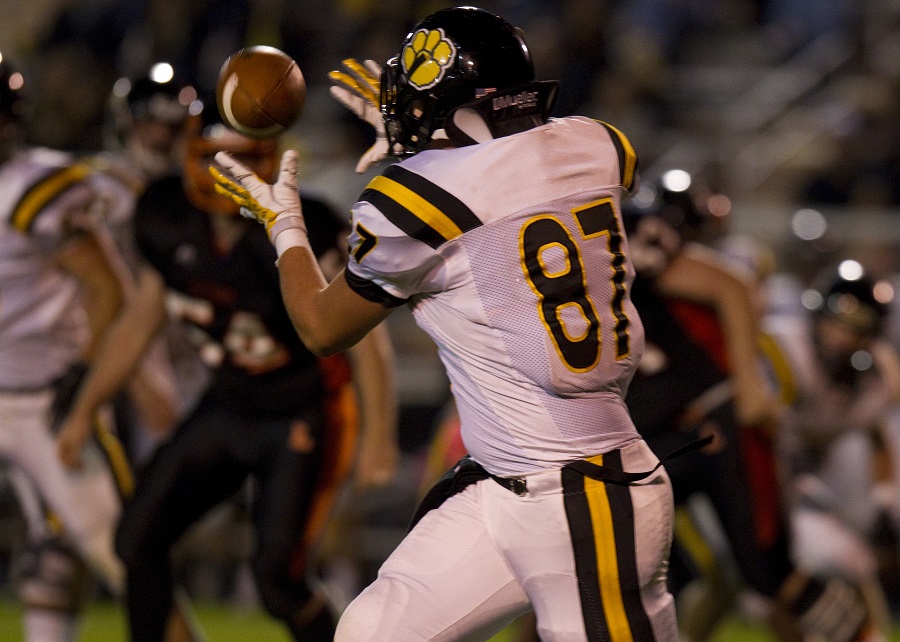 Tigers Hope To Catch Victory In Crucial Game With North Hills
It's a "Crucial Catch" night at Newman Stadium tonight and the North Allegheny Tigers (6-2) have their sights set on a crucial win against rival North Hills (6-2) in a Northern Eight Conference clash. Tonight is the 55th meeting between these two schools and the victor in this contest will lay claim to third place in the conference and play host to a first round playoff game next week.  The loser will finish fourth and will assuredly play on the road in the opening round.
Part of the Crucial Catch program to raise breast cancer awareness in the month of October, the Tigers are donning specialty pink jerseys for this evening's game. The jerseys will be auctioned off with the proceeds benefitting the American Cancer Society. For more information about the jersey auction and the "pink out," click here.
Emotions always run high when North Allegheny and North Hills hook up and tonight's affair will surely be no different. The Tigers are riding a five-game winning streak and are coming off a 49-10 non-conference rout of Latrobe last week. In similar fashion, the Indians are coming off a blow-out victory, trouncing Shaler last Friday by a 44-0 decision.
As it has been in years past, defense is once again a staple for North Hills under second-year head coach Pat Carey. The Indians are a hard hitting and ball hawking group that capitalizes on opponent's turnovers.  Amongst the leaders on defense is senior Brandon Wagner who has collected a team-high three interceptions.
The biggest improvement from last year's North Hills team, which finished 5-5 overall, is on the offensive side of the football where a healthy Jake Bruder resides at the quarterback position. Bruder suffered an ankle injury in week three a year ago, but is healthy and as mobile as ever in 2014.  A terrific running quarterback, Bruder is most effective on rollouts and throwing while in motion.  The challenge for the Tigers defense is to keep Bruder under containment in the pocket.  The senior signal caller has passed for 756 yards and seven touchdowns, while adding another 280 yards on the ground and three scores. A multi-sport athlete, Bruder is also a shortstop on the North Hills baseball team.
Other key figures of the North Hills offense include speedy tailback Nick Santucci who has rushed for 592 yards and six touchdowns, slotback Andrew Bly who is a rushing and receiving threat on the jet sweep, and senior Kindahl Taylor who is the top receiving target with 17 catches for 300 yards and two touchdowns. A talented athlete, Taylor filled in for the injured Bruder at quarterback last season.
The Tigers will be challenged to control a North Hills offense that averages 25 points per game. NA's defense has limited opponents to 14 points per game and is led by senior linebacker Layne Skundrich who tops the team with 59 tackles and five sacks. Zech Nachazel (55 tackles) and Jonny Sumpter (53 tackles and three sacks) are additional forces on the NA defense.  Amongst the front four, senior Eric Sprys and junior Vaughn Wallace have pillaged pass pockets for three sacks apiece.
The North Allegheny offense, which averages 29 points per game, goes up against a North Hills defense that yields 14 points per contest. The Tigers are directed by senior quarterback Jeff Clemens who has passed for 935 yards and 10 touchdowns this season.  Also a threat to run the football, Clemens has toted the ball 80 times for 340 yards and three touchdowns. The Tigers leading ground gainer is senior Josh Bergman with 385 yards and four touchdowns, followed by sophomore scat back Michael Pope with 316 yards and three scores.  Junior Nick Provenzano has started the last two weeks at halfback and checks in with 159 yards and a touchdown.  North Allegheny's biggest receiving threat is senior Clay Byerly with 23 receptions for 366 yards and three touchdowns on the season.
North Allegheny leads the all-time series with North Hills, owning a 28-26 record against its Quad North foe. The Tigers have won three straight against the Indians by a combined score of 90-0.
Kickoff for tonight's game is slated for 7:30 at Newman Stadium. The North Allegheny Sports Network will broadcast the game live via the internet with the pregame show, including an interview with Tigers coach Art Walker, getting underway at 7:10. Randy Gore and Rick Meister will have the call. To listen to tonight's game, click here.