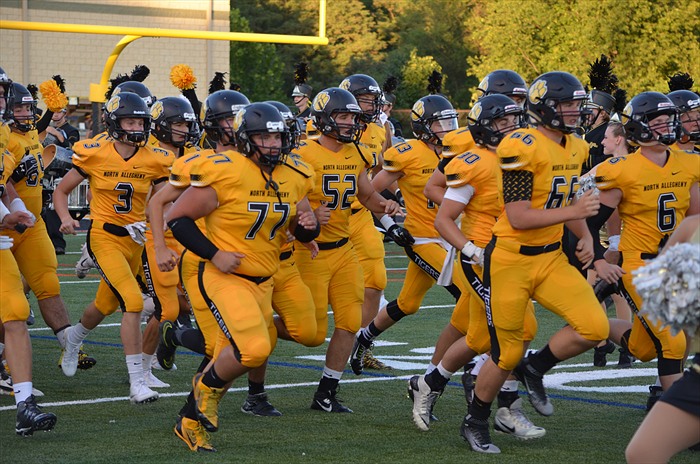 Tigers Host Morgantown To Open 2017 Season, Football Classic
The North Allegheny Tigers open the 2017 season on Friday night against the Morgantown Mohigans at Newman Stadium. The contest is not only the season opener for the Tigers but also the kickoff to this weekend's Western Pennsylvania Legends Football Classic. Along with the NA vs. Morgantown game, there will be three additional contests played on Saturday. (Click here for a preview of the three Saturday games at the Western Pennsylvania Legends Football Classic.)
Following a 9-3 season and appearance in the WPIAL semifinals, the Tigers are eager to build upon their efforts from last season. There will be several new faces in the starting lineup, including quarterback Luke Trueman who takes over for the 2016 Class 6A Player of the Year, Ethan Maenza. Trueman's older brother, Riley, also played QB at North Allegheny and Luke should be well-groomed to trigger the offense. An all-conference selection on the baseball diamond, Trueman possesses the strong arm and athleticism necessary to play quarterback for the Tigers.
Trueman will have plenty of talented surrounding him and two new explosive receivers to throw to. Senior John Varzdel is a transfer from Wando High School in South Carolina and already has an offer from Georgetown. Junior wideout Joey Porter Jr. is a transfer from North Catholic who bears the name of his father who played linebacker for the Pittsburgh Steelers and is currently the Steelers outside linebackers coach. Along with Varzdell and Porter Jr., the Tigers return veteran receivers Jack Potts and Corey Melzer.
At running back, Turner White will carry the load and proved that he is more than capable with ball in his hands during the 2016 playoffs. White rushed for 101 yards and two touchdowns against Hempfield in the WPIAL quarterfinals and toted the football for 130 yards and a score against Seneca Valley in the WPIAL semifinals. White will look for rushing lanes behind the offensive lineman Derek Devine (University of Virginia commit), Dylan Wall, Ian Truesdell, Jack Graham and Elijah Boyd. Matt Sanfilippo and Quinn Rodak could also rotate into the lineup. Tight ends Brennan McCauley and Canyon Tuman, son of former Steelers tight end Jerame Tuman, bring a wealth of experience and muscle to the position.
On defense, the starting linemen on Friday night will consistent of Tuman, Wall, McCauley and King Gildon, son of former Steelers linebacker Jason Gildon. The linebackers will be led by Ryan Langdon who finished second on the team in tackles last season with 63 stops and added five sacks and a pick six. Langdon will be joined by starting outside linebackers Alex Hays and Dante Caputo. At defensive back, Melzer, Porter Jr., Nikko Rankin and Josh Sanders will anchor as starters in the secondary. Sanders is the most experienced returnee in the secondary and posted 37 tackles and an interception a year ago.
In the kicking game, Trueman will serve as NA's punter for the second straight year while Dom Falo and Isaac West will compete for time as placekicker.  The Tigers are coached by Art Walker Jr. who enters his 13th year of coaching the black and gold. Overall, Walker is in his 21st year and boasts a record of 179-53 with five WPIAL titles and three state championships.
The Tigers enter the year ranked No. 6 in the state in Class 6A. Playing in the powerful Northern Seven Conference, things won't be easy and a tough tune-up game against Morgantown will prove important to prepare for the season ahead.
The Mohigans of Morgantown are coming off a 10-3 campaign and a semifinal appearance in the West Virginia State playoffs. The 2017 Mohigans will have little resemblance to the team that reached the state semifinals. Twenty-three seniors graduated from last year's squad, and along with them, 90-percent of the team's offensive production. On top of that, last season's starting quarterback, Logan Holgerson, transferred to a Baltimore prep school in the offseason.
Morgantown will look to carry on its proud football tradition with an abundance of new starters and will turn to junior Aaron Alvarez at the quarterback position. Alvarez has already received praise as the new starter and performed well in the team's scrimmage against Laurel Highlands last week. The most experienced offensive skill player is slot receiver Alajuan Robinson who hauled in 18 catches for 181 yards and a touchdown last season.
On defense, the Mohigans boast a hard-hitting middle linebacker in senior Cole Streyle. Adding muscle in the offseason, Streyle has been called a "weight-room warrior" by the coaching staff and hopes to build on a junior season that saw him make 38 tackles to go along with one sack and an interception. Additional leadership will be provided by senior Javohn Moore at free safety. Moore led Morgantown with 68 tackles in 2016 and collected two interceptions and three forced three fumbles.
Morgantown is led by second-year head coach Matt Lacy, the sixth head coach in program history. Lacy graduated from MHS in 1995 and joined the coaching staff in 1999 at the age of 21. After many years as an assistant, Lacy took over as head coach last season and installed a new spread offense, getting away from the old Wing-T offense the team had been using prior. The team continues to utilize a 3-4 look on defense.
Kickoff for the season opener between North Allegheny and Morgantown is set for 7:30 p.m. The contest will be broadcast live via the internet on the North Allegheny Sports Network with the pregame shot getting underway at 7:10 p.m. Randy Gore and Rick Meister will have the call. Click here to listen to the broadcast.
Tickets for Friday night's game are $9 for adult reserved seats, $8 for adult general admission, and $5 for students.  Tickets for Saturday are $8 for adults and $5 for students.  All Saturday tickets are general admission and are good for all three games.
The Classic is partnering with Transitional Paths to Independent Living (TRPIL), a non-profit organization that aids people with disabilities to live in a manner they choose in a location that they also choose. TRPIL will receive a portion of the proceeds from the event.