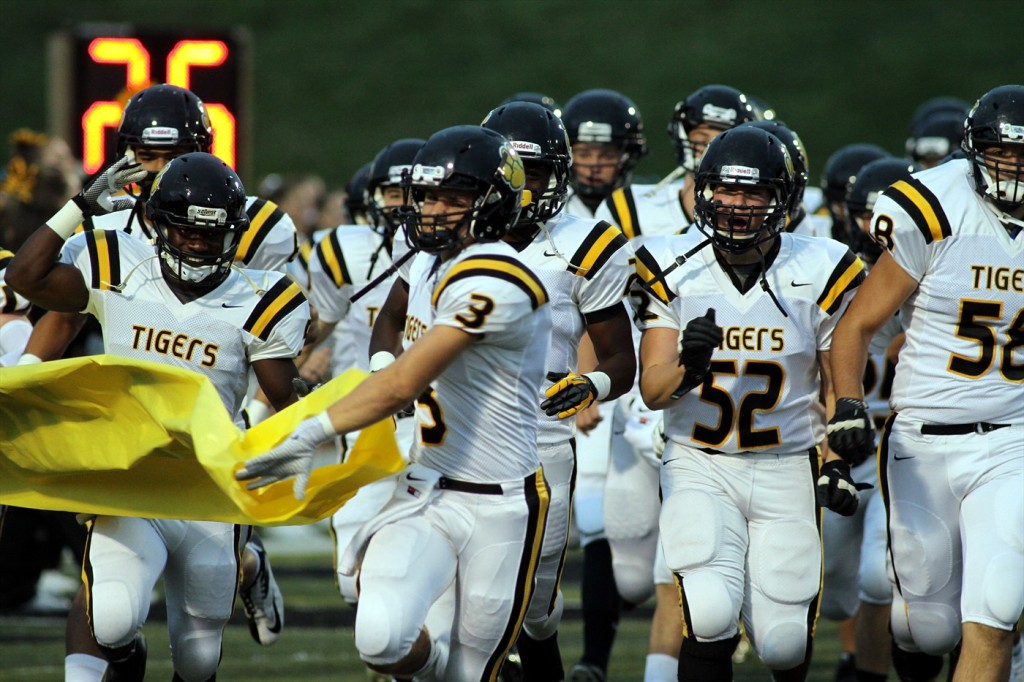 Tigers Stampede Into Butler Tonight For Quad North Battle
Fresh off an exciting one-point victory over the Pine-Richland Rams last week, the North Allegheny Tigers (3-1) hope to pick up another conference win with a visit to Butler to face the Golden Tornado (1-3) tonight. The Tigers have won nine straight games over the Golden Tornado dating back to 2003 with many of those victories coming by large margins. In the last six head-to-head meetings, the Tigers have defeated Butler by a combined score of 248-14.
While the series between these two foes has been one-sided, the culture of Butler football has changed under three-year head coach Clyde Conti, especially after the Golden Tornado made their first playoff appearance in 15 years last season. However, things haven't gone quite as easily in 2013. Following a dominating win over Shaler in week two, the Golden Tornado have been on the wrong end of back-to-back blowouts against Pine-Richland and North Hills, losing by scores of 49-19 and 49-0.
If the Golden Tornado hope to bounce back this week, they'll need a strong rushing night from quarterback Thomas Jendesky and tailback Robert Burdine. Boasting a ground heavy attack, the Golden Tornado utilize a veer and midline option with the bulk of the success stemming from Jendesky.  The senior signal caller has rushed for 209 yards and a touchdown this season and serves as the facilitator of the offense. Burdine is Butler's leading rusher with 238 yards and two touchdowns, averaging 5.9 yards per carry.  Along with Jendesky and Burdine, Lucas Dubyak is a two-sport athlete who has rushed for 142 yards and two scores.  The junior also plays for the Butler lacrosse team in the spring.  Senior wideout Chris Smith will see carries on the veer sweep and has toted the football for 111 yards on 22 carries this season. Smith is also Butler's leading receiver with seven catches for 65 yards.  When Jendesky takes to the air, he's completed 28 of 47 passes for 166 yards and a touchdown.
When it comes to stopping the Butler ground game, the Tigers have a distinct advantage in size and experience. The Golden Tornado have no starters returning on the offensive line from last year's playoff team, with only right-tackle Eric Hindman having seen action last year as a starting tight-end. NA run stuffer Layne Skundrich, the team's leading tackler with 40 stops, will look to clog rushing lanes. Linebacker Reilly Sullivan is another player who gets his nose to the football, making 10 tackles last week against Pine-Richland.
On the offensive side of the football, North Allegheny will look to poke holes in a defense that has allowed 38 points per game. The Tigers have averaged 33 points per game, spurred on by junior quarterback Jeff Clemens who's thrown for 615 yards and five touchdowns, while rushing for another 189 yards and one score. Getting the start last week for an injured Josh Bergman, senior Sean Idowu ran for 125 yards and two touchdowns against Pine-Richland and was a key component in NA's narrow win.  For the season, Idowu has carried the ball 35 times for 253 yards and five touchdowns. Senior receiver Elijah Zeise is the top target in the passing game having hauled in 18 passes for 316 yards and two scores. Junior receiver Clay Byerly will also see some passes, and joins Zeise on the return teams and raced 92-yards last week for a kickoff return touchdowne against the Rams.
North Allegheny will look to continue their recent dominance over Butler when the two teams clash tonight. Kickoff is slated for 7:30 pm, with airtime on the North Allegheny Sports Network slated for 7:10 pm.  Join Randy Gore and Rick Meister for the call, including an interview with Tigers head coach Art Walker in the pre-game show.  To listen live or on archive, click here!