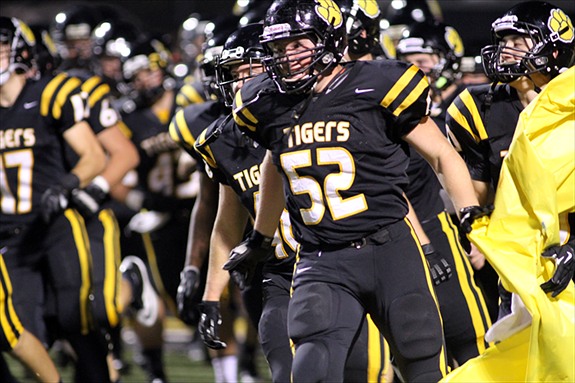 Tigers Invade South Side To Take On Top-Seeded Vikings
The North Allegheny Tigers (4-2) take to the road tonight to visit the top-ranked Pittsburgh Central Catholic Vikings (6-0) in a Northern Eight Conference clash.  The nomadic Vikings finally have a home this season at Highmark Stadium on the south side and are hoping to sail on to the north side at Heinz Field in November.  Central Catholic has a chance to lock up at least a share of the Quad North title with a victory tonight.
The Tigers are the current conference champs, to go along with their reigning WPIAL and PIAA banners. North Allegheny will bring to Highmark Stadium an offense that averages 37 points per game, the second highest scoring team in Quad-A, to face a stingy Central Catholic defense that has allowed a scant 27 points all season, the second fewest in the WPIAL.  The Vikings D is a well-disciplined group that rarely makes a mistake and should be the most overall sound defense the Tigers will face to date.  Central Catholic is bolstered by all-conference linebacker Zack DeLuca, linebacker Niko Thorpe, cornerback Joe Tindal, and safeties Tre Tarpley and John Petrishen.  The Vikings defense has scored nearly as many times as their opponents as CC has returned three interceptions for touchdowns this season.
Both teams have been bit by the injury bug in recent weeks at the tailback position.  Central Catholic will be without leading rusher Luigi Lista-Brinza who is out with an ankle injury.  North Allegheny has been without junior Josh Bergman since week three and Sean Idowu since week five.  Lista-Brinza has rushed for 920 yards for the Vikings while Bergman and Idowu have tallied 467 yards combined.
Without Lista-Brinza the Vikings haven't missed a beat thanks to junior Riley Redman who carried the ball for 223 yards and three touchdowns in a 49-14 win over Pine-Richland last week. Back-up running back Grant Foster, the son of former Steelers running back Barry Foster, is a capable ball carrier as well. Likewise, the Tigers running game has been in good hands with senior Isaac Weaver.  Weaver has posted back-to-back 100 yard rushing games against Butler and Gateway over the last two weeks.
Central Catholic utilizes a ground heavy attack but when they decide to pass, the Vikings have the privilege of turning to strong-armed J.J. Cosentino at quarterback. A Florida State recruit, Cosentino has thrown for 290 yards and four touchdowns and is more of a game manager in the style of offense that Central Catholic employs.  Using more of a balanced approach, North Allegheny quarterback Jeff Clemens has completed 53 of 100 passes for nearly 1,000 yards and nine touchdowns.
Something North Allegheny hasn't experience much in recent years is playing as the underdog.  Against the top-ranked Vikings on the road, the Tigers will be considered as such.  However, playing as an underdog is a role the Tigers and head coach Art Walker don't mind to be in.  (Click here for a sneak peak at tonight's pre-game interview with Coach Walker and his thoughts on playing as the underdog).
Last season North Allegheny trounced the Vikings 28-0 at Newman Stadium.  In 2010, North Allegheny upset #1 seeded Central Catholic in the WPIAL Semifinals, 17-7. Considering the Tigers fell to Gateway last week, North Allegheny hasn't lost back-to-back games since 2006.  Despite those back-to-back losses, the Tigers still won the Northern Five Conference title that season and reached the WPIAL semifinals before eventually falling to Upper St. Clair.
Kickoff for tonight's game between North Allegheny and Central Catholic is at 7:30 from Highmark Stadium.  The game will be broadcast live by the North Allegheny Sports Network with the pre-game show getting underway at 7:10 pm.  Click here to listen!