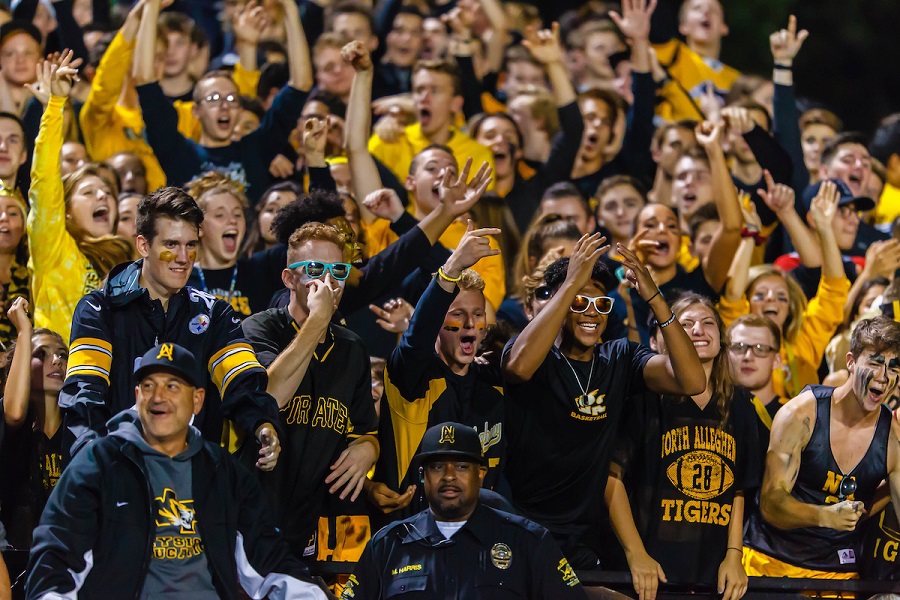 Tigers Kickoff 2018 Season Tonight Against COF Academy
The 2018 season kicks off for the North Allegheny football team tonight in a week zero non-conference game against COF Academy (OH). The Tigers are looking to build on an 8-4 campaign in 2017 and a second straight appearance in the WPIAL Class 6A semifinals. COF Academy is a first-year program in the Columbus, Ohio region with a tough schedule against some national powers.
While tonight's opponent is a bit of a mystery, the Tigers will have some questions that need to be answered as well. With the graduation of the team's leading passer and rusher from a season ago, Luke Trueman, North Allegheny will turn to Ben Petschke and Gunnar Fisher at the QB position. The two were involved in a healthy quarterback competition this summer. With a good grasp of the offense after spending time as Trueman's backup last season, Petschke is the likely candidate to get the starting nod tonight. Fisher will likely see time along the way as well this season.
At running back, the leading returning ball carrier is speedster Ben Maenza, who rushed for 526 yards last season and eight touchdowns. A versatile player who can line up at various positions on offense, Maenza will pace a backfield that will also consist of Nikko Rankin, and fullbacks Alfonso Cantu and Sam Gelosh.
Junior Luke Colella and seniors Joey Porter Jr. and Corey Melzer all saw time at receiver last season and will be counted on in 2018.
The offensive line sees the return of Elijah Boyd and Parker Titsworth, both of whom missed most of last season due to injury. Junior Jacob Lugg, the younger brother of Notre Dame lineman Josh Lugg, will anchor the left tackle position. Jack Graham, Austin Heubner, Ben Grafton, Paolo Bochicchio and Quinn Rodak should also be a part of the team's efforts in the trenches. The tight end position will be handled by Sam Sheridan and Amosis Porter.
Perhaps the most experienced part of this year's North Allegheny squad is the defense, headlined by first-team all-conference cornerback Joey Porter Jr., who collected a team-high seven interceptions a year ago. Joining Porter in the secondary is Rankin (second-team all-conference), Colella, Melzer (all-conference honorable mention), Percise Colon, Joshua Dozier and Justus Gildon.
At linebacker, North Allegheny's leading tackler Dante Caputo is back after making 71 stops last season. Caputo, a second-team all-conference pick last season, was also tied for the team lead in sacks in 2017 with senior Ethan Augustin, who both pillaged pass pockets for four sacks apiece. After missing all of last season due to injury, senior Cade Hoke returns at inside linebacker. As a sophomore in 2016, Hoke collected 48 tackles and a team-best seven sacks. Other players hoping to make waves at linebacker include Amosis Porter and junior Reid Fisher.
Several players will rotate on the defensive line, including Titsworth, Bochicchio, Sheridan, Liam Alker-Connelly and Tyler Mangone.
On special teams, senior Isaac West takes over the kicking duties as the primary place kicker and punter.
North Allegheny is coached by Art Walker Jr., beginning his 14th season as head coach of the Tigers. Walker, who also coached seven successful seasons at Central Catholic prior to coming to NA, has a career record of 187-57 with five WPIAL championships and six title game appearances.
Tonight's season opener between North Allegheny and COF Academy kicks off at 7:30 p.m. at Newman Stadium. The game will be broadcast live via the internet on the North Allegheny Sports Network with the pregame show beginning at 7:10 p.m. Listen live to tonight's broadcast by clicking here.