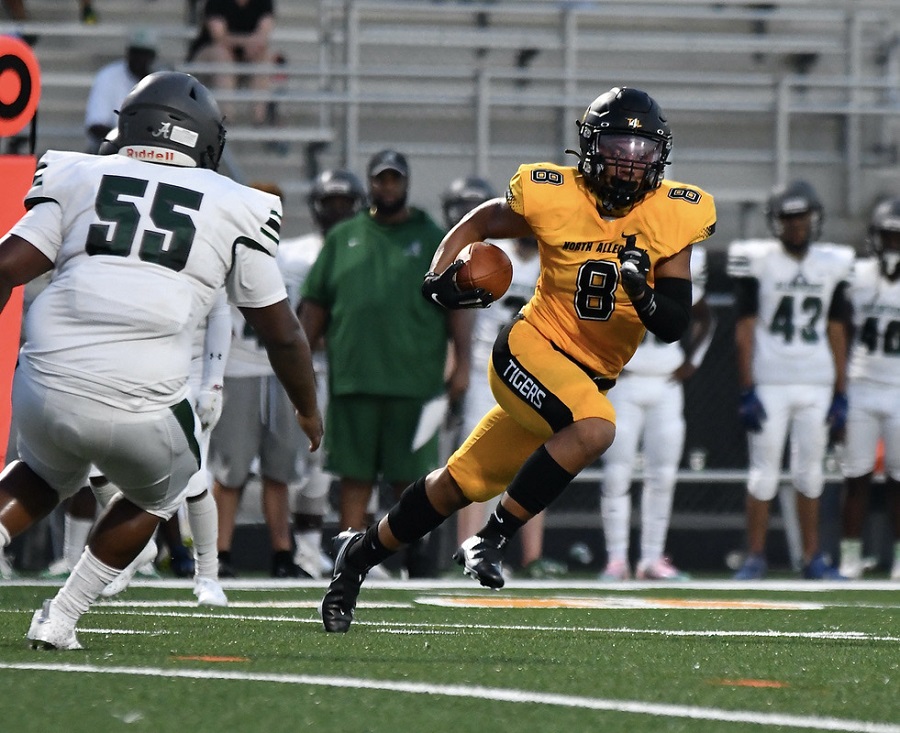 Tigers Kickoff 2022 Season Tonight Against Allderdice
The North Allegheny football team kicks off the 2022 season tonight with a Week 0 matchup against the Allderdice Dragons from the Pittsburgh City League. The Tigers are coming off a 7-5 season and a sixth consecutive appearance in the WPIAL semifinals. Eleven all-conference players graduated from last year's playoff team but NA still brings back a wealth of talent to this season's roster.
On offense, junior Logan Kushner returns at quarterback after earning the starting job as sophomore. A Big 56 Conference honorable mention, Kushner passed for 1,427 yards, 16 touchdowns and six interceptions in 2021. Additionally, the NA signal caller rushed for 178 yards and four more scores.
Kushner's favorite target from a season ago also returns, first-team All-Big 56 wideout Khiryn Boyd. As a sophomore, Boyd hauled in a team-best 26 receptions for 454 yards and six touchdowns. A multi-purpose dynamo, Boyd added 170 yards and four touchdowns on the ground and is threat in the return game. Other players that will see time at receiver this season includes Anthony Varlotta, Rourke Kennedy, Ian Zahorchak, Evan Lyon and Campbell Melzer.
At running back, 2021's leading rusher J.R. Burton has graduated, leaving a void in the backfield. Eager to fill that void are junior Tyree Alualu and senior Andrew Gavlik. The most experienced returnee in the running game is fullback Aidan Buggey, who rushed for 184 yards and a touchdown last season. Senior Nick Berarducci should also see time at fullback.
The offensive line is anchored by Duquesne University commit, senior Abdallah Daud at left guard. Joining Daud at the line of scrimmage will be senior Chase Rodak, sophomore Jack Yatchenko, senior Sam Lenchner, junior Cameron Chmura and senior Ryan Burns. Tight ends, junior Daniel Sellers and senior Brayden Kushner, will assist in opening holes and the passing game.
On defense, Sellers, Chmura, Yatchenko and Buggey will be regulars on the defensive front. The linebackers are the most experience group on the defensive side of the football. Inside linebacker Alualu is the leading returning tackler with 48 stops, 3.5 sacks and an interception in 2021, earning him first-team all-conference honors. Senior Nate Spak is a fixture at outside linebacker with his bone-rattling hits. Spak made 25 tackles last season. Joining Alualu and Spak as starting linebackers are senior Kevin O'Donnell and Zahorchak. In the secondary, Boyd, Lyon, Melzer and senior Marco Pascarella will patrol the defensive skies for North Allegheny. Pascarella is committed to the University of Utah for lacrosse and is an All-American long-stick middie for the NA boys' lacrosse team.
In the kicking game, Kennedy is a four-star punter and will utilize his booming kicks to help in NA's effort for field position each week. Kennedy, Nick Van Winkle and Peter Notaro are all vying for place kicking duties.
North Allegheny is led by head coach Art Walker, Jr., who is entering his 18th season as Tigers head coach and 25th year overall. Walker boasts an overall record of 219-65 with five WPIAL championship victories and six title game appearances.
Allderdice comes into tonight's contest as the reigning City League champions after defeating Westinghouse, 14-0, in a title game upset in 2021. The Dragons were 4-6 overall last season and fell to North Allegheny in the Week 0 season opener a year ago, 47-14.
Kickoff for tonight's season opener is slated for 7:30 p.m. at Newman Stadium. The game will be broadcast live via the internet on the North Allegheny Sports Network with the pregame show set for 7:10 p.m. The pregame show will include a season preview interview with Tigers head coach Art Walker. To listen to tonight's game, click here.