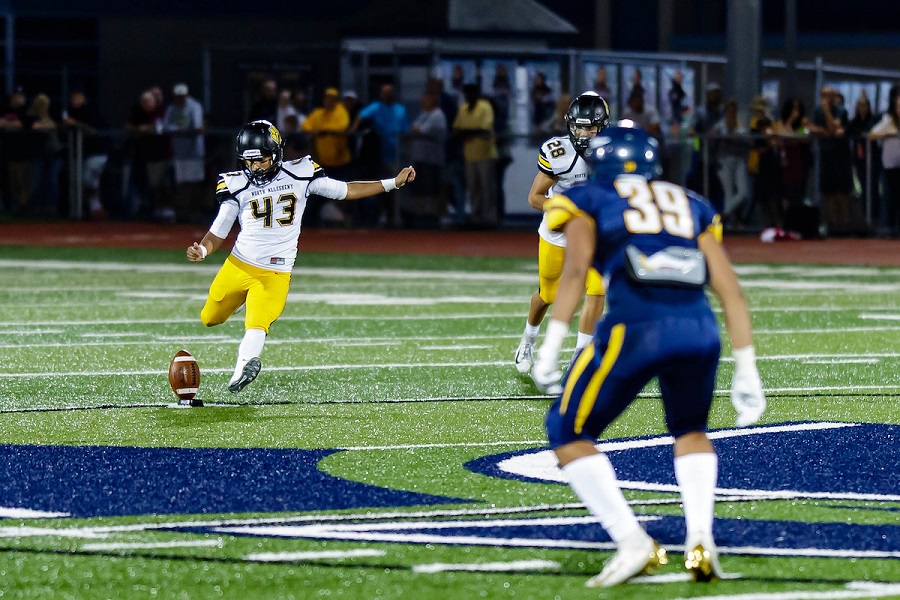 Tigers Kickoff Conference Play With No. 1-Ranked Central Catholic
After a one-week hiatus, the No. 2-ranked North Allegheny Tigers (1-0) return to the gridiron tonight for a Class 6A clash with the top-ranked Central Catholic Vikings (2-0). The Tigers were idle last week due a cancellation by Baldwin, their scheduled opponent, due to COVID related issues. The Vikings, meanwhile, won their second straight conference game with a 38-28 victory at Norwin last Friday night. PCC started 2020 with a convincing 45-17 win against Canon-McMillan on Sept. 11.
In week one, North Allegheny opened the 2020 campaign with a non-conference win over the Penn Hills Indians, 27-6. The NA defense was dominant, racking up five sacks and permitting a paltry 134 total yards. The Tigers took command of the game in third quarter with the help of the defense when senior Sean Metcalf intercepted a pass and returned it 30 yards for touchdown.
Defense will certainly play a prominent role in tonight's contest involving two teams that traditionally give up points grudgingly. Despite the departure of nationally-ranked defensive tackle Elliot Donald, who decided not to play because of COVID related reason, the Vikings defense remains stout. Headlining the PCC defense is cornerback Chase Horne, boasting an offer from Akron, and lineman Bralen Henderson, who is receiving some Division II and FCS Division I interest.
On offense, Central Catholic will use a conservative approach with a potent rushing attack, paced by senior tailback Eddy Tillman. A season ago, Tillman rushed for over 2,000 yards and 24 touchdowns, propelling Central Catholic to a WPIAL Class 6A championship. The Vikings have a first-year starter at quarterback in the form of junior Brandon Pezzelle, who threw three interceptions last week at Norwin.
North Allegheny has won two in a row in the head-to-head series with Central Catholic. Two years ago, the Tigers rolled to a 27-3 win at Newman Stadium. Last year, NA rallied late for a thrilling 11-10 triumph that was keyed by a 60-yard punt return for a score by Persice Colon with 2:55 remaining in the fourth quarter.
Tonight's game will be played at historic Graham Field in Wilkinsburg with kickoff slated for 7:00 p.m. The game will be broadcast live by the North Allegheny Sports Network with the pregame show beginning at 6:40 p.m., including an interview with Tigers head coach Art Walker. To listen to tonight's game, click here.