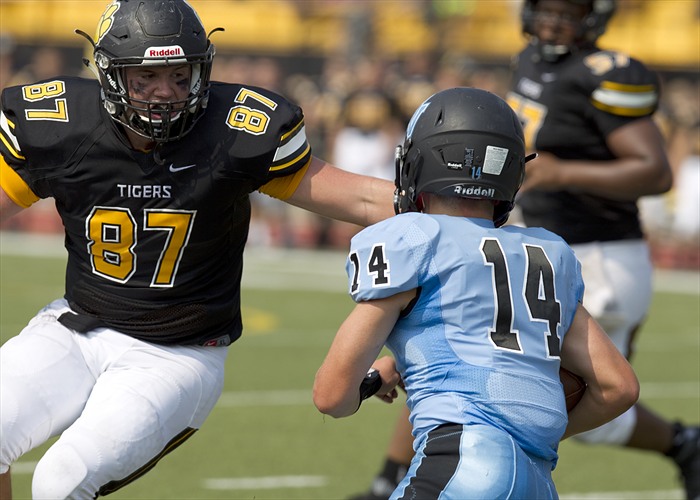 Tigers Look To Hunt Down Raiders In WPIAL Semifinals
It's an all Northern Seven Conference final four in the Class 6-A playoffs. In one contest, the Central Catholic Vikings take on the Pine-Richland Rams. In the other, the second-seeded North Allegheny Tigers (9-2) battle the sixth-seeded Seneca Valley Raiders (7-3) at Martorelli Stadium. It's the first time since 2012 that either team has reached the WPIAL semifinals. That season the Tigers beat the Raiders in the semifinals, 47-17, en route to a WPIAL and PIAA championship.
These conference rivals met most recently in week seven of the regular season at NA's Newman Stadium and the Tigers prevailed, 49-14. Since that game, Seneca Valley has rolled off three straight wins, including a 49-43 victory at Mt. Lebanon in the WPIAL quarterfinals. Senior quarterback Jack Cook completed 17 of 19 passes in the win for 229 yards and two touchdowns. Cook also added three rushing scores. The Raiders are seeking their first trip to the WPIAL championship game since 1989 when SV fell to Aliquippa in the Class AAA title tilt, 17-9, at Three Rivers Stadium.
North Allegheny enters tonight's game having won eight in a row and have scored 42 points or more in each of its last four games. Junior Turner White rushed for 101 yards and two touchdowns in last week's 42-7 triumph over Hempfield in the WPIAL quarterfinals. Defensively, Niko Mermigas broke open a close game in the second quarter with a tide-turning 99-yard interception return for a touchdown. Sophomore Cade Hoke recorded 13.5 tackles and three sacks to help shut down a talented Spartans offense. Tonight's appearance in the WPIAL semifinals is the sixth since coach Art Walker's arrival in 2005. The Tigers are vying for their fourth trip to the WPIAL championship in the last seven years.
Kickoff for tonight's game between North Allegheny and Seneca Valley is set for 7:30 p.m. from Martorelli Stadium. The pregame show on the North Allegheny Sports Network is slated for 7:10 p.m. To listen to tonight's broadcast, click here.