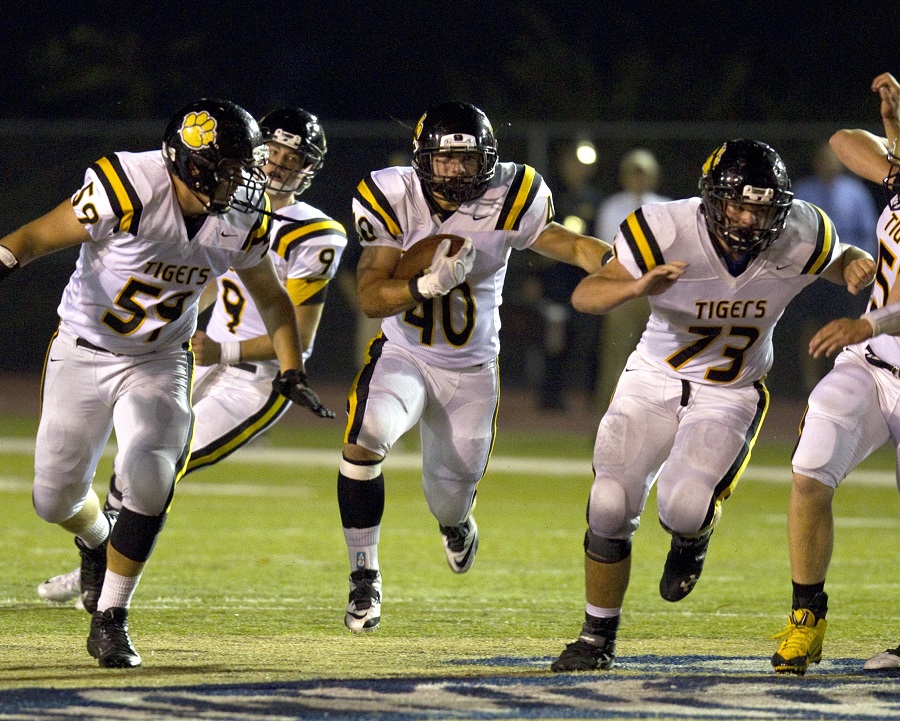 NA To Meet No. 2 Seed Penn-Trafford In WPIAL Quarterfinals
North Allegheny and Penn-Trafford are regular opponents when it comes to preseason scrimmages, but in regards to playoff football a meeting between the Tigers and Warriors is as rare as you can find. Both teams are frequent visitors to the postseason with the Tigers winning three of the last four WPIAL titles and Penn-Trafford reaching the playoffs 11 consecutive seasons, and tonight the two will come together for a WPIAL quarterfinal clash at Fox Chapel High School.
While the Warriors have appeared often in the playoffs, their stays have typically been brief with many one and done performances. However, that's changed in recent history as Penn-Trafford has posted two straight undefeated regular seasons and reached the WPIAL semifinals last year thanks to impressive wins over Penn Hills and McKeesport.  Those victories have helped PT not only grow in playoff experience, but also in playoff confidence.  Penn-Trafford is hoping to reach the WPIAL title game for the first time since 1997 when the Warriors were edged by Upper St. Clair, 28-27, at Three Rivers Stadium.
North Allegheny is hoping to become the second seventh-seeded team in the Quad-A playoffs to reach the WPIAL championship in the last three years. Just two years ago, No. 7 seed Woodland Hills played at Heinz Field and lost to North Allegheny, 21-14.
The Tigers have to feel good about their chances, riding a seven-game winning streak into tonight's contest and seemingly peaking at the right time. The North Allegheny defense has punished opponents in recent weeks, including the Upper St. Clair Panthers in the first round of the playoffs en route to a 24-0 victory.  The Panthers managed only 78 yards of total offense.
The Tigers racked up five sacks last week, and one of NA's sack masters this season has been senior linebacker Layne Skundrich with a team-high six sacks and team-best 71 tackles.  Skundrich, along with Jonny Sumpter (5 sacks), Eric Sprys (4 sacks), Vaughn Wallace (3 sacks), and Paul Blendinger (4.5 sacks), have been regulars in the opponent's backfield this season.  The North Allegheny offensive and defensive lines will be facing one of its stiffest challenges yet and the line of scrimmage will be of paramount importance in the final outcome tonight.
Penn-Trafford had some trouble with Fox Chapel last week in the WPIAL first round and trailed at halftime, 13-10. The second-seeded Warriors found themselves in the second half with a 30-point outburst, led by senior tailback Devin Austin who rushed for 157 yards and scored three touchdowns, and trounced the Foxes, 40-13. Austin has been the lead warhorse for the Warriors with 1,266 yards and 15 rushing scores this season.   Running behind a big and burly offensive line, Austin and the Penn-Trafford rushing attack has been seldom stopped.  Standing at 5-9, 170 pounds, Austin is a tailback who runs much bigger than his size.
Fifth-year head coach John Ruane compliments Austin with an outstanding play-action passing game that is orchestrated by junior quarterback Brett Laffoon. Receiving interest from several Ivy League schools, Laffoon is an intelligent QB who rarely makes a mistake, throwing only two interceptions while heaving 19 touchdown passes.  Laffoon throws one of the prettiest deep balls in Quad-A, and his deep threat is the ultra-quick Timmy Vecchio.  An All-Foothills Conference selection a year ago, Vecchio has hauled in 32 passes for 775 yards and 11 touchdowns this season, averaging 24.2 yards per catch.
Penn-Trafford boasts the best scoring defense in Quad-A, allowing a paltry eight points per game. The Tigers offense, which averages 29 points per game, would prefer to run smash mouth against the Warriors with their myriad of effective backs.  Sophomore Michael Pope has rushed for a team-high 523 yards and four touchdowns, senior Josh Bergman has toted the ball for 473 yards and five touchdowns, and junior Nick Provenzano has rushed for 219 yards and one score.  Senior quarterback Jeff Clemens is another quality runner for the Tigers with 440 yards and five touchdowns, to go along with his 1,146 yards through the air and 12 passing touchdowns.
Tonight's WPIAL quarterfinal meeting between North Allegheny and Penn-Trafford will kick off at 7:30 pm from Fox Chapel High School. The game can be heard live via the internet on the North Allegheny Sports Network with the pregame show getting underway at 7:00 pm.  Tonight's pregame show includes interviews with Penn-Trafford head coach John Ruane and North Allegheny head coach Art Walker.  Randy Gore and Rick Meister will have the call. To listen to tonight's broadcast, click here!