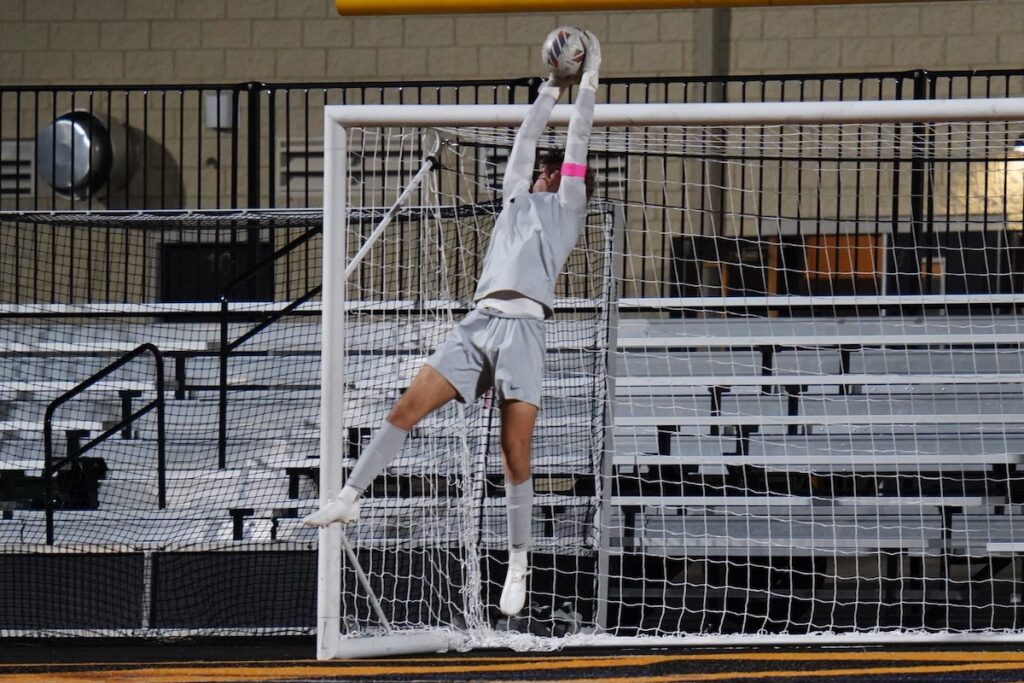 Tigers Play To Scoreless Draw With Foxes
by Jared Barton
In a tough section battle, the North Allegheny Boys Soccer Team ended in a draw after two overtime periods with Fox Chapel Thursday night at Newman Stadium.
The first half was a back-and-forth contest, with minimal scoring chances between the two teams. The second half was a different story dominated by Fox Chapel throughout the 40-minute frame.
Less than two minutes after halftime, Tigers senior Zach Nash took a shot from about 15 yards away along the ground that was saved by a diving Connor Scanlon. Two minutes later, a Foxes free kick hit the crossbar and bounced to the feet of Sam Littwin, who could not strike the ball on the ricochet. Fox Chapel junior Milo Chiu sent a line drive shot towards the net that was saved by NA senior Dante Accamando six minutes later.
A short time after, the Foxes entered the offensive zone as Harlan Sheehan feathered a pass to Chiu who bounced it into the net, but it was ruled offside. With less than 16 minutes to go, Chiu set up Pablo Linzoain in front of the Tigers net, and with a hesitation move, shot the ball towards the goal striking the left post. Linzoain had another opportunity three minutes later and after the initial save by Accamando, the rebound was taken by midfielder Chase Carney who was again stopped by the NA keeper.
With seven minutes left in regulation, Linzoain was awarded a penalty kick, and his shot was thwarted by another diving Accamando save.
In the final seconds of the half, Tiger freshman Harper Boles made a last drive towards the net. The first-year callup bicycled a ball backwards into the waiting hands of Scanlon and the game reached overtime.
In the first OT, Michael Shin blasted a free kick to junior Aidan Stein on the doorstep of the NA goal, but his shot was too high.
Accaamando earned Wright Automotive Player of the Game honors for his 13-save performance. Scanlon stopped nine Tiger attempts on the other end.
The Tigers are now 12-0-3 overall and 9-0-3 in section play, sitting in a tie for first place in the section with Seneca Valley.
Boys Soccer Summary vs. Fox Chapel, 10-5-23
| GAME SUMMARY | | | | | |
| --- | --- | --- | --- | --- | --- |
| SCORE BY HALVES | 1 | 2 | OT | 2OT | FINAL |
| Fox Chapel | 0 | 0 | 0 | 0 | 0 |
| North Allegheny | 0 | 0 | 0 | 0 | 0 |