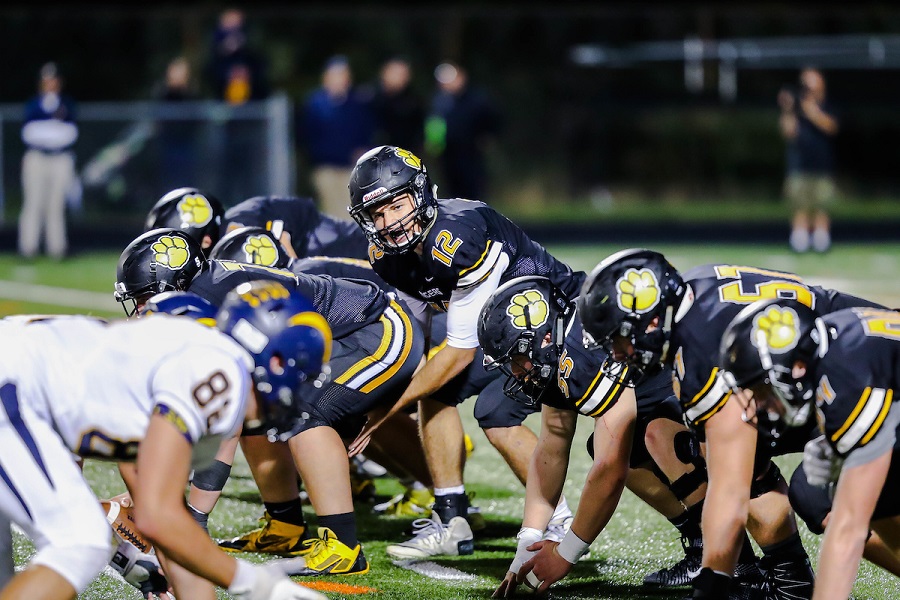 Tigers Prepare For Road Battle With Penn Hills
Winners of three in a row, the North Allegheny Tigers (4-2) visit the Penn Hills Indians (3-3) tonight for an important battle in the Northern Seven Conference. The Tigers are coming off an exciting come-from-behind win over Mt. Lebanon, 22-15, in non-conference action last week. Senior quarterback Ethan Maenza rushed for 219 yards and three touchdowns in the win. For look at last week's highlights, watch the video below.
The Penn Hills Indians fell to Seneca Valley last week, 32-7, and were held in check by the Raiders defense. The seven points by the Indians was easily the lowest scoring output of the season for an offense that averages 36 points per game. Last week's game aside, the Penn Hills offense has been an aerial showcase that's piloted by junior quarterback Cam Tarrant. In the season opener at the Western Pennsylvania Legends Football Classic at Newman Stadium, Tarrant passed for 530 yards and six touchdowns in a 50-42 loss to Canada Prep Academy in week zero. His 530 yards was the second most in WPIAL history, behind only Jason Dambach of Riverside who passed for 551 yards last season.
Tarrant's debut was only the beginning of what's been a terrific season for the Penn Hills signal caller. Tarrant has thrown for 1,673 yards and 23 touchdowns to just six interceptions. His top receiving threats are pair of Division I recruits, wideouts Julian Majors and Rick Squires. Majors has 396 yards receiving and seven touchdowns. Squires, who's a returning all-conference linebacker on defense, has hauled in 18 passes for 282 yards and three scores. While the Indians spend most of their time in four-wide receiver sets, they will run the ball with sophomore Terry Smith who has rushed for 365 yards and three touchdowns. The leading ground gainer for Penn Hills is Tarrant, rushing for a team-best 416 yards and two touchdowns.
After years of running a ground-oriented offense, Penn Hills went to the spread offense this season. The offense was installed by first-year assistant coach Harvey Smith, one of the offensive coordinators for the team. The Indians' head coach is John Peterman, in his 5th season. Peterman is a member of the Penn Hills Hall of Fame for his time as a football player and wrestler in the early 1980's. Peterman played football collegiately at Clarion University where he was a teammate of North Allegheny's head coach, Art Walker Jr. A defensive standout, Peterman remains third all-time at Clarion in tackles with 395.
With a quick-strike offense opposing them, the North Allegheny objective will be to control the ball and to keep the Penn Hills offense on the sideline. The Tigers will try to accomplish that feat with a running game that's led by quarterback Ethan Maenza. The senior signal caller has rushed for 584 yards and nine touchdowns this season, while passing for 500 yards and five more scores. Joining Maenza in the running game is senior tailback Mike Pope who has 324 yards and four touchdowns. Junior Turner White is a fine complement to Pope and has carried the ball for 115 yards and two touchdowns. Not to be outdone, receiver Niko Mermigas can contribute in the running game as well as the passing attack. Mermigas has reeled in 23 passes for a team-high 392 yards and four touchdowns, while adding 157 yard rushing and two scores. North Allegheny's offense averages 31 points per game.
The last time North Allegheny faced Penn Hills was in 2009 on the road. The Tigers came away with a week four victory over the Indians, 24-7. Running back Grant Huckestein rushed for 138 yards and three touchdowns in the win.
Tonight's game between North Allegheny and Penn Hills will kick off at 7:00. The pregame show on the North Allegheny Sports Network will begin at 6:40, including a pregame interview with North Allegheny head coach Art Walker. To listen to tonight's broadcast, click here.