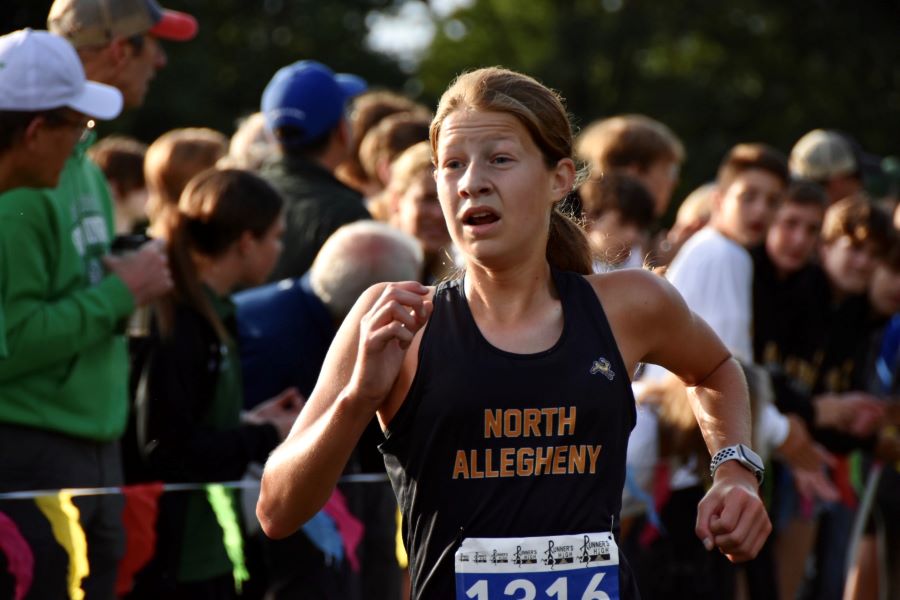 Tigers Race Past Planets In Section Opener
by Cross Country Contributor
The North Allegheny cross country teams hosted Mars Area at the north park course on Tuesday. Both teams came out with dominant victories, and with ideal temperatures, times were very fast.
The NA Boys won with a score of 16-47. Leading the Tigers was sophomore Jackson Beemer with an excellent race and the only time under 18 minutes. Freshman Andrew Peigh rose to the challenge with a great race, grabbing second overall. In third was sophomore Tyler Davis with a big race.  Sophomore Greg Abel was next in for the Tigers with a solid performance. Mars Area's top runner took fifth place and sophomore Anthony Miklos was not far behind, taking sixth place overall.  Junior Alex Mitterer brought his A-game with a strong race in seventh place. Wrapping up the scoring for the Tigers and displacing all other Mars runners was Micah DeAngelo in eighth.
The Lady Tigers won in a similar fashion with a lopsided score of 17-46.  Freshman standout Mackenzie Winning was lights out and won the race decisively with a quick time. Sophomore Hallie Dong also raced very well in second. Freshman Anna Getz was superb in third overall. Next up was Mars's top girl. Three Lady Tigers came sprinting in right after the Mars finisher and finished within four seconds of each other.  It was junior Delaney Tedesco with another great performance in fifth. Senior leader Sophie Kollitz was right behind Tedesco in sixth with a speedy time. Freshman Elinor Handel has been running very well this season and snatched the seventh spot. Rounding out the scoring for the Tigers and their dominant victory was sophomore Nicole Reubi with a solid performance.
All NAXC runners will compete in Boardman, Ohio this Saturday against some of the best competition in the tri-state area.