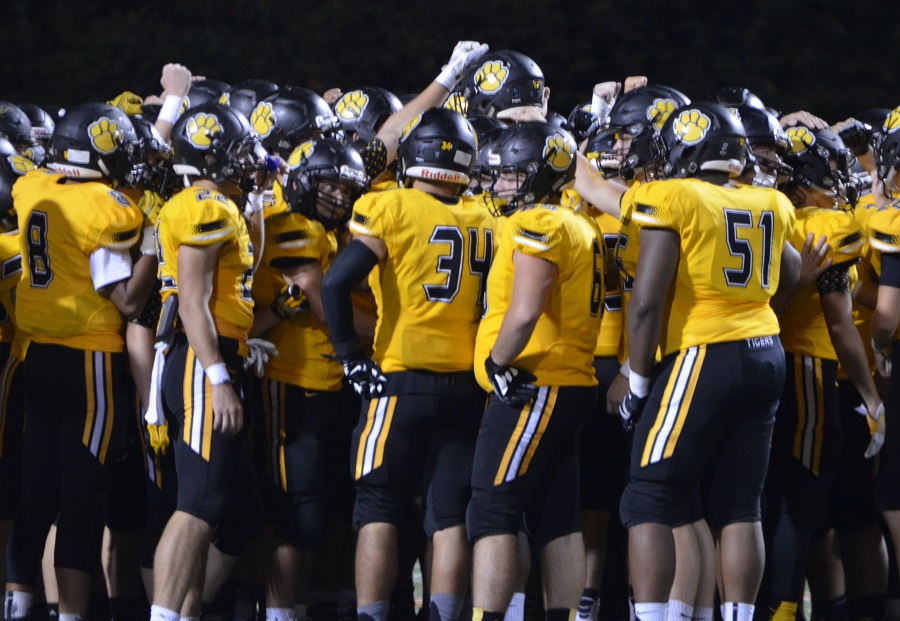 Tigers Host Blue Devils On Homecoming Night
On homecoming night, the North Allegheny Tigers (3-2) welcome the Mt. Lebanon Blue Devils (3-2) to Wright Field at Newman Stadium this evening. The Tigers and Blue Devils enter tonight's non-conference clash each riding a modest two-game winning streak and holding 2-1 records in their respective conferences.
After suffering back-to-back losses to Pine-Richland and Hempfield in weeks one and two, the Blue Devils bounced back with convincing conference wins over Canon-McMillan, 32-7, and Altoona, 49-14. Mt. Lebanon is led by fifth-year head coach Mike Melnyk who has taken the Blue Devils to the playoffs in three of the past four seasons. Melnyk played for the University of Michigan as a placekicker from 1980-84 and was a teammate of current Michigan head coach Jim Harbaugh.
Mt. Lebanon boasts an effective offense that averages 39 points per game and is quarterbacked by junior signal caller James Stocker. Stepping in for talented three-sport athlete Eddie Jenkins who graduated and is currently playing "Sprint Football" at the University of Pennsylvania, Stocker has proven to be a more-than-capable replacement. Stocker has completed 79 of 131 passes for 1,115 yards and seven touchdowns this season while throwing four interceptions. Stocker has plenty of complimentary talent around him, including senior running back David Harvey. Harvey is receiving Division I interest from Ivy League schools, among others, and has toted the football for 510 yards and six touchdowns. Receiver Jack Young, another Division I recruit, is the top target in the passing game with 32 catches for 449 yards and two touchdowns. Young is receiving interest from Air Force, Army, Navy, Bucknell, Columbia and Dartmouth. Senior receiver Edgar Parilla is another threat in the passing game with 287 yards and three touchdowns and is also a dangerous return man on special teams.
On defense, the Blue Devils allow an average of 23 points per game. The top tackler for Mt. Lebanon is Eric Kraus with 50 tackles on the year. Kraus led the team in stops in 2015 as well. Cam Haley and Patrick Werkmeister are tied for the team lead in sacks with two each. In the defensive backfield, Harvey, Parilla and Mason Ventrone have one interception apiece for the Blue Devils.
After falling to top-ranked Pittsburgh Central Catholic in week two, North Allegheny picked up back-to-back blowout wins over Shaler, 49-0, and Butler, 49-7. Perhaps more important than the wins, the Tigers have been getting healthier in recent weeks and are hoping to jump on Mt. Lebanon with an offense that averages 32 points per contest. Returning from injury two weeks ago, quarterback Ethan Maenza is the sparkplug of the offense and leads the team in passing and rushing. Maenza has completed 24 of 39 passes for 438 yards and five touchdowns, while running for 365 yards and six touchdowns. In the backfield, running back Michael Pope has churned out 277 yards and four touchdowns and is joined by senior Turner White who has rushed for 93 yards and two touchdowns. White returned from injury last week after a two week absence. The versatile Niko Mermigas is the first option in the passing game, having hauled in 346 yards and five touchdowns. On the ground, Mermigas has rushed for 129 yards and two scores.
The North Allegheny defense has yielded 21 points per game and is paced by Mermigas' 22 tackles. The Tigers top sack man is Matt Binz who has collapsed the opposing pass pocket for three sacks. Linebacker Ryan Langdon has two sacks and one interception return for a touchdown. Joshua Sanders, Dante Caputo and Nikko Rankin also have interceptions this season.
The last time North Allegheny and Mt. Lebanon met was on opening day in 2013 with the Tigers prevailing with a convincing 55-7 win. Running back Josh Bergman rushed for 121 yards and two touchdowns in that victory three years ago. Tonight's game is set for kickoff at 7:30 from Newman Stadium. The game can be heard live via the internet on the North Allegheny Sports Network with the pregame show getting underway at 7:10. To listen to tonight's game, click here.