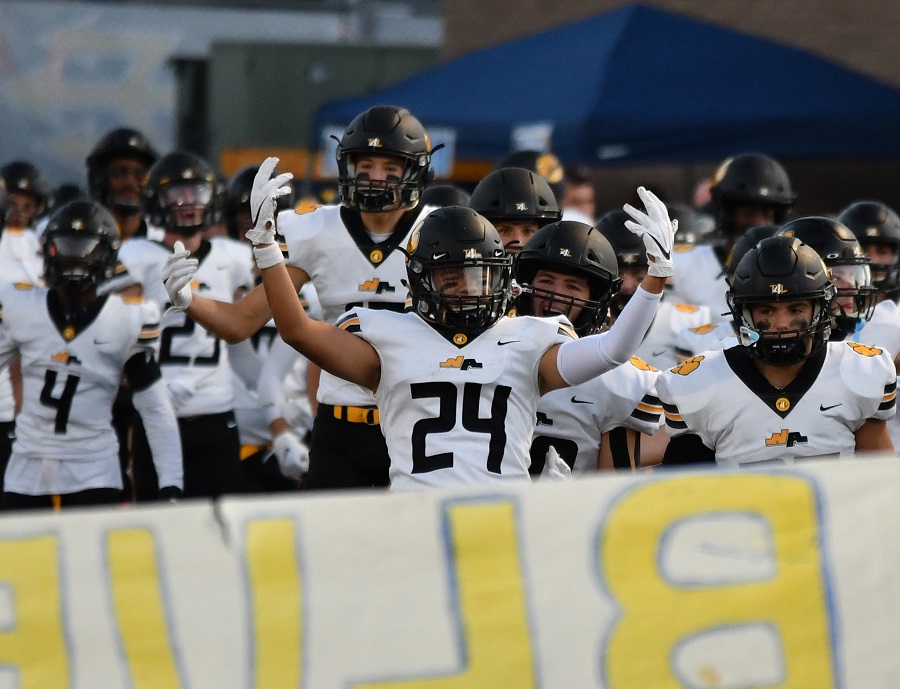 Tigers Ready To Rumble With Big Macs Tonight
The North Allegheny Tigers (4-3, 2-2) take on the Canon-McMillan Big Macs tonight (4-3, 2-2) in a significant Class 6A matchup at Big Mac Stadium in Canonsburg. Both teams are tied for fourth place in the Quad County Conference standings and hope to get a leg up on a playoff berth with a win tonight.
North Allegheny is coming off a 42-24 win over Norwin last week in front of a Homecoming crowd at Newman Stadium. The Tigers outlasted the Knights and an 82-minute lightning delay to prevail. Sophomore quarterback Logan Kushner had a breakout performance, completing 8 of 14 passes for 186 yards and three touchdowns. His favorite target was fellow sophomore Khiryn Boyd, who hauled in four passes for 106 yards and two touchdowns. Boyd also rushed for 49 yards and two more scores. Senior Dwayne Taylor reeled in a 40-yard touchdown pass from Kushner to put Norwin away in the fourth quarter. Equally as effective, the North Allegheny running game wore down the Knights in the second half. Senior J.R. Burton rushed for 74 yards and a score and sophomore fullback Aiden Buggey punished Norwin with 61 tough yards on six carries.
Looking to build on last week's victory, North Allegheny visits a Canon-McMillan team that has played well in its first seven games but is coming off a 24-17 loss in double overtime at Seneca Valley. The Big Macs led 14-6 in the second half but couldn't stop Seneca Valley's Nolan Dworek, who rushed for 120 yards and the game-winning touchdown in overtime.
Despite the conference loss last week, Canon-McMillan is a program on the rise and is led by head coach Mike Evans, the Class 6A Coach of the Year in 2019. His son, also named Mike, is a sophomore starting quarterback that has passed for 957 yards, nine touchdowns and four interceptions this season. The southpaw signal caller is a mobile quarterback and has rushed for four touchdowns as well.  When it comes to the ground game, the Big Macs boast one of the top running backs in the classification in the form of senior Ryan Angott. He was a first-team all-conference running back last season and led Class 6A in rushing with 672 yards and seven touchdowns. Through seven games this season, Angott has near identical numbers with 671 yards and eight rushing scores. Slowing down Angott and containing Evans will be a priority for the North Allegheny defense tonight.
On the other side of the football, Canon-McMillan has an opportunistic defense that has collectively intercepted eight passes and hounded opponents into 21 sacks. The leading tackler of this group is sophomore linebacker Gene Calgaro with 59 tackles and four sacks. The leading sack man is sophomore Kaeden Singleton with 5.5 sacks to go along with 16 tackles. Of the eight interceptions, no one the team has more than one.
North Allegheny team leaders so far this season include senior defensive end Jacob Porter with 7.5 sacks and senior Kyrell Hutcherson with two interceptions. Taylor is NA's leading tackler with 43 stops this season, and on offense, he's the leading receiver as well with 17 catches for 206 yards and two touchdowns. Burton is the Tigers' leading rusher with 407 yards and three touchdowns.
Since Canon-McMillan and North Allegheny were placed in the same conference in Class 6A four years ago, the Tigers have won five in a row against the Big Macs. Last season, North Allegheny blanked the Big Macs 35-0 at Newman Stadium. Then-senior quarterback Greg Phillips passed for 240 yards and four touchdowns in the win. Angott did not play in the game for Canon-McMillan due to injury.
It's been three years since North Allegheny has made the trip down Interstate 79 to play the Big Macs on the road. In their last meeting in Washington County in 2018, the Tigers prevailed 45-21. With NA leading 24-21 with 5:06 remaining in the third quarter, the turning point came on a 1st and 17 play from the Tigers 8-yard line. Filling in due to injuries at the QB position, Peter Vardzel tossed an 82-yard pass to Corey Melzer, who raced to the CM 10-yard line. The big play set up a 4-yard touchdown run by Ben Maenza and the Tigers rolled in the remaining minutes of the second half. Maenza rushed for 165 yards and three touchdowns in the victory.
Tonight's game between North Allegheny and Canon-McMillan is slated to kickoff at 7:00 p.m. from Big Mac Stadium. The game will be broadcast live by the North Allegheny Sports Network, with the pregame show getting underway at 6:40 p.m. The pregame show includes an interview with Tigers head coach Art Walker. To listen to tonight's broadcast, click here.