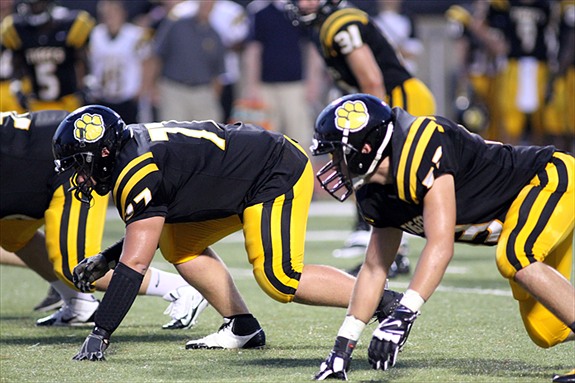 Tigers Ready To Rumble With Raiders In First Road Game Of Season
Not since over a decade have the Seneca Valley Raiders beat the North Allegheny Tigers.  The three-time WPIAL champions have won 12 straight games over Seneca Valley, including two wins in the WPIAL playoffs the last two seasons. In their last meeting, North Allegheny scored on the first play from scrimmage en route to a 47-17 win in the WPIAL Semifinals at Martorelli Stadium. (Listen to pxp clip here!)
For the players on field, a lot has changed since that playoff meeting in mid-November of 2012. North Allegheny (2-0) has only three returning starters from that game and Seneca Valley (2-0) has a completely new set of skill players on offense. With the graduation of quarterback Jordan Brown, Seneca Valley's all-time leading rusher Forrest Barnes, and lightning quick receiver Jon Dorogy, the Raiders have lost more than 3,500 yards and 47 TD's of offense.  That amounts to 94-percent of the offensive output from last year's team.
Replacing that kind of firepower can be a daunting task, but the junior trio of T.J. Holl, Mason Dehart and Eric Mrkonja has been up for the challenge. Holl, the son of head coach Don Holl, takes the helm at quarterback. The 6-1, 205 pounder was a starter on defense last year, but this season leads an offense that has averaged 36 points through the first two games of the season. Holl has thrown for 327 yards and two touchdowns this year, and has also rushed for 102 yards. In the shot gun, hurry-up style of offense that Seneca Valley uses, the quarterback is a key figure in distributing the football or keeping it himself on option runs.
Among the weapons at Holl's disposal is Dehart, a scat back who rushed for 78 yards and three touchdowns in the Raiders 43-25 win over Pine-Richland last week. Mrkonja caught two touchdown passes in that same game, and has hauled in three receptions for 89 yards for the season. A versatile threat, slot man Dom DiTommaso lines up in the backfield as well for the Raiders.  The senior swing man has accounted for 112 yards of total offense this season.
One of the keys to tonight's game is the line of scrimmage where Seneca Valley will be a formidable foe.  The Raiders return 6-5, 285 pound junior Tyler Hudanick who protects Holl's blindside at left tackle. Other returning linemen include seniors Steve Gaviglia and Dan Miller.  Defensively, Gaviglia led the Raiders in sacks last season and Miller plugged up the running lanes in the middle. Linebacker Tucker Van Dyke is another player with a good nose for the football.
For North Allegheny, the Tigers will counter with their own talented offensive front, consisting of senior Nick James, senior Nick Lewandowski, senior James Delligatti, junior Brian Mitchell and junior Cole McKenry. Juniors Paul Blendinger, who caught a touchdown pass in last week's 42-7 win over Fox Chapel, and Layne Skundrich, will be on blocking assignments on two-tight end sets.  On defense, Skundrich is a shifty linebacker who leads the team in tackles with 13 so far this season.
Averaging 49 points in their first two games, the Tigers offense has not been slowed. Quarterback Jeff Clemens has completed 19 of 29 passes for 361 yards and three touchdowns. The junior's favorite target has been speedster Elijah Zeise who has pulled in 10 passes for 238 yards and a touchdown. In the running game, junior Josh Bergman is the team's top rusher with 174 yards and three touchdowns on 27 carries. Helping put Fox Chapel away in the second half last week, senior Sean Idowu toted the ball for 83 yards and two scores against the Foxes. Idowu has 121 yards and three touchdowns for the season.
Owning an 18 game winning streak, the Tigers will take to the road for the first time this season and best be prepared for a hostile environment at NexTier Stadium in Harmony, PA.  North Allegheny hopes to continue their winning ways tonight with kickoff set for 7:30 pm.  The game will be broadcast live via the internet on the North Allegheny Sports Network, with the pre-game show starting at 7:15 pm.  Click here to listen!