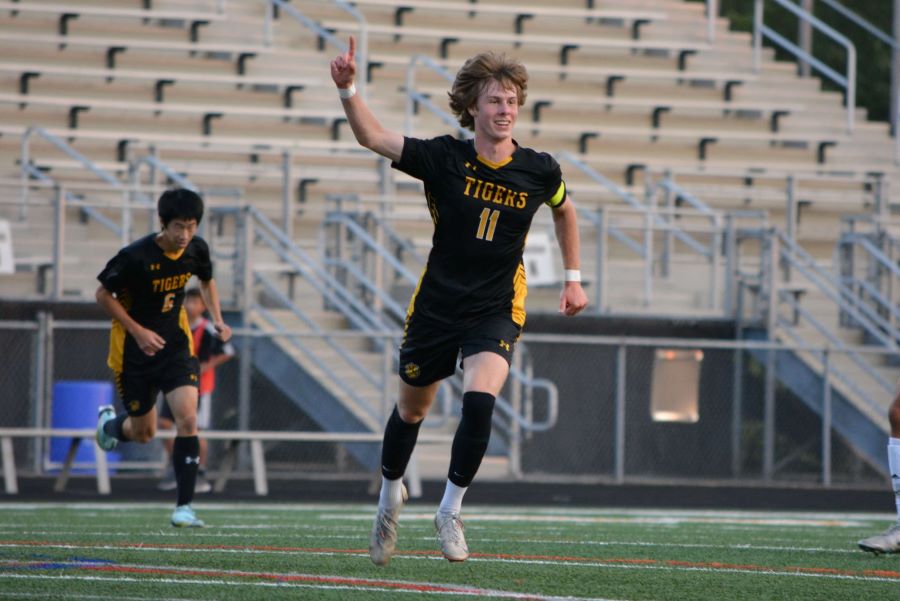 NA Rebounds With 2-0 Shutout of Central Catholic
by Bob Orkwis
In their last match, North Allegheny gave up a goal in the final seconds in a 1-0 section loss to Fox Chapel.
The Tigers brushed off that disappointment on Thursday night at Newman Stadium with a solid 2-0 win over Pittsburgh Central Catholic.
North Allegheny played the possession game all evening, and that style netted the Tigers two early scores.
Senior Gabi Götz took a pass and made a great pivot between defenders and his shot from distance surprised Vikings goalkeeper John Rivett to put North Allegheny ahead 1-0 in the games 8th minute.
The possession obsessed attack resulted in three consecutive fruitless corner kicks, but North Allegheny converted on their fourth try.
A great inswinger from the far flag by senior Ben Christian found its way on goal and was punched out. But the rebound found the foot of senior Nathan Salter who found the back of the net in the 18th minute for a 2-0 North Allegheny lead.
The Tigers ball dominance limited the Central Catholic (2-6, 1-5) scoring chances, with junior Dante Accamando making four saves as North Allegheny posted its fifth shoutout of the season. The win improved the Tigers record to (6-2-1, 4-2) on the year. North Allegheny has won four of their last five contests.
The Wright Automotive Player of the Game went to Gabi Götz. The center midfielder's first goal of the season proved be the game winner and came after some deft footwork and a quick strike decision.
North Allegheny hits the road next Tuesday for a big section match against top-ranked Seneca Valley. The Tigers return home Thursday to host Shaler in a match that will be carried on the North Allegheny Sports Network.
Boys Soccer Summary vs. Central Catholic, 9-15-22
| GAME SUMMARY | | | |
| --- | --- | --- | --- |
| SCORE BY HALVES | 1 | 2 | FINAL |
| Central Catholic | 0 | 0 | 0 |
| North Allegheny | 2 | 0 | 2 |