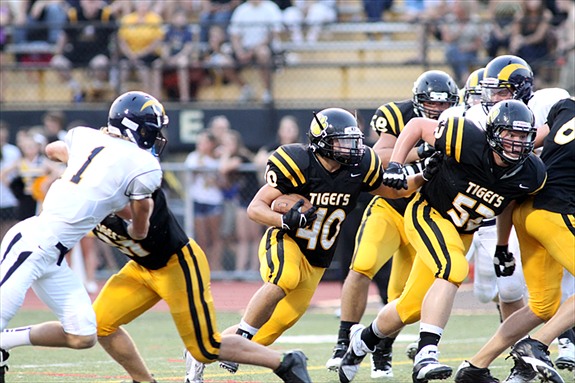 Tigers Rout Blue Devils In Opener, 55-7
by Lee Mohn
The North Allegheny Tigers picked up right where they left off last year defeating Mount Lebanon 55-7 to open up the 2013 football season.  Jeff Clemens was making his first start at quarterback and looked like a polished veteran.  He completed eight of ten passes for 164 yards and one touchdown while Josh Bergman led the Tigers on the ground with 140 yards rushing.
Thanks to the Tigers defense, the Blue Devils never got on track.  Mt. Lebanon committed eight penalties for 134 yards on the night and the Tiger held them to under 150 yards until late in the game.  The Tigers struck first when Bergman rushed for a five-yard TD at 6:28 of the first quarter to go ahead 7-0.  North Allegheny grabbed a 14-0 lead when Dario Denillo intercepted a pass that was deflected and rumbled 21 yards for a score.  Five minutes later Clemens snuck in from a yard out for a 21-0 lead.  With 1:19 left in the quarter, Clay Byerly made a leaping catch in the end zone for a 28-0 lead. 
The Tigers continued to pour it on, scoring on the opening possession of the second half to put the mercy rule into effect.  North Allegheny racked up 472 yards of offense on the night.  Jeff Clemens was named the Wright Automotive player of the game for his performance.  The Tigers will open up section play next Friday at home against Fox Chapel and you can hear the game live on the North Allegheny Sports Network.