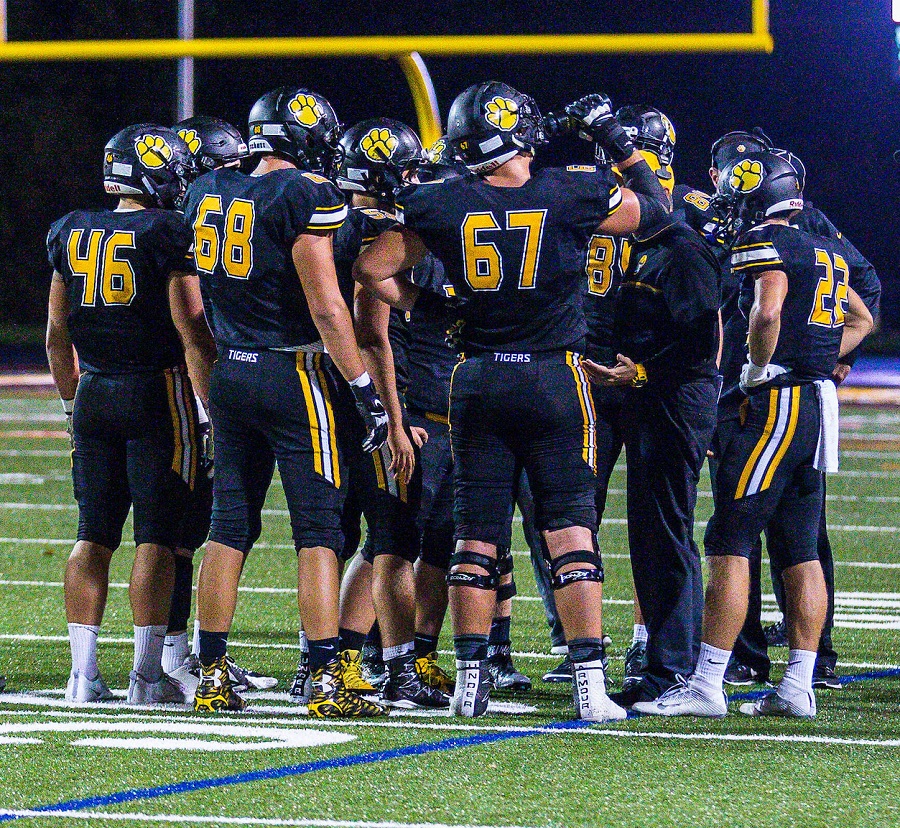 Tigers Running Game Rolls Butler, 29-7
North Allegheny churned up 263 yards on the ground and outmuscled the Butler Golden Tornado on Friday night, 29-7, in a Northern Seven Conference contest. For the third consecutive game, senior running back Turner White rushed for over 100 yards to lead the Tigers backfield. White totaled 146 yards on 19 carries and two touchdowns on his way to Wright Automotive Player of the Game honors. (Friday's contest was video streamed live via pay-per-view by the North Allegheny Sports Network. You can watch the archive for $8.00 by clicking in the video player below.)
The North Allegheny rushing attack not only produced yards but also set up the play-action pass which resulted in the first touchdown of the night with 5:52 on the first quarter clock. On a 2nd and 4 from the Butler 38-yard line, Luke Trueman launched a deep pass to junior receiver John Vardzel for a touchdown pass and a 6-0 lead. The Tigers converted the two-point conversion with a successful run by Ben Petsche for an 8-0 advantage.
Using a run-first approach, the Butler offense got going on the ensuing possession and chewed up over seven minutes off the clock and 83 yards on eight plays and scored on a 6-yard run by Dan Kline to cut the NA lead to 8-7 with 8:23 remaining in the second quarter. The drive was spearheaded by senior Luke Michalek who busted off a 66-yard run on the possession. Michalek was a bright spot for Butler and finished with 137 yards on 25 carries.
The Tigers took the football right down the field on the next possession and culminated a 66-yard drive with a 24-yard misdirection touchdown run by Ben Maenza for a 15-7 lead. Later in the second quarter, North Allegheny ballooned the lead to 22-7 on another misdirection touchdown jaunt, this time by White from 23 yards out with 1:50 to play before halftime.
The defenses buckled down for a scoreless third quarter before the Tigers put the game away on a 2-yard touchdown run by White with 7:13 remaining in the fourth quarter to bring the score to 29-7, North Allegheny.
Along with Turner's big night, Maenza rushed for 62 yards and a touchdown on just six carries. Trueman toted the football seven times for 43 yards, while adding 123 yards through the air and a score.
North Allegheny improves to 3-2 overall and 2-1 in the Northern Seven Conference. Butler slips to 1-3 overall and 1-2 in the conference. The Tigers will take on Mt. Lebanon next week in a non-conference contest.