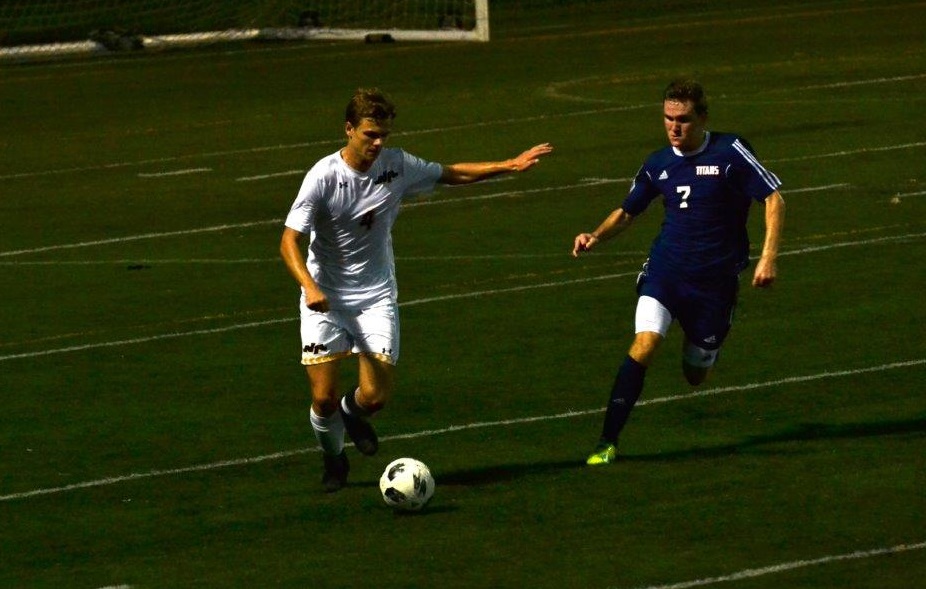 Tigers smother Titans For another shutout victory, 2-0
The North Allegheny boys' soccer team faced off with the Shaler Titans on Tuesday night and earned another hard-fought, section win, 2-0.
The first shot of the match, registered by senior midfielder Kyle Kaczmarek, occurred at 34:25 and was easily saved by Shaler goalkeeper Zane Kissel.  Six minutes later, Kaczmarek laced a swinging corner kick right into the box that found junior midfielder Will Cinker open in front of the net.  From short range Cinker delivered a downward header with a clean finish into the net which would end up being the only goal the Tigers would need on this warm night.
At 22:20, another quality scoring change was delivered when junior midfielder Matt Van Kirk struck a clean volley from short range that Kissel was able to save.  Later another good opportunity was squelched as junior midfielder Sam Maldia launched northward and connected with a flying header sent in on a corner kick from Cinker that was again saved by Kissel.  Six substitutions at the 18:50 mark were made by Coach Bobby Vosmaer, most notably, junior forward Sam Passodelis who again used speed to create some of the best scoring chances for NA in the half.  Two breakaways by Passodelis and a header by junior forward J.D. Runatz were saved by the Shaler GK, keeping the score 1-0 as the first half closed.
In the second half, the lead was extended to 2-0 as Passodelis lured the goalie from the net and deftly delivered an accurate chip over his head and into the net for his second goal of the season.  Later senior goalkeeper Chad Fairfield entered the game at 26:03 replacing starter senior Devon Angermeier and partnered well with the solid Tiger backline earning their fourth shutout win of the year.  For the game, the Tigers had the edge with corner kicks, 5-0, and shots on goal, 12-7, while the Titans had the edge on direct free kicks, 9-7.
With the win, North Allegheny improves to 6-1 overall and 5-1 in Section 1-AAAA. Shaler slides to 1-7 overall and 0-6 in the section. The Tigers will visit Pine-Richland on Thursday night for another big section matchup.
Boys Soccer Summary vs. Shaler, 9-18-18
| GAME SUMMARY | | | |
| --- | --- | --- | --- |
| SCORE BY HALVES | 1 | 2 | FINAL |
| North Allegheny | 1 | 1 | 2 |
| Shaler | 0 | 0 | 0 |