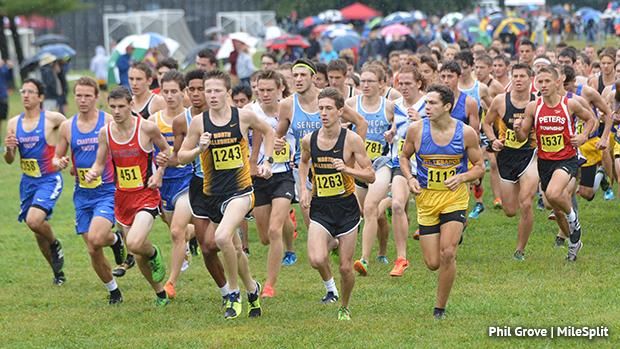 Tigers Sweep Section Meet With Seneca Valley, Butler
The North Allegheny cross country team traveled to Seneca Valley for a rescheduled meet that was originally scheduled for this past Tuesday.  Facing some of the best competition in the section, NAXC took home the gold against both the Seneca Valley Raiders and the North Hills Indians (girls and boys).
The NA boys team ran determined and without a doubt had their best collective performance of year when it was needed the most.  At one and two miles, it looked as though Seneca Valley was going to win, however the Tigers refused to give in. Pulling away from Seneca Valley's top runners in the last mile was junior standout Dan McGoey.  McGoey controlled the race the whole way and punished the field in the last 1200 meters. Seneca had a strong top trio who took the next three places. With less than a mile to go the boys rallied, clawing their way back into the race.  Stephen Nalepa led a chase pack of Tigers that decided they were not going to lose to their section rivals. Senior Luke Turkovich had his best race of the season finishing just behind Nalepa in the sixth overall spot. Just one second behind Turkovich was fellow senior Ethan James who again ran a come-from-behind race.  James finished just ahead of Tiger sophomore sensation, Andrew Kollitz (who ran the same time). Nalepa, ran the best race of his cross-country career with a refuse-to-lose gutsy finish to hold off Seneca Valley's fourth man. He was the top freshmen in the race and is one of the top freshmen in the state.  Kelso Fielder also had a great race, rounding out the top seven for NA. The seven outstanding individual performances combined for an impressive 27-30 team victory over the Raiders and a dominant 15-48 win over the Indians.
The NA girls' team also ran well.  The Lady Tigers showed their stripes early taking the top three spots in the first mile and they never let go.  Hannah Lindgren, Keeley Misutka and Caroline Daggett grabbed spots 1-3 with some very fast times on the almost three-mile course.  Seneca took the fourth and fifth spots overall and then NA brought home the next five spots. Rachel Hockenberry was sixth, Ally Christy took seventh, Maura Mlecko claimed eighth and Jenna Mlecko was ninth.  The girls beat Seneca Valley 19-42 and had a perfect score against North Hills, 15-50.
The Tigers will not race again until next Tuesday, Oct. 2, where they will wrap up section competition against Butler and Shaler at Butler's home course.