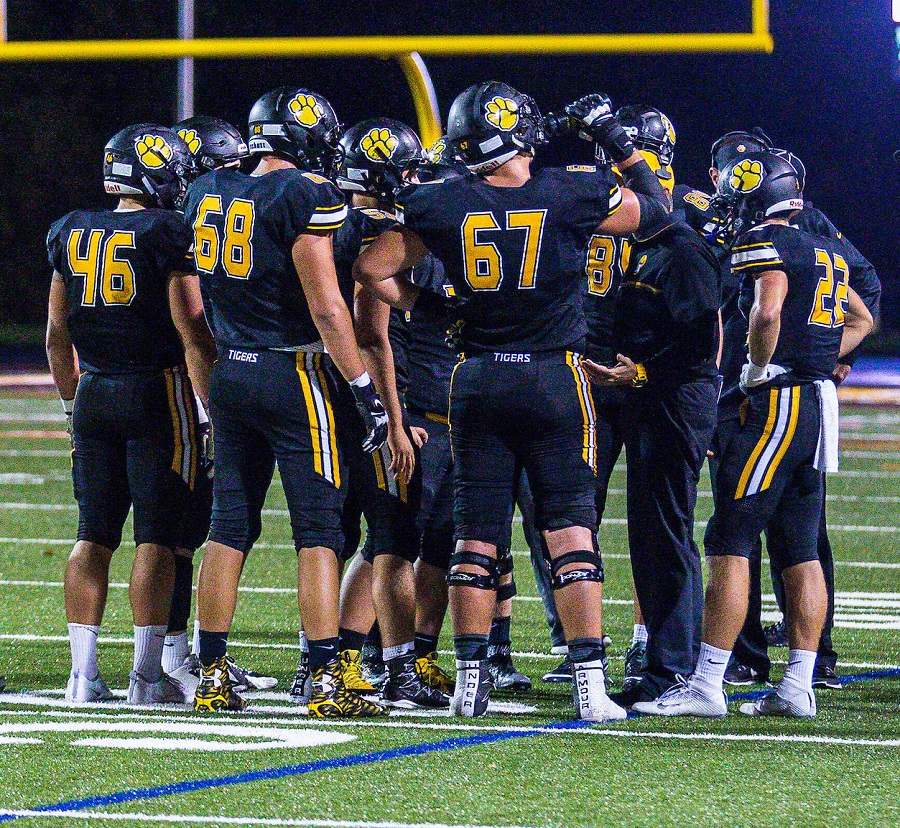 Tigers Take On Seneca Valley In Northern Seven Clash
In a prime matchup in Class 6-A tonight, the North Allegheny Tigers (5-2) host the Seneca Valley Raiders (4-2) at Wright Field at Newman Stadium. The Tigers are riding a four-game winning streak entering tonight's contest. The Raiders are also on a hot streak and are coming off a thrilling come-from-behind victory over Bethel Park last week, 25-21.
Seneca Valley trailed 21-3 to the Black Hawks before scoring 24 unanswered points to claim a road win against the first-place team in the Southeastern Conference. Senior running back Hank Royal was pivotal to the rally with 115 yards and three total touchdowns, including a game-winning 27-yard touchdown reception on a screen pass with 18 seconds remaining. Royal is a downhill runner with good size at 6-foot-2, 215 pounds, and has rushed for 706 yards and eight touchdowns this season.
Seneca Valley senior quarterback Jack Cook is the facilitator of the offense and a second-team All-Conference selection from a season ago. Cook has thrown for 1,103 yards and nine touchdowns, and has rushed for 409 yards and six scores. The top threats in the SV passing game are receivers Payton Skalos and Jake Bunofsky. Skalos, who is also a return man in the kicking game, has hauled in 34 passes for 400 yards and three touchdowns. Bunofsky has reeled in seven receptions for 165 yards and three touchdowns.  The Seneca Valley offense averages 30 points per game.
On defense, the Raiders permit an average of 25 points per game and are led by senior linebacker Jake Holl and strong safety Brock Gresock who both have collected 25 tackles this season. Holl has a team-leading five sacks. Junior Gabe Miller has had a successful transition from defensive lineman to linebacker and has made 22 tackles. In the secondary, Cook starts at free safety and has the only interception created by the Raiders this year. The Raiders are coached by second-year head coach Dave Vestal. In his first year as head man at Seneca Valley, the team posted a 5-5 record and reached the playoffs before a first round exit against the McKeesport Tigers.
North Allegheny, coached by Art Walker Jr., is coming off a 28-21 win at Penn Hills in week five. The Tigers defense keyed the victory with four forced turnovers, including a game-clinching interception by Matt Binz in the waning minutes of the game. Binz has racked up 26 tackles and four sacks from his defensive line position and is joined by Ryan Langdon as the team leader in sacks. Langdon, who posted a team-best 11.5 tackles last week, has posted 37 tackles and is just two stops behind team leader Niko Mermigas who has 39. Mermigas also had two interceptions in last week's win, the second of which set up an important fourth-quarter score by the offense. (For a highlight video of the Tigers' victory over Penn Hills, watch below.)
The North Allegheny defense has allowed 20 points per game, while the offense has scored an average of 30 points per game. Senior quarterback Ethan Maenza notched another 100-yard rushing day last week, rolling to 160 yards on the ground and three touchdowns. Maenza has piled up the yardage this season with 744 yards rushing and 12 touchdowns, while throwing for 548 yards and five touchdowns. Along with Maenza's ability to run the ball, the Tigers boast a formidable duo in the backfield with tailbacks Mike Pope and Turner White. Pope has toted the ball for 324 yards and four scores, while White has rushed for 203 yards and three touchdowns. Mermigas is the leading receiver for NA with 392 yards and four touchdowns.
The last meeting between these two teams was a week one contest last season in which North Allegheny rallied from a 14-0 deficit for a 34-24 win. Maenza, who entered the game in the third quarter for an injured Riley Trueman, took over at quarterback and orchestrated three fourth-quarter scoring drives en route to the win. Maenza totaled 115 yards rushing in the game.
Kickoff for tonight's game between North Allegheny and Seneca Valley is slated for 7:30 p.m. The game will be broadcast live via the internet on the North Allegheny Sports Network with the pregame show getting underway at 7:10, including a pregame interview with Tigers head coach Art Walker. To listen to tonight's broadcast, click here.