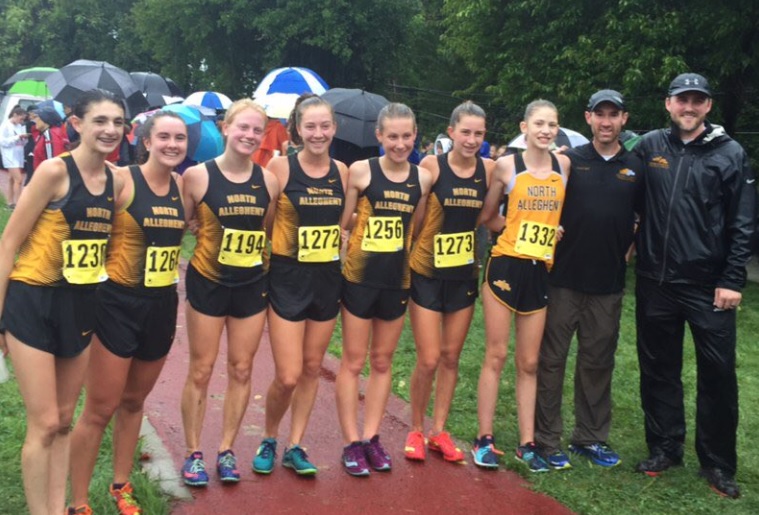 Tigers Take Title At Red, White & Blue Classic
The NAXC teams traveled to Schenley Park Saturday morning for the first invitational of the season.  The 16th annual Red, White & Blue Classic hosted 80 teams from the Tri-State area. It rained throughout the meet and the course was very muddy, but the cooler temperatures were welcomed.  The Tigers put together extraordinary team finishes on both the girls and guys side.
The girls upset the field, defeating last year's WPIAL Champions (Oakland Catholic) and PIAA Champions (Fox Chapel) and taking first place overall.  The Tigers scored only 44 points (second place was 66).  Hannah Lindgren ran a great race placing third overall.  Not too far behind Hannah was Keeley Misutka (7th) and Caroline Daggett (8th), both running superb races.  Next was Ally Christy (11th) who ran a strong race and Rachel Hockenberry (15th) who also ran tough, rounding out the top five. Also displacing many athletes from numerous other teams was Maura Mlecko (25th) and Jenna Mlecko (30th).
The boys also ran great races taking home the championship, scoring only 77 points (second place was 104). Zach Kinne and Dan McGoey crushed the field with a strong 1-2 finish.  Strong races from Stephen Nalepa (19th), Drew Kollitz (23rd) and Luke Turkovich (28th) rounded out the top five scorers.  Connor Foody (29th) and Ethan James (33rd) did a great job of displacing opponents.
For additional results from the Red, White & Blue Classic, click here.
Tigers will face Mars on Tuesday at their North Park home course.