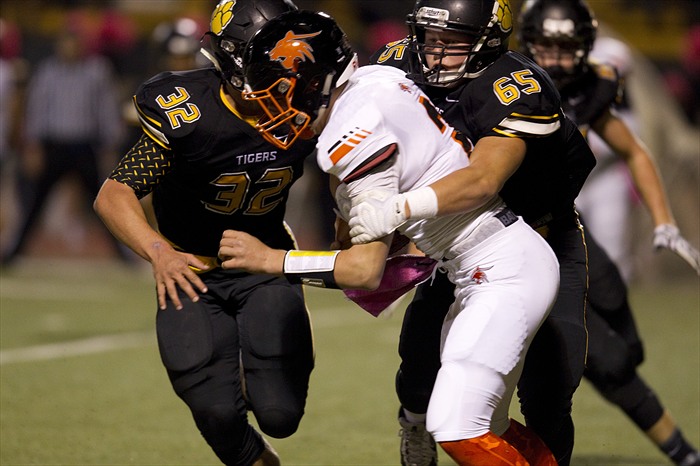 Tigers Thump Latrobe For Non-Conference Win, 58-14
Winning their sixth game in a row, the North Allegheny Tigers overpowered the Latrobe Wildcats on Senior Night for a 58-14 triumph at Newman Stadium. Junior running back Michael Pope rushed for 138 yards and two touchdowns and junior quarterback Ethan Maenza scored three touchdowns in the non-conference rout. Maenza scored a touchdown three different ways, one rushing, one throwing and one on a punt return as he earned Wright Automotive Player of the Game honors.
North Allegheny opened the scoring in the first quarter with a 5-yard rushing touchdown by Pope that capped a four-play, 52-yard drive and gave the Tigers a 7-0 lead. On the first play of the second quarter, a Latrobe punt went awry when the snap sailed over the head of punter Craig Stevens and went through the back of the end zone for a safety and a 9-0 Tigers lead. Following the safety, North Allegheny quickly marched 45 yard in eight plays and scored on a Niko Mermigas 3-yard touchdown run for a 15-0 lead.  The Tigers added a two-point conversion on a pass by Maenza to Pope for a 17-0 advantage with 9:36 remaining in the second quarter.
Latrobe got on the scoreboard on their next possession when quarterback Austin Butler avoided the NA pass rush and found a wide open Tyler Gustafson for a 70-yard touchdown pass, trimming the Tigers lead to 17-7 with 7:41 to go in the second quarter. That was a close as Latrobe would come, however, as North Allegheny piled up three touchdowns before halftime, all coming courtesy of Maenza. With 4:30 remaining in the half, Maenza sprinted 29 yards on a reverse for a touchdown to raise the lead to 24-7, Tigers. After a three-and-out by Latrobe, Maenza took a punt 55 yards for a score and increased the lead to 31-7. With 42 seconds to play before intermission, Maenza tossed a 14-yard touchdown pass to Mermigas on a middle screen and North Allegheny led 38-7 at the half.
The Tigers struck quickly in the second half as Pope raced to the end zone on a 39-yard scamper on the first play from scrimmage to bring the score to 45-7 and invoke the mercy rule. Latrobe scored one last touchdown on a 7-yard run by Butler with 3:31 on the third quarter clock to cut the score to 45-14, but the Tigers coasted to the blowout win and tacked on two fourth quarter touchdowns before it was all said and done. Andrew Turzai tossed a 16-yard touchdown pass to Steven Hartle and Ryan Langdon rushed for a 23-yard touchdown to bring the final score to 58-14.
With the non-conference win, the Tigers improve to 7-1 overall. Latrobe drops its 15th straight game and falls to 0-8 on the season.  Playoff-bound North Allegheny will wrap up the regular season with a road contest against rival North Hills next week.