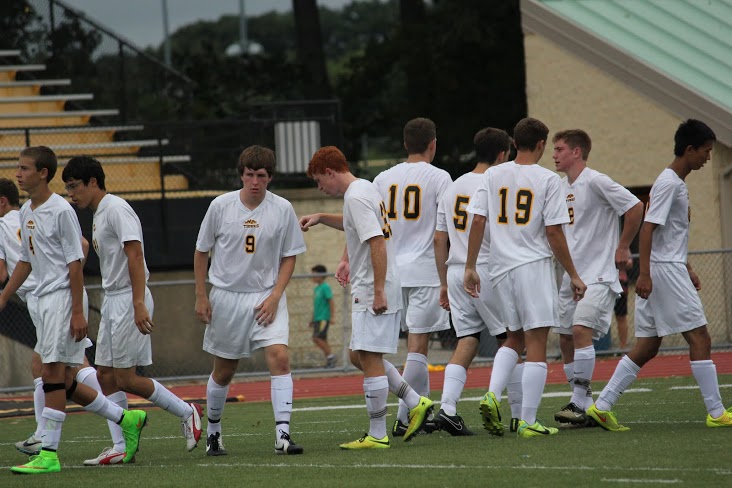 Tigers Tie Knights, Await WPIAL Playoffs
On Monday, the North Allegheny Boys' Soccer Team hosted a playoff-bound Norwin Knights squad that came in with an impressive 12-3-1 record and ranked sixth in the MSA Sports Top Ten. The Tigers came away with a hard-fought 1-1 tie in tough tune-up game ahead of the postseason.
The Tigers came out offensively with both Kevin Dougherty and Nate Hall getting shots off in the first five minutes, but were wide of the Norwin keeper. At 32:52, after a giveaway at midfield, the Knights countered and on a perfect tic-tac-toe play as Cameron Eckburg found the net past a sprawling Luke Nolan to take a 1-0 lead.
The Tigers continued their pressure and were awarded three corners and three free kicks in the next ten minutes, but just couldn't break the ice off shots from Steve Binnig, Josh Luchini and Hall.  At 18:50, Michael Peters entered the game at forward, and as he did in the past game, generated instant offense with a dish to Hall that was on frame and at 17:40 Luchini passed to Peters in the box who, with his left foot, rolled one into the corner of the net to tie the game at 1-1.
Nolan made a save from 15 yards out from an open Norwin forward that kept the game in check and the Tigers finished the half with two more free kicks and a corner.  North Allegheny outshot Norwin, 10-3, though many shots were wide or high of the net, and as usual, the Tigers had four corners to Norwin's none.
The second half started with the Tigers taking two quick shots by both Peters and Luchini, but both again traveled wide of the net.  Yosef Ulomi, at 14:20, off a cross from Seth Mancuso, sent a ball high over the crossbar from short range off a header. Minutes later, Mancusco and Binning both put shots on frame that were saved while Norwin could offer very little resistance or offensive chances. Binning, at 3:25, had another opportunity that was saved, and at 1:50, Norwin put a shot on Nolan that was kept out of the net as well. North Allegheny ended the half with eight shots compared to Norwin's three.
Overtime ensued and at 9:09, Sebastian Vasquez had a chance to end the match from close range, but his shot was saved by the Knights keeper.  With 50 seconds left in the match Ben Cinker found Peters in front who put a blast on goal but right into the Norwin keeper to end the game at a 1-1 draw.
The Tigers finish the regular season with an overall record of 9-7-2 and alone in second place in Section 2 with a 7-4-1 record.  They await the WPIAL AAA playoff pairings that will be unveiled on Wednesday night.