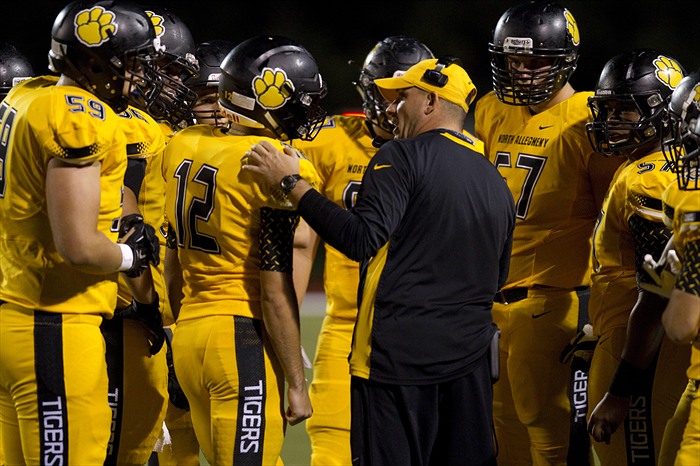 Tigers To Host Butler In Northern Seven Conference Contest
After two weeks on the road, the North Allegheny Tigers (2-2) return to the friendly confines of Newman Stadium tonight for a home meeting with the Butler Golden Tornado (1-2). The Tigers are coming off their first win in the Northern Seven Conference last week, delivering a 49-0 drubbing to the Shaler Titans. Senior quarterback Ethan Maenza made his return to the lineup since week two and rushed for two touchdowns and passed for another in the win.
While the Tigers were more than happy to have their starting signal caller back under center last week, the Butler Golden Tornado will likely be without theirs this evening. Junior quarterback Brandon Fleeger missed last week's 42-6 loss to Seneca Valley with a sprained foot and is doubtful for tonight's contest. Junior John Michalek got the start last week and is the leading candidate to get the nod against North Allegheny. Fleeger is the stronger thrower between the two quarterbacks but Michalek is an elusive runner who can be a challenge to bring down. John Michalek's brother, Luke, is the top receiver for the Golden Tornado and will also line up at quarterback on occasion in the wildcat formation. Luke Michalek leads Butler with 140 yards receiving and one touchdown and has another 86 yards rushing and one score. Along with the Michalek brothers, fullback Logan Dubyak is a hard runner who has toted the ball 17 times for 74 yards. The Golden Tornado are led by third-year head coach Rob Densmore. Butler's lone this season was a 21-12 win at Altoona in week two.
North Allegheny, led by 12th-yead head coach Art Walker, will look to wear down Butler with a big and burly offensive line that is headlined by Notre Dame recruit Josh Lugg. Others on the offensive front that will see action include Dylan Wall, Ian Truesdell, Caleb Karsh and Derek Devine, along with tight ends Canyon Tuman and Brennan McCauley. The muscle up front hopes to plow open rushing lanes for Maenza and running back Mike Pope. Maenza is NA's leading rusher with 251 yards and four touchdowns, followed closely behind by Pope with 245 yards and three touchdowns. In the passing game, Niko Mermigas is the top target with 16 receptions for 285 yards and four touchdowns.
Mermigas, a talented defensive back as well, is the Tigers leader with 20 tackles. Linebacker Ryan Langdon, who had an interception return for a touchdown last week, has 16 tackles and a team-best two sacks. Senior Matt Binz has also tallied 16 tackles and two sacks this season to help pace the defensive front. Junior Joshua Sanders and sophomore Nikko Rankin are ball hawks who have one interception apiece.
The last time these teams met on October 9, 2015, it resulted in a 41-7 win for the Tigers. North Allegheny's Mike Pope had three touchdowns in that game, including a 65-yard punt return for a score. Tonight's game between North Allegheny and Butler is set for kickoff at 7:30 at Newman Stadium. The game will be broadcast live via the internet on the North Allegheny Sports Network with the pregame show beginning at 7:10 p.m. To listen to tonight's game, click here.