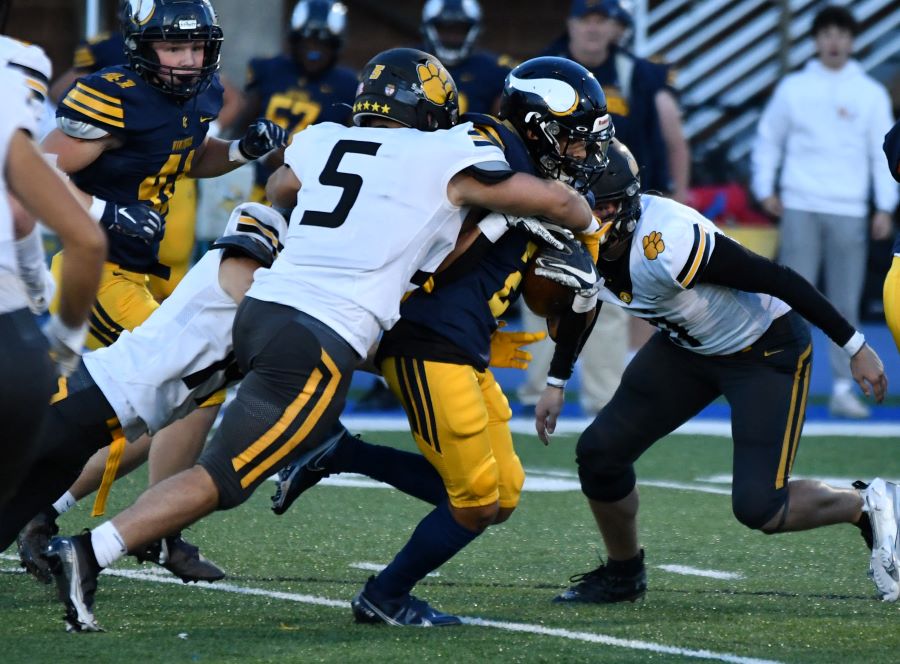 Tigers To Lock Horns With Vikings For WPIAL Class 6A Championship
For the second time in the last three seasons, the North Allegheny Tigers (10-1) and Central Catholic Vikings (7-4) will duel for the WPIAL Class 6A championship tonight at 6:00 p.m. at Norwin High School. The Tigers are vying for their first WPIAL crown since winning three straight from 2010-2012, which remains most consecutive titles won in the largest classification. The Vikings are playing in the WPIAL title game for the ninth time in the last 10 seasons.
These two perennial powers met back in week four at West Mifflin High School and the Tigers won a defensive struggle by a 7-3 decision. In that contest, the Central Catholic offense mustered only 196 total yards and was turned away on their final drive when senior Campbell Melzer broke up a pass in the end zone intended for Vernon Settles. The Tigers running game ate up the final two minutes off the clock thanks to the legs of running back Andrew Gavlik, who rushed for a career-high 153 yards in the contest. North Allegheny quarterback Logan Kushner scored what turned out to be the game-winning touchdown with a 7-yard rushing touchdown with 6:41 left in the fourth quarter.
Since that game back in mid-September, Central Catholic has won five of its last six games. Several changes were made by the Vikings since their loss to NA. The offense has been revamped and is more explosive, led by junior quarterback Peyton Wehner with 2,247 passing yards, 16 touchdowns and just interceptions. Additionally, Wehner has rushed for 300 yards and four touchdowns. The read-option runs for Wehner and running backs Amari Shields and Elijah Faulkner have proven ultra-effective. Shields, who missed the previous matchup with NA due to injury, is the team's leading rusher with 491 yards and four scores. Faulkner is right behind with 489 yards and four touchdowns. The top receivers are Peter Gonzalez with 35 catches for 630 yards and seven touchdowns, and Vernon Settles, who has hauled in 48 receptions for 603 yards and two ariel scores.
Following the resignation of defensive coordinator Dave Fleming, the Central Catholic defense has been reinvigorated as well. Linebackers Cole Sullivan and Matthew Petruzzi have moved to defensive end, and ends Ty Yuhas and Carmen Petraglia have switched to the interior to defensive line in an effort to increase the Vikings team speed. The switch has paid dividends, as evidenced in a 28-7 win over Mt. Lebanon in the WPIAL semifinals last week.
When it comes to defense, the best unit in Class 6A belongs to North Allegheny, allowing just 11 points per game. The Tigers limited Canon-McMillan to a paltry 43 yards of total offense last week in a 7-0 victory over the Big Macs in the WPIAL semifinals. The NA defense has held opponents to single digits six times this season and has limited foes to three points or less four times, including two shutouts. The 2022 Tigers defense has a chance to become one of top defenses in program history if it continues its stellar play. The best NA defense during the Art Walker era was the 2010 unit, which held opponents to single digits nine times and collected four shutouts, including a 21-0 whitewash of La Salle College in the PIAA Class 4A championship game. The 2022 Tigers would love to end the season the same way, but will need another rock-solid effort in tonight's title tilt with the Vikings.
Team leaders on the NA defense include linebacker Kevin O'Donnell with a team-high 83 tackles. Edge rushers Daniel Sellers (6.5) and Aidan Buggey (5.5) have pillaged pass pockets with a combined 12 sacks. With six interceptions on the year, junior defensive back Khiryn Boyd has been the most larcenous cornerback at NA since Joey Porter Jr. (Penn State) picked off seven passes in 2017.
On offense, Boyd is the team's leading receiver with 38 catches for 581 yards and five touchdowns. Gavlik is top ground gainer with 806 yards and four touchdowns. Kushner has passed for 1,263 yards, 13 touchdowns and five interceptions.
Anytime North Allegheny and Central Catholic meet, it all boils down to who controls the line of scrimmage and who makes the splash play in special teams. Both items will be paramount to tonight's contest. In the return game, Boyd and junior Evan Lyon have busted off long returns this season. Central Catholic boasts the dangerous return man Xavier Thomas, who is the younger brother of Rodney Thomas, a rookie with the Indianapolis Colts this season.
The last time these locked horns with a title at stake, it was in the 2020 WPIAL Class 6A championship at Martorelli Stadium, a game that Central Catholic won 38-24. NA led 21-10 in the second quarter before Anderson Cynkar returned a kickoff 67 yards for a touchdown to swing the pendulum toward the Vikings. Cynkar added a pick-six in the third quarter that gave Central Catholic a 31-21 lead. Eddy Tillman rushed for 132 yards and three touchdowns for the Vikings. North Allegheny was led by Mason Kress with six catches for 103 yards and a touchdown, including a 65-yard touchdown catch on the first play from scrimmage.
Kickoff for tonight's game between North Allegheny and Central Catholic is slated for 6:00 p.m. from Norwin High School. As always, the game will be broadcast live by the North Allegheny Sports Network with the pregame show getting underway at 5:40 p.m. Randy Gore and Jonathan Spina have the call. To listen to tonight's game, click here.