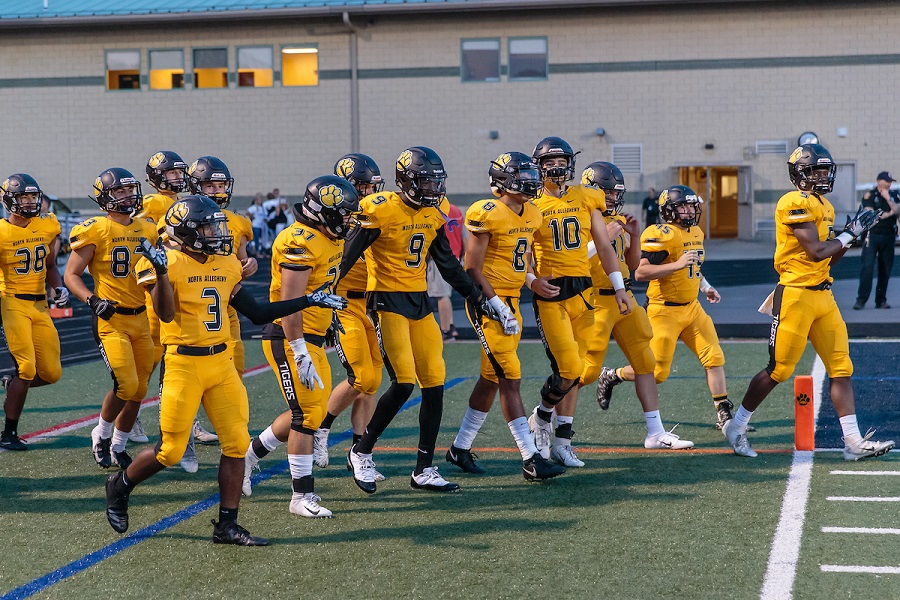 Tigers Travel To Canon-McMillan For Conference Clash With Big Macs
Following a big week two win over Central Catholic, the North Allegheny Tigers (3-0) hope to continue their winning ways with a road game against the Canon-McMillan Big Macs (0-2) in Canonsburg, PA. Tonight's game is the first meeting between these teams in almost 16 years. In 2002, North Allegheny defeated Canon-McMillan in the opening round of the WPIAL Class AAAA playoffs, 41-6.
The Big Macs have been longtime members of the southern conference in the largest classification, but after realignment for the 2018 season the Big Macs will now have Class 6A conference games against some of the powerhouse teams in the north of Pittsburgh, including North Allegheny.
The Tigers used six turnovers last week to claim an important 27-3 win over Central Catholic. Senior defensive back Corey Melzer intercepted two passes and hauled in a 29-yard touchdown reception in the fourth quarter to put the game on ice. Senior running back Ben Maenza rushed for 111 yards and two touchdowns with the majority of his damage coming in the first half.
Canon-McMillan is winless so far in 2018 with a loss to Mt. Lebanon in week one and a 31-0 defeat at the hands of the Seneca Valley Raiders.  On offense, the Big Macs are quarterbacked by junior Jonathan Quinque, who has passed for 308 yards and two touchdowns this season. After a two-year hiatus from football, senior running back Josh O'Hare returned this season and had an impressive debut against Mt. Lebanon, rushing for 144 yards and two touchdowns.
Senior Drew Engel is perhaps Canon-McMillan's most talented and versatile athlete. He was a first-team all-conference defensive back last season and is the team's leading receiver with 11 catches for 141 yards. Engel had missed time last season due to a broken hand but posted seven interceptions on defense as a sophomore. Another player to watch for CM is defensive end David Cooper, who had 9.5 sacks last season.
Kickoff for tonight's game at Big Macs Stadium is slated for 7:00 p.m. The game will be broadcast live via the internet on the North Allegheny Sports Network with the pregame show beginning at 6:40 p.m., including an interview with Tigers head coach Art Walker. To listen to tonight's broadcast, click here.