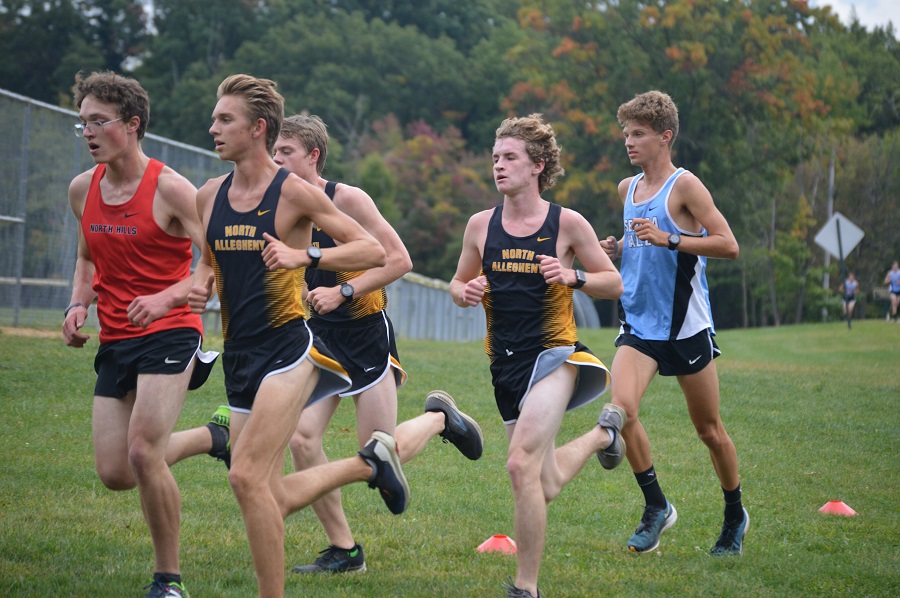 Tigers Vanquish Seneca Valley, North Hills For Section Wins
On Tuesday, North Hills hosted the North Allegheny and Seneca Valley cross country teams in North Park. Both the NA boys' and girls' teams rose to the occasion and went 2-0 against their section opponents.
After an outstanding outing this past weekend, the Lady Tigers continued their momentum against Seneca Valley's strong squad, beating them 22-33 and dominating North Hills with a perfect score, 15-50.  Keeley Misutka crushed the field, running 50 seconds faster than second place.  Freshman, Eva Kynaston, was third overall with a great race.  Ten seconds later came junior Maura Mlecko, with a strong race in fourth place.  Junior, Rachel Hockenberry, brought her "A-game" with a sixth-place finish.  Wrapping up the victory for the Tigers was Mazzie Standish and a great race (eighth place).  Lexi Sundgren (12th) and Erin McGoey (13th) ran well to solidify the top seven for NA.
On the boys' side, the Tigers were dominant.  NA beat Seneca Valley 17-46 and North Hills with a perfect score, 15-50.  Junior, Zane Kinne, had his first varsity Tiger victory with an outstanding race, holding off surging freshman, Michael Gauntner (second place).  Continuing his breakout season was junior Caleb Schall, placing third overall.  Senior, Graham Wolfe, was fifth and sophomore, Gregory Kossuth, placed sixth.  Juniors, Jack Hickel and Dan Robles, finished sixth and seventh, respectively.
The Tigers will not race again until next Tuesday against section rivals Butler and Shaler.