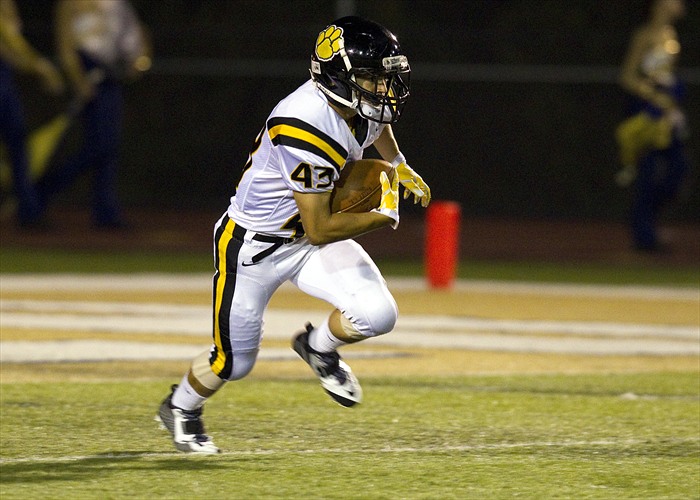 Tigers Visit Latrobe Tonight In Non-Conference Contest
For the first time since 2007, the North Allegheny Tigers (5-2) will pay a visit to Memorial Stadium in Latrobe to face the Latrobe Wildcats (1-6). Tonight's non-conference game pits two teams on opposite ends of the spectrum.  North Allegheny has won four straight and has already locked up a playoff berth out of the Northern Eight Conference.  Latrobe has dropped five in a row, and while still mathematically alive in the Foothills Conference, will likely miss the postseason for the fifth consecutive year.  The last time the Wildcats made the playoffs in 2009 they were granted an early exit, accepting a 47-0 opening round beating that came courtesy of North Allegheny at Newman Stadium.
The 2014 campaign has been a rebuilding year for first-year head coach Jason Marucco and the Latrobe football program. Marucco has reinstalled the ninth-grade team and has concentrated his attention on building numbers in the program. After spending 18 years as an assistant at other area schools, Marucco has employed a Wing-T offense at Latrobe this season, the same offense he used with great success as an offensive coordinator at Mt. Pleasant for the past five years. Senior fullback Nick Aiello is the leading ground gainer for Latrobe with 291 yards and one touchdown.  Quarterback Craig Stevens is the conductor in this Wing-T orchestra, accounting for 267 yards on the ground and seven rushing touchdowns.  The junior signal caller has also passed for 456 yards and two scores while throwing three interceptions.
A problem for the Wildcats offense has been plays for negative yardage on first and second downs. North Allegheny's defensive line and linebackers will hope to shoot the gaps and penetrate the Latrobe line to continue that trend. Senior linebacker Layne Skundrich is the team leader in tackles with 53 stops and four sacks. Zech Nachazel and Jonny Sumpter have 50 and 48 tackles, respectively.
Another major issue for Latrobe this season has been allowing big plays versus the run, yielding 221 rushing yards per game. This plays out well for the Tigers, a team that likes to set the tone with the rushing attack.  North Allegheny averages 181 yards per game on the ground with senior Josh Bergman leading the team with 385 yards and four touchdowns. With Latrobe giving up large chunks to running backs, it may be tough for the homestanding Wildcats to contain sophomore Michael Pope who is a big play waiting to happen.  Pope has rushed for 222 yards and two touchdowns on 24 carries, and averages 9.3 yards per carry. Not to be outdone, senior quarterback Jeff Clemens adds another 334 yards on the ground and 801 yards through the air to the NA offensive attack. Clemens has rushed for three scores and has thrown for seven.
The last time North Allegheny played the Wildcats in Latrobe, the Tigers claimed a 27-10 win back in 2007. NA was led by running back Carl DeCiantis who torched Latrobe for 223 yards and two touchdowns.
Kickoff for tonight's game at Memorial Stadium is set for 7:30. The pregame show will begin at 7:10 pm and will include an interview with Tigers head coach Art Walker. Broadcasters Randy Gore and Rick Meister will have the call on the North Allegheny Sports Network.  To listen to tonight's broadcast, click here!