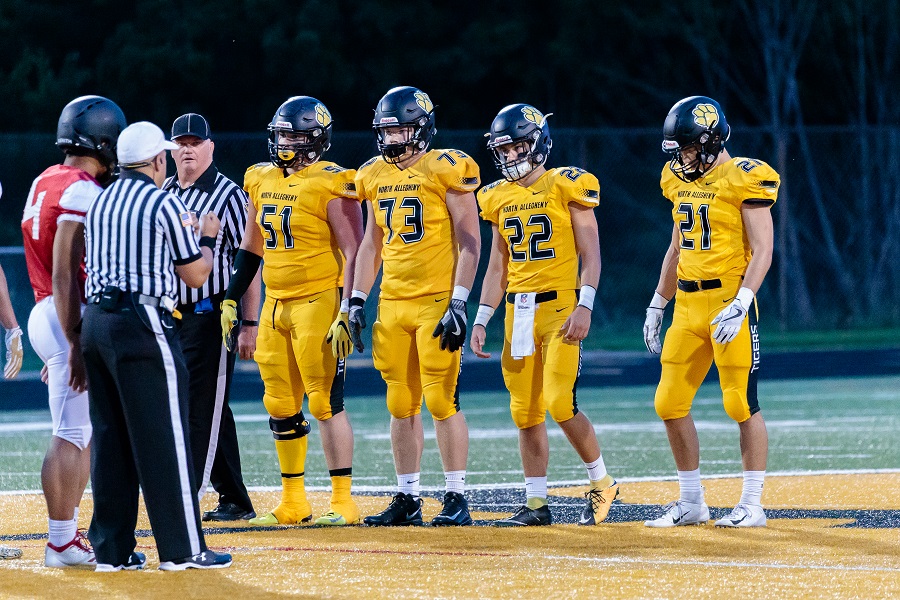 Tigers Visit Mt. Lebanon Tonight For Conference Matchup
The undefeated North Allegheny Tigers (4-0) travel to Mt. Lebanon tonight for a conference battle with the host Blue Devils (2-2) in Class 6A. North Allegheny is riding a four-game winning streak, most recently beating Canon-McMillan on the road, 45-21. Mt. Lebanon lost last week in a hard-fought contest against Seneca Valley, 17-14.
Tonight's game is a WPIAL quarterfinal rematch from last season as NA defeated Mt. Lebanon, 38-14. In that game, the Tigers forced quarterback Seth Morgan into four interceptions. The Tigers also defeated the Blue Devils in the regular season, 44-27. Both of those games were played in the South Hills.
Under seventh-year head coach Mike Melnyk, Mt. Lebanon has reached the playoffs in five of the previous six seasons. The Blue Devils utilize a quick-pace offense that is led by Morgan who has thrown for 839 yards, eight touchdowns and six interceptions. Morgan also leads the team in rushing with 266 yards on the ground and two scores. The leading receiver for Mt. Lebanon is senior Lucas DeCaro, who has hauled in 15 passes for 166 yards. The versatile DeCaro threw a 53-yard touchdown pass to Tim Walters on a reverse pass last week against Seneca Valley. The Blue Devils offense averages 27 points per game.
Mt. Lebanon's leader on defense is linebacker Tommy McClain with 27 tackles and three sacks. Defensive back Mason Ventrone and linebacker Michael Palmer were both first-team all-conference performers last season. The Blue Devils defense allows 25 points per game.
North Allegheny's offense is averaging an impressive 43 points per game and scored 21 unanswered points in the second half to solidify a win at Canon-McMillan last week. Senior running back Ben Maenza posted his third 100-yard rushing performance of the season against CM and leads the Tigers with 486 yards and 10 touchdowns so far in 2018. Also, effective rushing the football last week was "wildcat" quarterback Luke Colella with 56 yards rushing. Senior quarterback Gunnar Fisher rushed for 64 yards and a touchdown, adding 98 yards passing and a touchdown through the air against the Big Macs. The Tigers hope to utilize the ground game tonight to maintain lengthy possessions and keep the high-octane Mt. Lebanon offense off the field.
On defense, North Allegheny's leading tackler is junior Amosis Porter with 21 stops and a team-best four sacks. The Tigers allow only 14 points per game on the season.
Kickoff for tonight's game is slated for 7:30 p.m. at Mt. Lebanon. The game will be broadcast live via the internet by the North Allegheny Sports Network, beginning with the pregame show at 7:10 p.m. To listen to tonight's game, click here.